In Austin's current dating climate, in which everyone has digitally romantic options at their digit-tips, it's more important than ever to make an impression. That requires ditching the classic dinner-and-a-movie combo, thinking outside the (Red)box, and reinventing your date-night regimen with some more adventurous outings. Whether you're trying to liven things up with your college sweetheart, or lock down Canadian citizenship via that babe from Maple Match, these more adventurous (re: highly Instagrammable) date-night ideas are guaranteed to, at the very least, give you and your date a decent story to tell your friends the next day.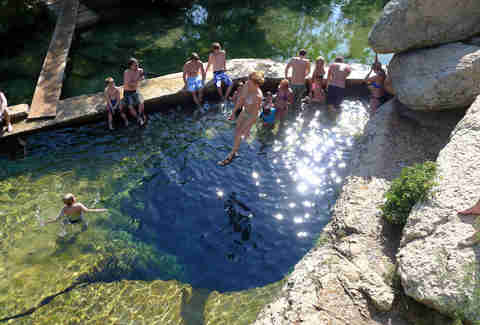 Take the leap (off of a bridge)
Remember when you were a kid and adults would ask, "Well, if everyone else jumped off a bridge, would you?" Great, now forget that, because we're talking about cliffs, so this is completely different. If you're looking for an adrenaline rush and a fun, somewhat terrifying summer date idea, check out the cliff jumping at Krause Springs and Pace Bend Park, or take the plunge into the abyss of Jacob's Well. After all, there's nothing sexier than cannonball skills*.
*Note: There are actually a lot of things sexier than cannonball skills.
Zip-line into darkness
The best way to take in the Texas Hill Country is while you're rocketing over Lake Travis on the longest zip line in Texas. Lake Travis Zipline Adventures offers zip lines ranging from 250 to 2800ft, and the tour culminates in a zip that shoots you down from a cliff that's 20 stories high. The company also offers Night Flights if you want to up the excitement ante… or if you just feel like you look really great in a headlamp.
As close to actual Mario Kart as you can get
"Things are moving too fast." We're not talking about your relationship; we're talking about the indoor karting at K1 Speed, where you and your date can race around an indoor track at speeds of up to 45 mph in what we're told are "not your parents' go karts." Which is good, because borrowing your parents' go karts for a date would be really weird, right? Whatever -- loser buys dinner.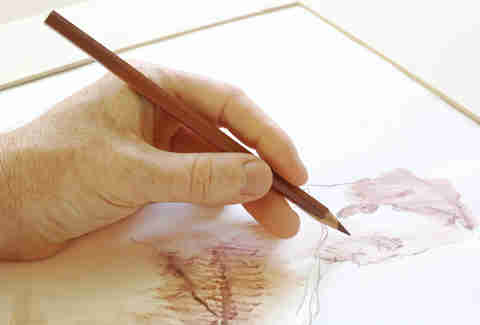 Be a little sketchy
Every couple has done one of those paint-and-drink-wine dates (you've seen the pictures on Facebook), but why not up the ante and take your date to a figure-drawing class with a live, nude model? The Austin Life Drawing Meetup Group is a good resource for figure-drawing classes of the clothed and unclothed variety, and -- even better -- it'll only cost you a $5 modeling fee. Then afterwards, maybe ask your date to paint you like one of their French girls. Works every time.
Take bikes, add water
Austin Water Bikes are a weird and wonderful combination of SUP and bicycling, and make for some pretty fun on-the-water action. Plus, there's no better way to bond with your date than by doing something that makes you both look really, really ridiculous. And trust us: you WILL look really, really ridiculous.
Get a proper bird's-eye view of the city
Want a date that'll earn you major props? Believe it or not, Austin looks even more awesome from above, and there's nothing more romantic than gazing down at all the suckers stuck on MoPac when you're soaring over the city on a scenic helicopter tour. Plus, it gives you an excuse to yell "GET TO DA CHOPPA!"... not that you needed an excuse.
Get ducked up
One of the problems with living in an awesome city is you never take advantage of the touristy outings on offer. That's why we propose you play tourists for a day and show your date a side of Austin they've never seen before via the amphibious shuttles at Austin Duck Adventures, which offer land-and-lake tours of the city, winding through Downtown and Lake Austin's Hill Country.
Go deep underwater
Anyone can watch the sunset, but if you really want to wow your (scuba-certified) date, take them for a sunset dive and check out what lurks below the surface of the lake, courtesy of a company like Lake Travis Scuba. Continue the theme and hit a dive bar, and we can guarantee this is one date that won't… tank.
Rock out
Show off your upper-arm strength (and enjoy gazing unashamedly at your date's butt -- you're spotting them, OK?!) at Austin Bouldering Project. The popular gym offers climbing routes for every skill level, and is the best way to get your relationship off to a rocky start… but, you know, in a good way.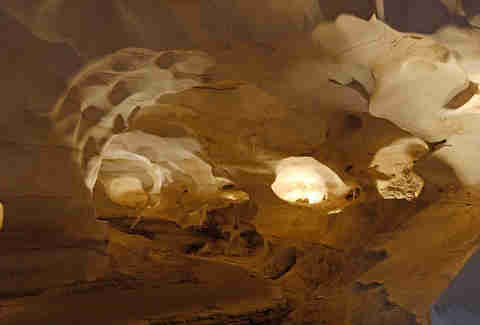 Get spelunky
Locally, the Greenbelt has some cool, cozy caving spaces favorited by enthusiasts, while the more claustrophobic might prefer the more open spaces found at Longhorn Cavern State Park. Only a little outside the city in Burnet, the park offers some pretty sweet guided tours, which are particularly good options, given it's probably easier to convince a date to venture into a cave with you in a group setting.
Take the big fall
Though a bit of an investment, skydiving is an action-packed activity resulting in glorious memories that will likely outlast your relationship. (You can do it nearby at Skydive San Marcos.) If your idea of a perfect date doesn't involve having a stranger strapped to your back, iFLY offers an indoor skydiving experience that's almost as good as the real thing. Added bonus: plenty of opportunities to use the line "I'm falling for you."
Sign up here for our daily Austin email and be the first to get all the food/drink/fun in town.