Bartenders have seen it all. Not only do they personally experience the pain in the ass -- um, privilege of dating in Austin on their own time, but their job also offers them a front-row seat to the dating scene and the opportunity to (soberly) observe as the rest of us (not so soberly) attempt to find our soul mate -- or next sexual partner -- every Saturday night. From this unique vantage point behind the bar, they've witnessed what works, what definitely doesn't work, and, on some occasions, what might just get you punched in the face.
So, since there's clearly no demographic better suited to provide dating advice, we recruited a few Austin bartenders to provide dos, don'ts, tips, and tricks that are totally guaranteed to help you find love or lust or at the very least look like less of an idiot.
Get outside
"I've found the Greenbelt to be a very friendly place... to make friends or otherwise. Everyone's outside, in the sun, in a good mood and feeling good about the prospects of their lives, so... " -- Andrea Lewis, Icenhauer's
 
Do something besides drink... sometimes
"Don't spend ALL your time getting tanked with someone. It's easy to live that lifestyle here. Get yourself and your date outta the bar on occasion and into the world. This city has so much more to offer. (But if you are gonna drink, come drink at Swan Dive!)" -- Jeremy Rogers, Swan Dive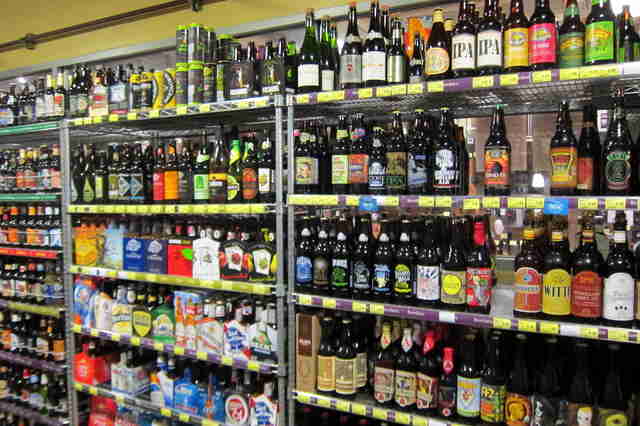 Don't spit game at a grocery store (unless there's booze)
"Men will say that the grocery store is the best place to pick up ladies. From a woman's point of view, I'm not even happy I'm at the grocery store. I'm pissed I didn't go to Whataburger. Anyone that tries to hit on me at the grocery store is going to see me at my worst. Unless there's alcohol at the grocery store... like the Whole Foods wine bar. THAT'S a good place to pick up people."  -- Sarah Eubank, Infamous Brewing Company
 
Have some gumption, even sans alcohol
"You have to be able to be sober and forward, which is a difficult thing for people. Most dates I go on start with me chatting with a guy in a public place and being like, 'I want your number.' It's usually me who asks after a conversation has been going well, and I think that people are afraid to do that -- I think women are afraid to do that. You just have to kind of have a pair of balls. I get rejected all the time [but] if I wasn't able to do that in real life, I would never date." -- Andrea Lewis, Icenhauer's
Don't drink-and-buy-drinks
"When you are trying to pick up girls at a bar, make sure you aren't so completely gone that you offer to buy them drinks and then forget to pay, leaving them stuck with the tab. So wrong!" -- Jessica Youssefi, Castro's
 
Patience is an overrated virtue
"Pull the trigger ASAP. [The] three-day rule doesn't exist in Austin. -- Vitaliy Radevich, Craftsman
 
Don't discriminate
"My tip for getting laid is to get Grindr. Maybe not applicable to everyone, but it works, and a mouth is a mouth."  -- Skyler Hulme, Rain on 4th
 
Put away the pick-up lines
"No matter how quirky or clever, do you really want your first impression to be a pickup line? Come on... Your mama raised you better." -- Jeremy Rogers, Swan Dive
 
No, seriously, put them away
"If you're resorting to having to use a pick-up line, then the chances are you spit game like a Sega Genesis (not good). Don't be weird and just stare. Just walk up to the person, introduce yourself, maybe tell the girl she's beautiful (not hot), offer to buy her a drink, and then ask her questions about herself." -- Tana Lea, Bat Bar
 
Offer suggestions, not shots
"I think the best practice is to recommend a drink. Like, 'Have you had the new Deep Eddy Peach? It's delicious, let me buy you one.' It's more than just me getting alcohol into your body."  -- Andrea Lewis, Icenhauer's
 
Refrain from turning into a hot mess
"Austin is hard to date in for anyone, let alone someone who flirts with strangers for a living until late at night. I have definitely given my number to someone on a receipt with plans to hang out later only for that person to go on a rager. I cannot stress this enough. Getting wasted on a first date is tacky." -- Skyler Hulme, Rain on 4th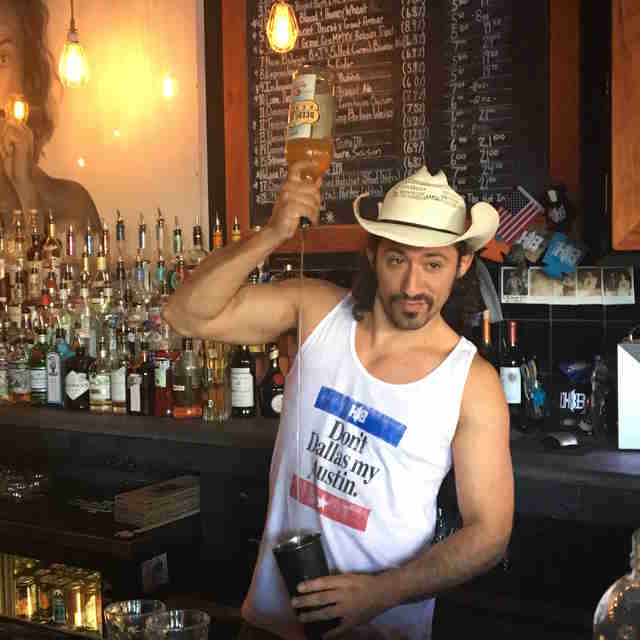 Pick your poison carefully
"Do not order Rumplemintz or Ice 101 because you might get a little too sloppy... and you might not get it up later." -- Kevin Randolph, HandleBar
 
Don't mention the ex factor
"Some advice for a girl on a first date: don't talk about your ex-boyfriend. That sucks. I'm not here to talk to you about your ex-boyfriend and what happened, what's going on. I don't want to know his name or where he lives or what he does for a living." -- Kevin Randolph, HandleBar
 
Raise the bar
"Maybe it's different for straight people, but when gays go to the gay bar on a first date it is tacky. Gay bars is where gay men go to get messy and straight women go to act like they're in a zoo. So if you want to go to a bar for a first date, try somewhere intimate like Garage Bar." -- Skyler Hulme, Rain on 4th
Be a spiritual guide
"The biggest 'don't' I see happen a lot is the guy always orders his drink first and looks at the woman for her drink order. A gentleman goes over the menu with the lady." -- Brian Delgado, Whisler's
 
Focus on stuff besides dating
"Succeeding at dating is a byproduct of succeeding at life. Get really good at everything and win everything all the time. ALL. THE. TIME." -- Jeremy Rogers, Swan Dive
 
Think quality over quantity
"Austin is a great city to date in, but everyone craves that instant someone who is going to be the love of their lives, and that is just not practical in my eyes. Love takes time to find, and you can date until you're blue in the face, but that in my opinion does not increase your odds of finding 'the one.' You just date more, have more half-assed connections, and more half-assed relationship failures." -- Jessica Youssefi, Castro's
 
Follow her lead
"If you notice she has half her drink and you're on your second, you might wanna stop drinking as fast. Drink at her pace. Let the lady lead at the drinking. [And] if she's taking shots down, ramp up your game." -- Kevin Randolph, HandleBar
 
Know what you want, online date accordingly
"As a girl, I feel like Tinder in Austin is useful only if you're looking for a dirty BMX boy or skater that's in town for the X-Games and wants to give you free drink coupons at Shakespeare's. If you're looking for a man with a job who may or may not be married then hop on Bumble or better yet, seekingarrangement.com." -- Tana Lea, Bat Bar
 
Ask the right questions up top
"Ask a girl if she's waiting for someone. If she says, 'Yea, I'm waiting for my BF,' you've just saved yourself time and [money] lol." -- Vitaliy Radevich, Craftsman
Social sports will help you score
"If you wanna get laid, join a social sports team -- it's inevitable. Just know that they're screwing someone else on the team as well. Especially if they're the best at the sport. Find someone who sucks at kickball. They won't be banging someone else... unless they're really good at flip cup. -- Sarah Eubank, Infamous Brewing Company
 
Don't limit yourself to just one scene
"Don't be so closed minded. It's not about West Sixth, Sixth Street, Rainey Street. Having an open heart and open mind, you never know. Go with the flow. When you have bad vibes, you're gonna get bad vibes. Sometimes you gotta go fist-pump with the bros to get the hoes." -- Kevin Randolph, HandleBar
Be real, get down
"Be confident. Be genuine. Seek common interests. You are already in the same place. You both are there for a reason. Start there. Then show them your sweet dance moves." -- Jeremy Rogers, Swan Dive
For first dates, prioritize parking
"PWPs -- places with parking [like] The Domain so people don't see your angry parking demon to come out. Everyone's got one. The crazy comes out too fast when you don't have parking."  -- Sarah Eubank, Infamous Brewing Company
 
Take turns paying... but guys, go first
"There are a lot of cheap men out there. [Guys,] cover the first round. More than likely, you will have another drink. That's the time for the lady to offer to pay." -- Brian Delgado, Whisler's
 
Be friends first
"Austin's an easy place to make friends, and I feel like that leads to dating, so I feel like the best way is to just be chill about it." -- Andrea Lewis, Icenhauer's
 
Don't be the creepy old guy
"These men will start asking like dads and preying on these girls' daddy issues. Stay in your age group -- or at least the 10-year buffer on each side -- and don't try to play the dad card. Parenting is not a pick-up line." -- Sarah Eubank, Infamous Brewing Company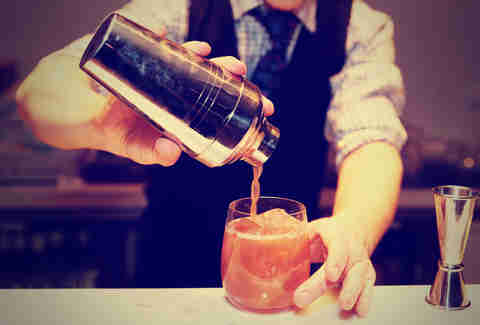 Make the bartender your BFF
"I'm your bartender, but I'm your friend still. When you have a friend like me on your side, we'll make you look good. Befriend the bartender. Make sure you take care of him. He'll get you laid." -- Kevin Randolph, HandleBar
 
Accept rejection gracefully
"Do not try to buy a girl a drink and then call her sleazy names at the bar after she denied your sorry ass. Lame." -- Jessica Youssefi, Castro's
 
Keep it simple
"You wanna have chemistry. Those little signs -- smiling, making eye contact, listening. Actually listen to what they're saying and respond. Common sense isn't so common these days." -- Kevin Randolph, HandleBar
 
Ladies, you can't [always] get what you want
"One thing I see [as a bartender] that the general population might not notice are women just being really pushy with guys. I think it's great that women are confident but women with a little too much liquid courage sometimes don't understand that a man might not be interested in them. I think the takeaway from that is maybe... just because you're a woman, you can't have every guy you want. It's great to walk out the door with that kind of confidence, but combine that confidence with liquor and you might be putting some people in some uncomfortable situations. Just be aware and maybe keep friends around who will be very honest with you." -- Andrea Lewis, Icenhauer's
 
When in doubt, buy drinks named after yourself
"My personal favorite first date spots in Austin would be dinner at Truluck's or -- on a cheaper scale with a more chill vibe -- Shoal Creek followed by a Tana Titty Shot at HandleBar."  -- Tana Lea, Bat Bar
Sign up here for our daily Austin email and be the first to get all the food/drink/fun in town.
Sam Sumpter is an Austin-based writer and bar frequenter who should probably take all of this advice into serious consideration. Follow her quest to find love... or really just someone who owns every season of Seinfeld... @sam_sumpta.