Why Dating in Austin Is Different Than Anywhere Else
ATX has new rules, y'all.
Every city has its quirks when it comes to finding love. In LA, you'll probably take a long-ass drive on the freeway to meet that headshot-owning suitor on your first date, and in NYC, your potential love interest is going to ask where you went to college before you down the first cocktail. So, needless to say that in Austin, the dating scene can be equally, if not more, riveting.
Now, we're not bashing it, and we're not saying it's amazing either. We're just saying that meeting strangers and dating them in Austin can get weird—good, bad, and sometimes darn right ugly. Whether you're a Texas native who recently split with a long-term lover or one of the zillions of out-of-towners who've relocated to Boomtown in search of spicy moments with a cutie in a Stetson, here's what to expect when you swipe right, get a match, and get going in ATX.
Dates often happen half-naked
Date destinations like Barton Springs and the Greenbelt mean hairy backs, tramp stamps, weird moles, and any number of other odd physical attributes make their debut early on. In other words, being shallow has never been so easy. Or at least efficient.
You have to hear a lot of mediocre music
Because everyone you date knows someone in a mediocre band, expect to be dragged to a gig to watch your new 'pals' support an unknown act every Tuesday night. A city that self-proclaimed itself as the 'live music capital of the world' in 1991, interestingly has no Austin-born artist the world can name. Goodbye Beyonce nights and hot shot emerging artists at Rough Trade. Hello forever unsigned ATX band, the soundtrack to all your dates.
And you have to pretend to be interested in a lot of mediocre app ideas
Because it's 2022 and we're now 'Silicon Hills', you're going to meet a lot of tech kids looking for love…and looking for someone to fund their Kickstarter. "Yay, another Beta for me to download" and "You're buying your own SXSW ticket? Good for you." are the lines you'll say through your teeth.
Festival relationships are a thing
ACL affairs, Fun Fun Fun flings, SXSW whirlwind romances… every fest offers the chance to find the (temporary) love of your life. After all, nothing sets the mood like Diplo, copious amounts of Shiner Beer, and a free night's stay in someone's Eastside hostel.
Dates sometimes don't start before 9pm... or sometimes 10pm
On second thought, just pencil that meal in for midnight. You don't want to risk ruining that makeup while the blistering sun is out, and Trader Joe's sunscreen is really sticky.
It's less about who you like and more about who your dog likes
Lola is allowed at basically every patio. She also happens to have considerably less crappy taste than you do. Trust Lola, always.
Everyone is on multiple dating apps
Tinder. Grindr. Bumble. Hinge. Happn. That thing with the coffee and the bagels... You've matched with Zac the lawyer, like 12 times, so did your 'sexually-liberated' pal, Kelsey. And you have carpal tunnel syndrome.
You can do the classic "dinner and a movie" all in one place
Thank youuuu, Alamo Drafthouse South Lamar.
You have a go-to neighborhood date spot
Every Internet date starts or ends at a sweet hangout like Manana below the Gables buildings, a coffee shop slash bar super close to home, open every day, and convenient for both bailing and banging. The bartender knows your name. He doesn't bother learning your dates'.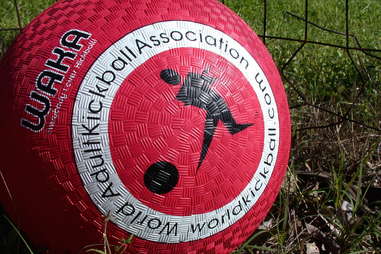 Kickball will get you laid
Social sports leagues are incestuous, and you could make an incredibly complex diagram mapping out how the pitcher from I'd Kick That has hooked up with Ballsagna's entire infield. Maybe it's the adrenaline… but it's probably just the post-game flip cup.
Whole Foods is a legitimate place to hit on people
Yes, you will pay $20 for a salad, because it comes with a side of dates. Tip: the one on Lamar has an in-store wine bar, if the initial convo goes really well.
Everyone is 4/20 friendly, some a little too much
And your dealer actually moonlights as a matchmaker. Win-win. However, for the rest of you, get ready to hold your breath each time Scott from Oregon picks you up in his weed wagon. Gross.
Romantic getaways consist of the San Antonio River Walk
If you don't know our San An neighbors well then get ready for that to change when you date an Austinite. Easy weekend getaways will nearly always consist of the River Walk. You'll notch up a record number of margaritas and Embassy Suites overnighters. And you're gonna remember the Alamo so hard.
You'll only date carnivores
Dates will drive you to 'a great barbecue joint' without consideration for anyone's vegan preferences. You'll lose count of the number of times you pray the drive takes you to Leroy and Lewis, who make some decent cauliflower burnt ends, and not Terry Black's, where your only option is a side.
Or raging alcoholics
Because singletons in Austin can't possibly have a great time without being absolutely wasted. Maybe it's all that mediocre music.
At some point in the relationship, your date will suggest Uchi
This was exciting back in 2010 when your date made their bucket list, but now it's all about Garrison, Sushi Bar ATX, and the trendy places on our restaurant list.
You don't just date someone—you date their hobbies
Good luck fitting that date in around homeboy's woodworking, hockey, and bee-keeping schedule. If you can't beat 'em, join 'em.
This is Never-Never Land. And no one grows up
So many people just don't want to settle down. Aged 46, single, and working at a Sixth Street bar = In their prime and living the dream.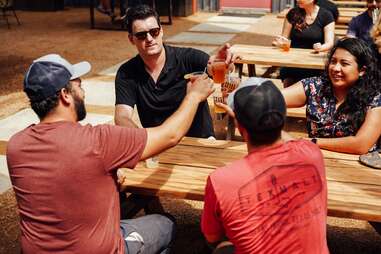 You regularly hear flakey plans
"We should TOTALLY try that restaurant…" "We HAVE to go see that band…" "WHEN you meet my friends…"
... Ya know, um… at some point.
When you think you connect with someone, it happens way too fast
They'll announce the relationship on social media within weeks of making it official. Then things speed out of control before you've even decided you really like them, aka ring shopping, dining with a realtor, and the absolute worst if you're a woman in Texas—a bun in the oven. Now you're screwed for life, and alone.
But things are great when you find 'the one'
Big family barbecues with fireworks (you're no longer a vegan—adapt in Texas, darling), weekends at ranches surrounded by cute animals, and a money bucks house on Lake Travis (when his app finally takes off!), dating in Austin ain't all bad. That's what you'll smugly tell your single friends anyway.
James Wong is a Libra who spends his time pretending to be a vegan, watching wildlife clips, and booking plane tickets. Born in London, lived in Tokyo, and now residing in Austin, his greatest achievement is giving Posh Spice a hug in 2016.