In these trying times might we suggest returning to the old-school comforts of face-to-face socializing. But where does one go about doing this strange thing called "dating"? And how far must you actually venture to find a suitable table for two? Luckily, most Boston neighborhoods offer an array of both fun and romantic dining spots, so both the first-date set and the old marrieds are taken care of. So go forth and mate.
South End
The Salty Pig
Address and Info
Because it's like Lady and the Tramp for two-leggers. There's pasta and pizza and occasionally even checkered tablecloths, plus a range of salty meats and stinky cheeses for those looking to suss out the palate of a potential paramour. It's also not as loud as other South End spots, which makes the getting-to-know-you chit-chat a little less painful. And then, of course, there are those bathroom walls papered with Far Side comics -- for when you need to hide out from an evening that's gone south.
Back Bay
Saltie Girl
Address and Info
The last time we were here, we witnessed a man lovingly spooning uni into his date's mouth before they both downed a glass of Champagne. Yeah, there was some sex happening that night. Oysters, bubbly, caviar... all the traditional aphrodisiacs are here, plus the entrees that get New Englanders' motors running: chowder, fried clam bellies, hot lobster rolls. Grab two seats at the bar, watch one of the chefs torch a slab of salmon belly, and feel the heat rise.
East Boston
KO at the Shipyard
Address and Info
We like to think this is how the Aussies date: meat pies, a couple of brews, maybe some mushy peas to split. After all, some of the best date nights happen when you bond over cheap, low-down, delicious fare. It's not exactly a den of iniquity, but sometimes the quickest way to a wo/man's heart is a plate of potato wedges with sweet chili sauce and sour cream.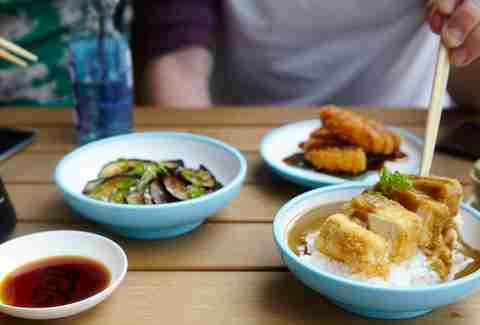 Seaport
Yo! Sushi
Address and Info
Conveyor belt sushi just might be the perfect first-date experience. If the date's going well, you'll bond over the G-rated joys of picking nigiri off of a moving sidewalk. And if the date's going badly, you can be in and out of there in 30 minutes flat and easily split the check (the wait staff counts the empty plates in order to assess the damage). If nothing else, the quirkiness of Japanese marble soda will give a smile to each of your faces.
Somerville
Fat Hen
Address and Info
Cozy, charming restaurants serving homemade pasta are romantic slam dunks. And if they're committed to seasonal ingredients, even better. Fat Hen checks off all the boxes: tiny, book-lined interior, pastas outfitted with regional toppings, and decadent entrees like chicken al Mattone. Trust us: By the time your drinks come through the cocktail window leading to sister restaurant La Brasa, your date will already be entranced.
Kendall Square
The Smoke Shop
Address and Info
A meat eater should never end up with a vegetarian -- it's just a bridge too far. But when you've found that carnivorous special someone, you owe it to them to buy them a pile of 'Q. Pitmaster Andy Husbands encourages sharing big piles of ribs, crispy pork skins, brisket, and fried chicken. This might not seem like first-date territory, but then again, a first kiss never suffered from a little extra barbecue sauce.
Porter Square
Giulia
Address and Info
First date, 10th date, anniversary date, besties date... Giulia is perfect for them all. The cozy, intimate, brick-walled space is so dimly lit you almost can't not get in the mood. And the service is so far above what you might usually settle for that you'll quickly relax into the evening -- just in time to twirl delectable plates of house-made pasta and then share bites of the chocolate terrine with salted caramel ice cream. When you return years later for your engagement party, be sure to book the special-occasion pasta table.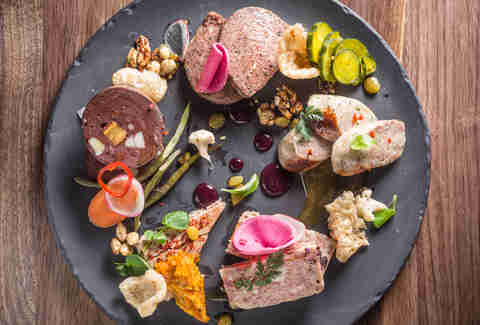 Financial District
Townsman
Address and Info
The national hype means you'll be hard-pressed to get in, which also means you'll score major points before the menus have even arrived. And the menu is a conversation piece all its own: deviled eggs with crispy hen skin, clam chowder with squid, pan-roasted snails, lamb porterhouse. You'll get to know each other better just by hashing through the charcuterie options. And then there's that Dry Martini Service to bring a bit of throwback charm to the evening.
South Boston
It's dark and there are tons of tacos and oysters. That's a dream date right there, as far as we're concerned. The menu might turn off some purists (puffed nachos? Duck taquitos?) but then again, there are coconut margaritas, aka the definitive ice-breakers. The tacos are decidedly new wave; varieties include blackened swordfish, root beer-braised chicken, and of course, fried oysters.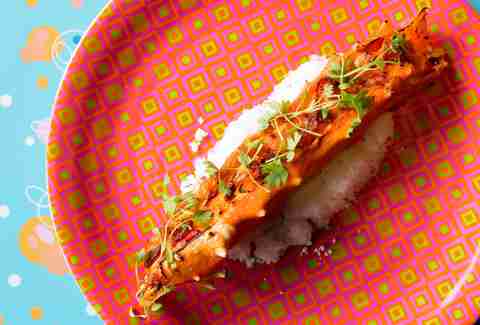 Fenway
Hojoko
Address and Info
OK, so we're not exactly talking candlelit romance, but we are talking a scorpion bowl kind of good time -- and sometimes a date night needn't be so serious. Married couple Tim and Nancy Cushman (O Ya) are clearly having fun with this one, so take their cue and bond over maki rolls, ramen, robata, and a trough of some potent tiki brew. Bonus: If your date orders the bacon-wrapped, cheese-stuffed Dogzilla, you'll know you've found your soulmate.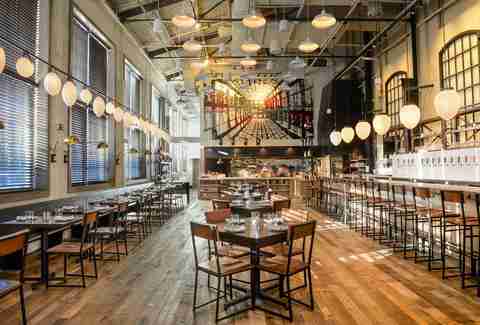 Watertown
Branch Line
Address and Info
Chicken drippings are the way to a person's heart. Salted avocado, too. And a perfect rotisserie chicken. And fried cheese, come to think of it. In other words, Garrett Harker and Andrew Holden have assembled an idyllic menu for the starry-eyed. What brings it home is the stupendous wine list and the wait staff who serve it -- they are masters at pairing the perfect bottle to your evening.
Harvard Square
Waypoint
Address and Info
Because first off, you're probably not getting into Alden & Harlow. Also, Waypoint's cocktail menu is stacked with many an absinthe concoction, which might be the quickest way to rid yourself of early-evening jitters. But mostly, Michael Scelfo's seafood joint dishes out damn fine small plates, pizzas, and pastas -- universal crowd pleasers all, save for the shellfish-allergic set. Whether your love match is a win or a loss, you know you'll be eating and drinking well.
Beacon Hill
75 Chestnut
Address and Info
This one feels straight out of a Nancy Meyers movie: an American comfort fare restaurant tucked away on a charming side block, complete with black awning and two enormous windows facing the street. In other words, save this one for someone special. As you're splitting the molten chocolate cake and lingering over the last of your Willamette Valley pinot, you're going to have an epiphany: Romance is far from dead.
Sign up here for our daily Boston email and be the first to get all the food/drink/fun the Hub has to offer.