The apocalyptic real estate news just keeps on coming. A recent study found that to afford a two-bedroom apartment in Boston, you'll need to make at least $120,000 a year. Meanwhile, another little research birdie informs us that Boston's median salary is, well, below that. So how to swing a dating life when you've yet to crack the six-figure ceiling? Sure, you could drag a potential paramour into Whole Foods with the promise of free cheese and unlimited soy sauce packets, but there are far classier, and still cost-free, ways to go.
1. Museum hop
Our city's most esteemed galleries don't always stiff you. Every Thursday night from 5-9pm, admission at the Institute of Contemporary Art is free, as is the Museum of Fine Arts after 4pm on Wednesdays (actually, there's a voluntary donation, but we all know what that means). And then of course, we all get in free to the Isabella Stewart Gardner Museum on our birthdays, so all you have to do is swipe right on someone who shares your DOB.
2. To free, or not to free
Wethinks 'tis far nobler to experience the Bard in a lawn chair on the Boston Common with a closed container of... something. This summer, the Commonwealth Shakespeare Company is putting on a complimentary production of Love's Labour's Lost, a confusing (damn you, Shakespeare), but low-risk date night if there ever was one.
3. Swirl and sip like a stingy snob
You don't need to be a well-to-do oenophile to drink like one. Some of the city's best indie wine shops -- Central Bottle, Brix, Social Wines, Urban Grape -- offer regular quitting time and weekend tastings.
4. Take time to smell the roses (or lilacs, or tulips) at Arnold Arboretum
A visit to the arboretum is a no-cost no-brainer. Right now the lilacs are in full effect, but with 15,000 plants and 4,000 trees blooming throughout the year, you're hardly ever wanting for pollen. Hike Hemlock Hill, then spread a blanket under a tree for some alfresco Netflixing and chilling (or something less illegal).
5. Pedal the Minuteman Bikeway or Memorial Drive
The Minuteman is a well-paced, well-paved trail that takes you through charming parts of Arlington and Somerville, and Memorial Drive is shut down to four-wheel traffic on Sundays during the summer. Most people bike, but apparently rollerblading is still a thing?
This city is awash in low-cost brewery and factory walk-throughs, but the granddaddy "maltster" (HA! Wordplay), Samuel Adams, offers free daily tours of its Jamaica Plain brewery, where samples do indeed abound.
7. Stargaze at Coit Observatory
Every Wednesday night, assuming clouds don't ruin the fun, the BU Coit Observatory opens up its facilities to non-scientific hoi polloi. The viewing starts as late as 8:30pm and goes for about an hour, leaving you plenty of time to dumpster-dive for dinner.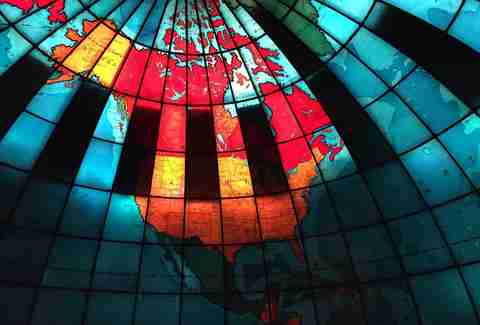 Imagine that you traveled to the center of the world. But in this case, the world is a hollow, three-story, stained-glass orb. Built in the 1930s, the mapparium puts you inside a globe and allows you to remember how bad you were at geography. Also, it gets pretty freaky with acoustics: whisper sweet nothings in your date's ear and they might be heard by strangers at the other end of the globe.
9. Go to the library... for music
Here's a little known fact: in the summer, the main branch of the Boston Public Library hosts free one-hour concerts in its stunning central courtyard -- sometimes during lunch, sometimes in the evening. And we're not just talking classical music; jazz, blues, and folk have also appeared on the menu.
10. Walk the Greenway
So yeah, you'll stroll past some decidedly not free food trucks, but the 15-acre-long park takes you past Chinatown, water fountains, art installations, and a host of people watching opportunities. All of which is free. When you're done, hop over to the Harbor Walk for your return voyage.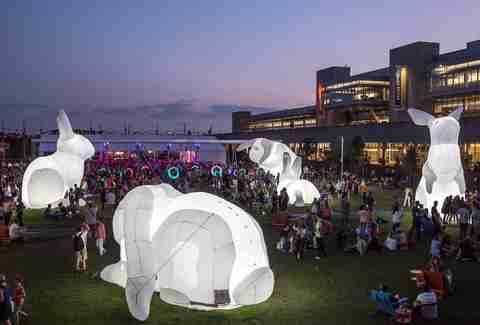 Bocce, corn hole, ping pong, Jenga, and glow swings. Honestly, what else do you need? Hit up the outdoor space anytime during open lawn hours for some gratis G-rated fun.
12. See an outdoor movie
In the summer, the city is overrun with free second-run screenings. The Hatch Shell mostly focuses on family fare, while the Boston Harbor Hotel shows newer classics (Jaws! Back to the Future! Toy Story!) on an inflated outdoor screen. But the city also screens movies in smaller parks throughout Boston, Cambridge, Brookline, and Somerville. Check your town's website for the schedule.
13. Pretend you know something about art at SoWa's Open Studios
Every first Friday of the month (5-9pm), the SoWa Arts District goes public. Artists fling open their studio doors and galleries stay open late so you can pretend to understand what you're looking at. Plus, there's plenty of wine and cheese.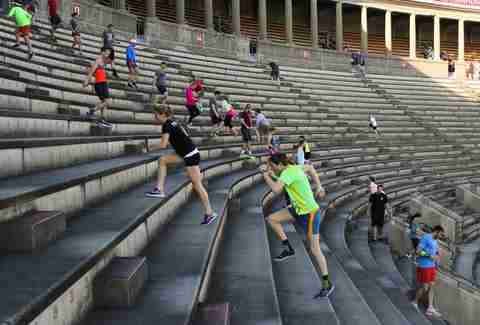 14. Sweat for less
PG-rated heavy breathing on the first date? It's a good way to find out if you're fitness-compatible. One option is the November Project, hosting early-morning, large-scale group workouts. Plus, Boston puts on many a free workout in its parks during the summer, including Zumba, yoga, and pilates.
Sign up here for our daily Boston email and be the first to get all the food/drink/fun the Hub has to offer.