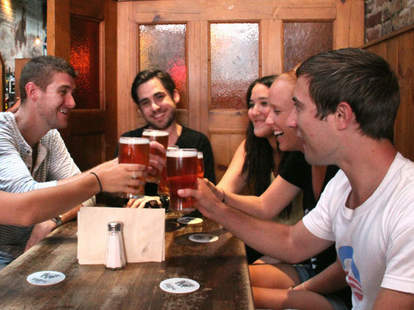 You know how in the movie Hitch, Will Smith uses his matchmaking acumen to try and teach Kevin James how to woo Amber Valletta, then Eva Mendes makes Will realize that all of the smoke and mirrors don't work, and being attractive is really just about finding a way to be confident just by being yourself, and then they do sex? Well Grouper is exactly like Hitch, except instead of gaining confidence from the Fresh Prince, you get it by bringing two friends on your date, creating a three-on-three hang that's significantly less awkward because "you can either talk in three pairs of two, just with your friends, or as a group".
The dating site (just now taking applications in Boston) works like this: sign up, and they'll vet you by asking a few simple questions and studying your Facebook profile and making sure you're not actively planning a hypothetical wedding on Pinterest. Once you're in, their matchmaking gurus analyze you even further, studying your profile, and photos, and soul, then pairing you with someone of a similar age who shares your interest in pumpkin bundt cakes.
After that, simply round up two friends, get everyone to pass Grouper $20, and they set your party of six up at one of their partnering, legit-cool bars and pick up the tab (plus tax and tip) on everyone's first round of drinks, hopefully ensuring that plans to eventually do sex go off without a Hitch.