Why Dating Someone From Boston Is the Best
Bostonians get a bad rap. People from other parts of the country seem to think we're unfriendly, and also go around constantly announcing that we're parking cars in yards, or are incapable of pronouncing a hard "R." But if you've spent any time going out on fun dates here, or dated someone from here, you know that Bostonians are actually a pretty welcoming and interesting group. Here are the top reasons we prefer to date local.
Their smarts are a definite plus
His Tinder profile says he came here for undergrad at MIT and stuck around to start a small tech company. Hers says that she's getting her PhD at Harvard… NBD. So if you're the kind of person who vastly prefers Sherlock to Dance Moms, Boston's a good bet for you, dating-wise.
They do really cool stuff… pretty much all the time
The average Bostonian's hobby resume is staggering. From her unflagging devotion to the climbing gym to his aerial yoga obsession, trivia team, new app concept, life drawing classes... keeping track of all the stuff that's happening in a Bostonian's life can be nigh impossible. While this can sometimes translate to less time for you, it also means you'll learn all sorts of new stuff every time you get together -- and you know you'll never get bored.
They can take care of themselves
It's kind of a necessity if you want to pay rent in a city this pricey. Besides, you know that if they can handle the Green Line after a Sox game, they can definitely handle simple self-sufficiencies like putting the dishes away.
Open-mindedness matters to them
Want your new honey to attend an octopus cooking class, a kink event, or a dinner with your two other partners? Odds are, they'll give the idea some honest consideration, instead of just instinctively running away screaming. Maybe it's the high education levels in this town, or a general cultural reaction against many years of censorship and sexual repression. Whatever the cause, Bostonians tend to be pretty chill when it comes to new and different lifestyles.
They're up for adventure
When you swipe through dating apps here, it becomes pretty obvious that this city isn't just looking for Netflix & chill. We want a partner to share crazy times with, someone who's into everything from late-night Museum of Science gatherings to Marshmallow Fluff festivals. Bostonians tend to veer away from the standard movie-and-dinner date in favor of more active experiences.
Seriously good food is a staple of their lifestyles
Look, we can all acknowledge a certain love of late-night Tasty Burger, but odds are good that Bostonians can also wax poetic about their favorite raw bar, or the latest creation at Brick & Mortar. We've got some serious pride in our food scene, and we're always up for trying something new.
Chances are that you already have a friend or two in common
Boston is a small city, and there are only so many social circles. If you're involved in any of the same activities as your S.O., you're bound to have mutual friends (at least on Facebook), which should make all your group outings more fun… or at least lead to a round or two of, "Wait, how do you know them?"
They'll always call you an Uber
It's the only decent thing to do after you've had a few, and who wants to drive through Downtown anyway?
Cohabitation is not news to them
If they spent any time in Boston in their college years and/or early 20s, they've already learned how to live with other people in fairly close quarters, which means they know how to inform you that your day-old Dino's takeout boxes sitting out on the counter are disgusting without, you know… saying it like that. They're willing to compromise, and they've figured out what their major roommate boundaries are, which means you'll spend less time on silly arguments, and more time out stargazing at Coit Observatory, or something equally nauseatingly romantic.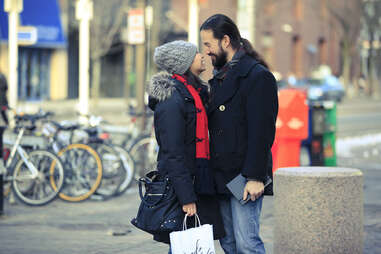 They want a person, not a prop
The average Bostonian cares more about spending time with an actual human being than they do about locking down a husband or wife. They're busy enough with their long resume of achievements and activities that they probably aren't desperate for a relationship… and that's a good thing. If they're spending time with you, odds are it's because they actually enjoy your presence, not because they're scared of being single. So go out and live it up!
Sign up here for our daily Boston email and be the first to get all the food/drink/fun the Hub has to offer.
Kim Prosise is a travel and lifestyle writer who wants David Attenborough to narrate her Tinder dates. Follow her on Instagram and Twitter: @kimprosise.