If you're looking to spice up your dating life and turn a blind eye to the laws of the Lowcountry -- not just a blind eye to all that right-swiping you did while on the better side of a bottle -- we don't officially condone that. But just in case you're curious, these thrilling dates could lead to fines, jail time, and dirty looks from your grandma. But, again, we'd never, ever suggest you should do these.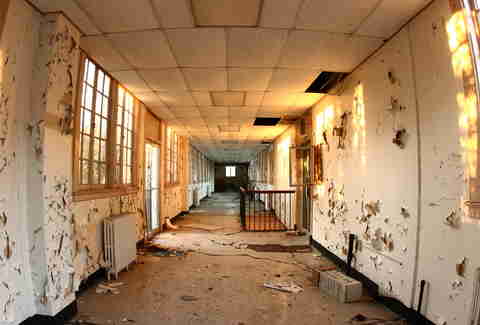 Explore abandoned Charleston
How to pull if off: First, you have to find an abandoned building. Once you do, grab your sweetie's hand, mind the rusty fence (because, surely, there is one) as you scurry past it, and live dangerously knowing that at any moment the second floor could suddenly become the first when it can't support your weight.
What laws you'd be breaking: Trespassing, breaking and entering
Gig for flounder during the daylight
How to pull it off: If you're one of those outdoorsy types that believe couples who stab fish together, stay together, then you'll want nothing more than to see your beloved's face of joy when s/he gigs (uses a multi-pronged spear) that flounder in the daylight. However, stabbing the shallows-dwelling fish with a stick is illegal before nightfall. Keep your gigging after sunset if you're the law-abiding type, or live dangerously and show off your caveman-like couple's hunting skills to the world.
What laws you'd be breaking: SC Department of Natural Resources rules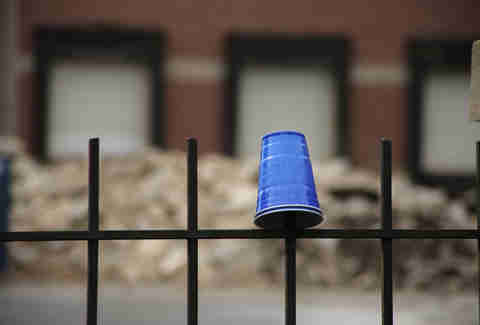 Drink on the street
How to pull it off: This one is where you can really let your creativity shine (or, you know, you could paint a picture or something instead). There are a number of ways to go about this: saunter down the sidewalk with a bottle and some glasses, tip a thermos full of toddies on Tradd St, or simply cross the threshold outside of your favorite bar with an outside beverage. When the doorman tells you you can't bring the drink with you, look him straight in the eye and take a long swig. Defiance can be sexy, but be prepared for the night to end in separate jail cells.
What laws you'd be breaking: Open container laws, possible public intoxication
Drink at the beach
How to pull it off: Find a beach and attempt to re-create a Kenny Chesney video on a romantic seaside sunset date (your "cold drank" can be anything from a margarita to a Mexican beer). Expect a little police action and a hefty price tag as the sun goes down -- we know plenty of people whose fun ended with a not-romantic-at-all $1,000 fine.
What laws you'd be breaking: Alcohol consumption on the beach, open container laws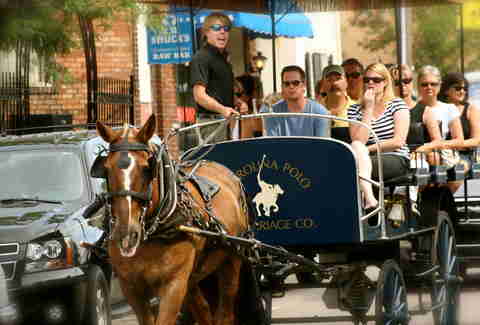 Give a tour without a license
How to pull it off: Maybe you and your significant other like to get it on in historical dress. We're not judging, but if you decide to take those costumes out on the street, attract a crowd, then walk those people around the historic district talking history, then you're definitely living dangerously. Charleston requires tour guides to be licensed because, "Just because you heard it don't make it true." And we haven't even mentioned how weird you have to be to want a wear woolen breeches in Charleston in the summer...
What laws you'd be breaking: Acting as a tour guide without a license ($1,000 fine), more than likely violating your costume rental agreement
Make love in Marion Square
How to pull if off: With all the special events Marion Square plays host to, this would be difficult, but rumor has it that folks have pulled it off. There is the cover of trees along the edge of the square, along with handy park benches for "sitting." If you're determined, the best spots might be on the opposite side from Calhoun St, but seriously, we are in no way suggesting this as a good time. If you do decide against our better judgement, make it a quickie.
What rules you'd be breaking: Public indecency, indecent exposure, if you're not married -- fornication (really), or if you are (but not to each other) adultery
Swim in a hotel pool without being a guest
How to pull it off: How cool can you act? If you're like the Fonz, you might be able to saunter into the pool area of one of Downtown's swankiest hotels. Buy matching dark sunglasses, adopt an air of "I'm supposed to be here," and be prepared to say that you lost your room key.
What laws you'd be breaking: Trespassing, possible breaking and entering
Hold hands and skateboard down East Bay St
How to pull it off: If you feel like living on the edge of danger and breaking some laws, too, grab your boards and get ready to boogie down this main thoroughfare of the historic district during rush hour. Although you can skateboard on select streets close to the CofC campus, this isn't one of them, so weave through traffic, watch out for those tourists, and in general breathe in exhaust fumes along with your false bravado.
What laws you'd be breaking: Skateboarding on a city streets, good sense
Take selfies in a South of Broad courtyard
How to pull it off: If you want a tropical oasis feel for the backdrop of your couple selfies, then some of the hidden courtyards South of Broad would be the perfect fit. In order to do this, you'd have to avoid the guard dogs, potentially scale a brick wall, know some security codes, and definitely piss off the neighbors. Lean in and say cheese, then hope the cops don't have Instagram.
What laws you'd be breaking: Trespassing, breaking and entering, getting us uninvited to the next cocktail party
Sign up here for our daily Charleston email and be the first to get all the food/drink/fun in town.