From essential restaurants to a customized bucket list for the Queen City, we've sure as hell given you a plethora of ideas for dates in and around Charlotte. But what about some inspiration for the unconventional dates... like, the kind that may end in a felony charge? Well, here's a solid list of illegal ideas you might want to try (but that we can't condone in ANY way based on our strong moral code and the fact that we don't want to be sued). So, seriously, you guys, don't do these. Really, don't. But still, check 'em out.
Sneak into a new apartment building, drink the free coffee, use the Wi-Fi, and swim in the pool
How to pull it off even though we strongly advise against it: Charlotte's apartment scene is booming, with new buildings coming to Uptown and the surrounding areas on what seems to be a weekly basis. In order to try and fill them, realtors have resorted to a ferocious battle to outdo each other with amenities. Saltwater pools, saunas, free gourmet coffee, game rooms, and yoga studios are just some of the amenities being touted to potential renters. But if you're not a tenant, or a friend of a tenant, how do you get in? Well...
There are two easy ways to sneak in with your date. First, go on a site tour with one of the property managers. Enjoy some coffee, test out the Wi-Fi, bring your swimsuit, and say you'd like to try out the pool. If they say that's not possible (which they probably will), lie and say that the property manager at a competing complex allowed it. If that doesn't work, there's always the second option: sneak in! Hover around the main door and try not to look suspicious (or like a creeper). Wait for a tenant to come to the door with a key card. Follow behind them under the guise that you're a friend of another tenant and heading up to their apartment. (Pro tip: act like you are on the phone with said "friend" and it'll look more realistic -- especially with a six-pack under your arm). Once you are in, enjoy all the amenities.
Laws you'd be breaking: Trespassing, and potentially theft if you take a souvenir pool towel or a year's supply of K-Cups from the stash under the coffee machine.
Have a romantic picnic on someone else's boat
How to pull it off even though you really shouldn't: With Lake Norman and Lake Wylie just an easy drive from the Queen City, the lure of a lake day is irresistible. To do this date -- which you shouldn't do -- wait until it's dark. Then, pack a picnic, find the perfect boat at one of the many slips scattered along both bodies of water (at yacht clubs, marinas, and private residencies), hop onboard under the cover of darkness, and enjoy your moonlit picnic. Oh, and if the keys are within reach, definitely do NOT take it for a ride. That's just stealing a boat and, quite frankly, dumb.
Laws you'd be breaking: Trespassing, potentially breaking & entering, and charges for any property damage. If you really want to take this to the next level, the two of you could go skinny-dipping. Of course, that may tack on indecent exposure to your list of crimes. But it will make for one hell of a night.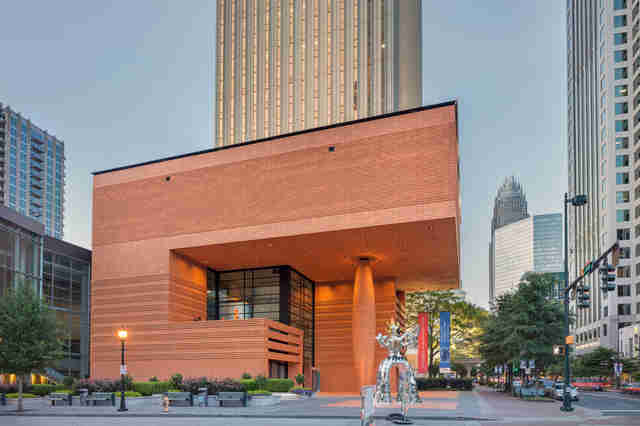 Enjoy a boozy Saturday stroll in Uptown
How to pull it off even though you will be silently judged by everyone who notices: It's illegal to walk down the street or sidewalk in Charlotte with an open alcohol container, so this one is pretty obvious. Either bring your own, or pick it up at a store, then walk around popping tops or chugging from wine bottles. To really up the game -- and the chance of a felony charge -- take your booze into one of the Uptown museums. (It's easy to get red wine out of a one-of-a-kind multi-million dollar piece of art, right?)
Laws you'd be breaking: Open container laws, public intoxication, disturbing the peace, and the potential charge of destruction of property.
Do sex stuff in the churchyard
How to pull it off even though you will disappoint your mother (and Him): Yearning for a public amorous escapade with your loved one? Or maybe a one-night stand with what's-his-or-her name who you just met at a bar? Well, a really bad idea would be to have sex in a churchyard. Not only is sex in public an arrestable offense, but there is a specific state law declaring that sex in a churchyard is illegal. I'm not sure how many people have felt the urge while strolling around a church, but apparently there were enough incidents to warrant a specific law. Honestly, the best way to pull this date off is to just do it and hope for the best.
Laws you'd be breaking: Indecent exposure, trespassing, and breaking your grandmother's heart.
Go for a joyride in a golf cart
How to pull it off even though we really disapprove (also, it's already been done multiple times): With the mild climate, Charlotte is an ideal place for nearly year-round golf. Private and public courses are plentiful... as are golf carts. So if you're going to do this one, go big or go home. First, get on the course (which really isn't too hard, whether you act like you're playing or not). Then, head to the line of carts awaiting golfers, convince the employees you're going to meet your buddy down near the first tee with the cart (saying they have your bags), and finally, take off! You'll get some serious bonus points if you do this all by yourself and drive the cart to pick up your date. But just be sure to dress the part.
Laws you'd be breaking: Trespassing, theft, and potential damage to property.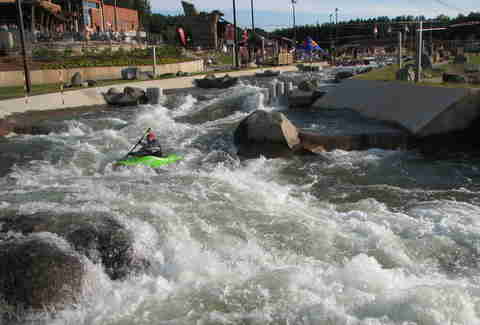 Light up at the US National Whitewater Center
How to pull it off even though you were told not to do it: Although North Carolina has a deeply rooted history in the tobacco business, smoking of all kinds (vapes, e-cigarettes, tobacco products, pot) are banned at the Whitewater Center. For this date, throw caution to the wind and light up anyway! Pay to park, pick a spot near the rapids, and spark up that cigarette or cigar. But a warning: your moment will most likely be interrupted by concerned parents staring at you in judgment... and you being escorted off the premises.
Laws you'd be breaking: Potentially trespassing and you will most likely be banned from the Whitewater Center.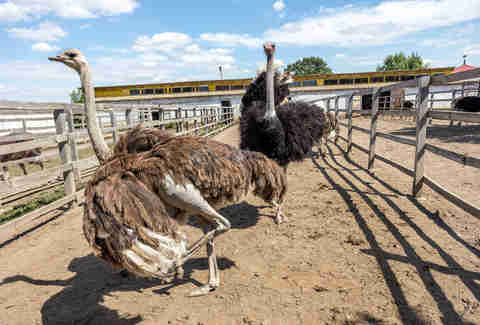 Pretend to be John Wayne and ride an ostrich
How to pull it off even though we are rolling our eyes at you and shaking our heads: For over 20 years, Lazy 5 Ranch has delighted children and adults alike with its assortment of animals. For this idea, pay the admission fee and drive your car through the park, feeding all the animals and enjoying the giraffes (and others) approaching you for food and some licks. Then, to really impress your date, get out of the car and find the nearest ostrich. Do your best cowboy impression as you mount it and (try to) ride off into the sunset like John Wayne... or until the ostrich bucks you off its back.
Laws you'd be breaking: Cruelty to animals and trespassing. Plus, PETA will hate you f.o.r.e.v.e.r.
Sign up here for our daily Charlotte email and be the first to get all the food/drink/fun in the Queen City.
Erin Maddrey enjoys writing about food, beverages, and all things Charlotte. Due to her love of these things, she can be frequently found at the gym. Follow her and her Charlotte adventures on Twitter and Instagram: @ErinMaddrey.