Online dating that gets you outside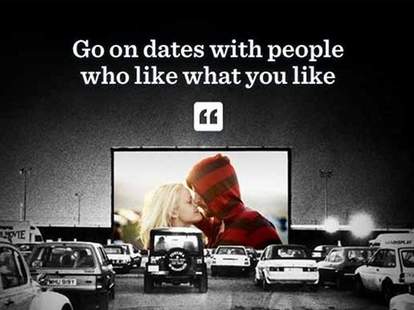 First dates can be awkward, from the uncomfortable lulls in conversation, to somehow getting stuck with a whopping bill, even though you never actually left the apartment. Bringing you better dating opportunities, HowAboutWe.
Just launched in Chi, HAW's shaking up the online dating scene by setting people up according to their mutual interest in creative first date ideas, thus "putting the date back in online dating", though given it was those pesky figs that started covering our genitals in the first place, maybe you should just leave dried fruits out of it. After registering, you'll rank a range of possible first dates (roam through the Art Institute, tour a brewery...smuggle beer into the Art Institute), then post a photo and provide some basic info like age, exercise habits, and smoking preference, but not SMMMMMMOKIN' preference, as nobody wants to sleep with someone who says "Yes" to The Mask. It did not age well. From there you can peruse date ideas that've been recommended to you, giving you the opportunity to either accept, respond with a poke-like "I'm Intrigued", or propose a counter-date, like one on a counter, as that's a great place to crush some pie.
Fresh proposals are posted daily, with your recommendations getting continually refined based on what you accept/decline, while a "Matchmaker" function even lets you pass something along you think a buddy might like, though just because you pay it forward doesn't mean he won't have to pay for it up front.