Meeting people with minimal effort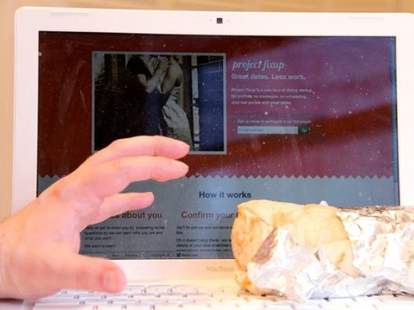 If being on the dating scene feels too much like the full-time job you're too lazy to hold down, then Project Fixup's the perfect service for you, handling everything short of showing up for you so that you can find the perfect woman to drive totally insane with your sloth. Right now you probably have a bunch of questions that you're too lethargic to ask, but don't worry, they're about to be asked for you:
Q: What's the deal with this thing? A: Well, it's from two Chi entrepreneurs who understand the difficulties of...
Q: You know what, I don't have time for this crap, I have a burrito in the microwave. Just tell me what makes it so simple. A: For starters, you don't have to actually message prospective dates, or even set up a profile. Just take their super simple quiz and they'll make a well-suited match for you.
Q: So I still have to arrange the... crap, I just spilled burrito all over my shirt. A: Quick, look at your shirt and say "That's not chyo cheese"! Hilarious. As for arranging a date, they'll do the heavy lifting, from picking out a conveniently located coffee shop, to tracking down movie times, to scoring you a restaurant reservation.
Q: This burrito doesn't taste as good eaten off of my shirt. I would like a refund. A: On the shirt or the burrito? Either way, you can definitely get a refund from Project Fixup, who promise to return your monies should you not enjoy yourself. Assuming, of course, you aren't too lazy to take the time to ask.