You want to put your best foot forward, but you've been going out on so many OkCupid dates that you've blown your budget. It's important to keep up appearances: where does the finicky foodie with a love for culture and the great outdoors go? Have no fear. With these dates costing less than $15 per person, you can continue living up your Tinderella dreams. There's something irresistible about a deal -- hopefully you have someone good to share them with.
See music outside the Rock Hall
Total cost: $5 per person
The Rock & Roll Hall of Fame is once again putting on its free summer concert series every Wednesday night through August on the outdoor stage directly in front of the museum. The concerts, billing some of the best local original music in the city, begin at 6:00pm, and if you're a Cuyahoga County resident or a college student with valid ID, you can get into the exhibition halls for only $5 that night (a whopping $20 discount!). Running through a mixture of genres from reggae to indie rock, these pairings will have a little something for everyone with picturesque views of the lakefront to boot.
Meet up in the morning for more than coffee
Total cost: Free
A good reason to set an early alarm is CreativeMornings Cleveland, a breakfast lecture for the creative community, which happens every third Friday of the month between 8:30-10:00am. This month's talk is about love (perfect, amiright?) at the Dunham Tavern Museum. Phoenix Coffee collaborates with local bakers to provide wake-up snacks while getting a free dose of inspiration. You both can go back to work afterwards (hopefully they have a job?) or you can spend some time discussing the monthly theme if you're both WFH-ers or hold strange hours.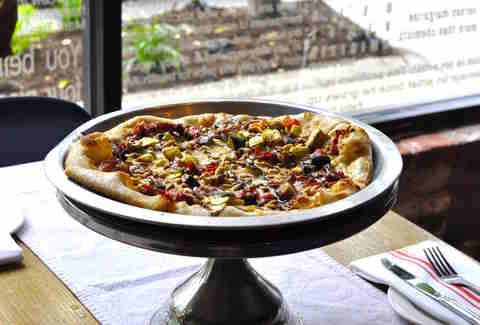 Sip cheap wine and listen to live music outdoors
Total cost: About $10 per person, without tip
Luxe Kitchen & Lounge have an incredible happy hour from 5:00-7:00pm in its inside-outside bar, featuring $10 pizzas, $6 snacks, and a $4 wine menu. Start with food and stay for the entertainment; it also hosts "Songwriters on the Patio" where local musicians are paired up to perform every Wednesday night through the end of August.
Kayak the Cuyahoga
Total cost: $15 per person
If you want to really impress a date, convince them that you're an urban explorer. It's much easier and cheaper than you think -- affordable kayak rentals on the burning river are located off of the West Bank of the Flats near Shooters on the Water. Great Lakes Watersports have eight tandem kayaks in their fleet that you can rent for $30 an hour. Make sure you bring your driver's license -- you'll need it to rent the boats.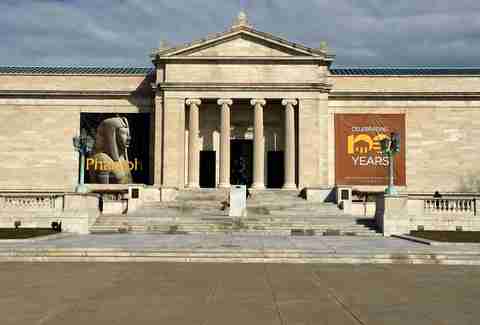 Venture around for Wade Oval Wednesdays
Total cost: $7 per person
Every Wednesday night through the end of August, University Circle Inc. hosts a free outdoor musical performance (everything from Son Gitano to Welshly Arms and Mo' Mojo). For three nights this summer, it'll also screen a movie out on the lawn (Tomorrowland, Zootopia, or Star Wars: The Force Awakens). Enjoy the best cultural institutions within a short walk as well. The Cleveland Museum of Art stays open late on Wednesdays until 9pm. It's celebrating the centennial, so stop by for special programming at one of the biggest free art museums in the world. The Cleveland Museum of Natural History has a reduced rate after 5pm, so you can get in a few hours of nerdy delight before they close, too.
Mix high (classical music) and low (hot dogs) culture
Total cost: $9 per person, without tip
If you truly love classical music, but can't afford a ticket to the Cleveland Orchestra, this collective of classically trained students, independent artists, and orchestral musicians looking to have a little fun is just what you've been searching for. There's no cover to attend the monthly residency at The Happy Dog on Detroit Ave -- just order up a dog ($6 each with unlimited toppings) and a side of tots ($3), sit back and relax to piano concertos, violin, clarinet, and arrangements for many other instruments.
Wake and (yoga and pan)cake
Total cost: $10 per person, coffee not included
Yoga is a great way to relieve a little tension or make sure you stay limber. The Source Yoga has a $5 donation class at Madison Park in Lakewood each Wednesday and Friday morning from 9:30-10:30am. Bring your own mat, pop a pose, and take in the sunshine. Afterwards, stop at Jack Flaps where it does a daily happy hour on all of the pancakes and waffles until 3pm. They'll cost you $5 a plate and come topped with peanut butter whip, seasonal berry compote, or mascarpone made of top-notch ingredients -- above and beyond your normal IHOP experience.
Engage in some friendly competition
Total cost: About $10 per person or less, per activity
If nothing gets you excited like a little sport, Mahall's 20 Lanes offers BOGO bowling on Tuesday nights ($4 for two games, $2 per shoe rental). You can curl up on those retro benches and wear cute matching shoes (Don't forget to wear socks!). If bowling isn't your game of choice, check out Swings-N-Things, just a short drive away in Olmsted Township where you can work up a sweat in the outdoor batting cages ($10 will get you 13 tokens). Last but not least, Superelectric Pinball Parlor will also inspire some action, where it pulls out all the bells and whistles for guests playing on over 20 different vintage pinball and arcade games.
Take Tremont by storm
Total cost: Under $10 per person, without tip
Tremont is a hotbed of activity, but with so many high-end restaurants and bars, it's easy to get suckered into spending too much. For weekends in August, the 'hood will offer free professional arts programming in Lincoln Park for no charge -- just bring your own blanket and sprawl out. CPT's Youth Program (STEP), Verb Ballet, and The Cleveland Jazz Orchestra are among the scheduled performers.
Depending on the day of the week, check out these cheap deals just steps away: Friday afternoons go to Bac Asian American Bistro & Bar from 3-6pm for $6 happy hour specials, including the best banh mi sandwich this side of the Cuyahoga. On Saturday, Lincoln Park Pub offers 40-cent wings with an array of delicious sauces and rubs. Sunday night Prosperity Social Club serves a chicken dinner for $10, with three pieces of meat, collard greens, and mac & cheese.
Cuddle up at a drive-in
Total cost: $9 per person; or FREE
The Aut-O-Rama in North Ridgeville hosts a Retro Tuesday double feature ($9 per person). This summer see Top Gun and Risky Business, The Breakfast Club and Ferris Bueller's Day Off, or Taxi Driver and Deliverance. The cheesy old-school advertisements between showings are a great photo-op for selfies. If you can't stay up past midnight, Old Brooklyn CDC hosts a free movie night on Tuesdays in Loew Park that starts earlier in the evening -- it, too, will be playing retro movies like Aladdin, The Sandlot, and Toy Story. "Cleveland Summer Cinema" will also have Honey Hut ice cream and Platform Brewery beer available for sale. Leashed dogs are welcome.
Hit The Flats' Friday happy hours
Total cost: FREE to attend; under $10 for happy hour deals, without tip
The Flats East Bank is re-emerging! Downtown Cleveland Alliance sponsors a free concert each Friday night with tons of beer and cocktail options from event partners including Henry's Hard Soda, Tito's, and Sailor Jerry rum. Many of the restaurants in the area have happy hour specials, including Alley Cat Oyster Bar, shucking fresh Blue Point oysters for $2 a pop between 3 and 6pm and Crop Rocks has a $6 bucket of ribs from 5-7pm. Take a walk along the river and soak up all of the renovations from the last year.
Sign up here for our daily Cleveland email and be the first to get all the food/drink/fun in town.