Winter is a desolate landscape, and you can only go on so many indoor Tinder dates before the monotony sets in. Fortunately, our temperate springs and summers are just about back, which means that it's time to take full advantage of the iceless outdoors with your potential soulmate (or, like, whoever) in tow. Here are some legitimately great date ideas that let you take the best advantage of your own backyard.
Explore the contemporary art museum's sleek new building on the first Saturday of the month when all exhibits are free to the public. Post-visit, walk down to Piccadilly, where ice cream is made from liquid nitrogen in front of your eyes.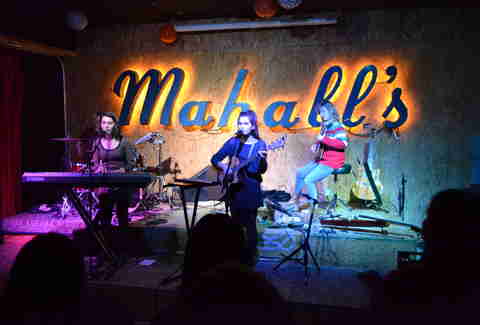 This nearly century-old bowling alley-turned-music venue has a fully stocked bar offering everything from rock concerts to salsa dancing and comedy on two stages. The fried chicken at this place is almost as famous as its old-school lanes, where you'll have to keep score by hand if you want to win the game.
Go for a ride on the West Side Shuffle, from Park to Shop (an aptly named grocery store) to a variety of food destinations in the AsiaTown neighborhood. Chinese, Korean, Thai, and other Pan-Asian nationalities are all represented in this authentic sampling of one of the most ethnically dense areas in Cleveland proper.
This renowned theater is located inside the newly remodeled Cleveland Institute of Art, specializing in independent and foreign films in an intimate, state-of-the-art setting. Fun fact: This place was recognized by The New York Times as one of America's best repertory movie theaters.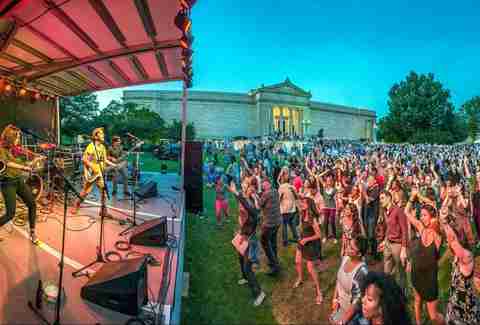 Every first Friday, the Cleveland Museum of Art fills its spacious outdoor courtyard with the biggest party in the city, with each event thematically celebrates parts of the museum's collection and new special exhibits. Bonus: Nibble on snacks from the attached restaurant, Provenance, manned by the illustrious Chef Doug Katz.
The doors to 78th Street Studios, a converted 1905 automobile factory stuffed with a variety of contemporary art, open to the public every third Friday. Pro tip: Cap off your night with a visit to Popeye Presents at Survival Kit on the top level, where live performances by musicians local and national -- from rock to classical to experimental -- take place in the gallery that doubles as a recording studio.
Few things are more intimate than telling stories to a roomful of strangers. At Keep Talking, featured speakers dole out anecdotes on the topic of the night at Happy Dog -- submit your pitch ahead of time for a chance to get on stage. If that doesn't break the ice, ordering a hot dog smothered in "alien relish" (or other 52 off-the-wall toppings) definitely will. Would it really hurt to share your tater tots?
A walk around this historic market's buzzing grounds lined with purveyors is a lively way to spend an afternoon, but its balcony view overlooking the stands might be even better. After lunching on local eats, make your way down the street for a little shopping, including neighboring boutiques Room Service and Salty Not Sweet stocked with handmade local goods. While you're out and about, take an Instagram in front of the #Clevelandmural and check in at Ohio City Moto or Tabletop Board Game Café before grabbing a drink, dinner, or skip off to mainstays like Mitchell's, Soho, and ABC the Tavern.
Since the Western Reserve School of Cooking, Hudson's beloved culinary school, brought its new outpost to Downtown, it's ushered in a steady stream of experts from the partnering incubator Cleveland Culinary Launch and Kitchen to talk shop. Upcoming classes include a summer mixology series and grilling workshops.
To satisfy hungry foodie fans, the Cleveland Indians have ramped up food offerings at Progressive Field to include Barrio, Happy Dog, Dynomite Burger, Cleveland Pickle, Momocho, Dante's Inferno, Sweet Moses, and other Cleveland independent restaurants. Some things never change, though: You'll still find Sugardale Dollar Dog nights, fireworks, and giveaways for this season scheduled on the event calendar.
Cleveland's bustling E 4th St has become a showcase for the city's finest chefs/drink slingers, and there's no better way to see it than with help from the people who know every street and alleyway.
Pick a clear evening for stargazing at the Ralph Mueller Observatory, which is open on clear Wednesday nights during CMNH's extended hours. Want a primer on what you're seeing? The museum's Shafran Planetarium is an entertaining crash course in the night sky.
Take a guided tour through the herb, rose, and woodlands gardens (among others) at the Cleveland Botanical Garden, then end up in the steamy glasshouse, where you'll walk through waterfalls while birds flutter by and, at 2pm each day, newly hatched butterflies take flight for the first time.
In what we like to think of as the ultimate tree fort, this new installation at the Holden Arboretum takes you 120ft above the trees and gives you a view clear out to Lake Erie.
Little Italy bustles with a seamless mix of new neighbors and old-school charm -- charm that's best exemplified by "Cleveland's oldest restaurant," Guarino's, where a piano serenades you during dinner. And of course, a trip to the historic district wouldn't be complete without a cannoli from Corbo's.
Not quite an island, this lakefront park is home to a marina where you can dock your boat or just stroll along Lake Erie and watch the sun set. Sit on the large outdoor patio at Whiskey Island Still & Eatery and enjoy live music with a great backdrop.
17. Battle it out at a barcade
Challenge your date to a round of old-school video games at B Side, an arcade and bar, while local DJs spin throughout the night. At 16-Bit, get unlimited free play on any of the machines while you enjoy pop culture-themed drinks. Last but not least, Funhouse holds it down with alcoholic slushies and carnival games like Skee-Ball to keep everyone entertained.
There's a reason so many weddings take place within the Cleveland Public Library: The place is stunning. In fact, it's the perfect setting for the Music at Main series, featuring live music on a Saturday afternoon, either by the Cleveland Institute of Music or a jazz band that happens to have dropped in.
Bringing poetry to bars has long been the idea behind Brews + Prose's monthly readings held on the first Tuesday of the month in the basement of Market Garden Brewery. The pop-up events span genres, bringing in everyone from the authors of major motion picture adaptations to beer scribes, and even setting up in places like boxing rings.
It don't mean a thing if you're a novice or an expert jitterbug: You're welcome at Get Hep Swing's dance parties on the second Friday of every month in Lakewood, and last Saturday of every month in Waterloo.
The Cleveland Institute of Art offers life-drawing classes, where beginners and professionals alike come to practice gestural drawing from nude models. Impress a date by letting your creativity shine through -- or, for the less mature among us, Dr. Sketchy's Anti-Art School nights are hosted on the last Tuesday of every month at Market Avenue Wine Bar.
In the summer, seek out the cascading falls of Garfield Park Reservation and Bonnie Park Picnic Area, just to name a few of the hidden gems inside the extensive Metroparks system. For added adventure, check out Go Ape, an aerial zipline and adventure course that takes you up into the treetops for two hours of action.
23. Act like you mean it
Cleveland Public Theatre and Near West Theatre are adding some extra drama to the Gordon Square Arts District. Both regional theaters help to develop community and young talent in the area, hosting their own versions of well-known productions or presenting new and adventurous works. Best of all, the ticket prices are actually affordable!
Who doesn't like a competitive game of putt-putt between adults? To raise the stakes, play by our rules: Whoever loses owes the winner an ice cream cone from B.A. Sweetie's Soda Shoppe, or all you can eat candy from the 40,000sqft bulk candy store next door (the largest candy store in America).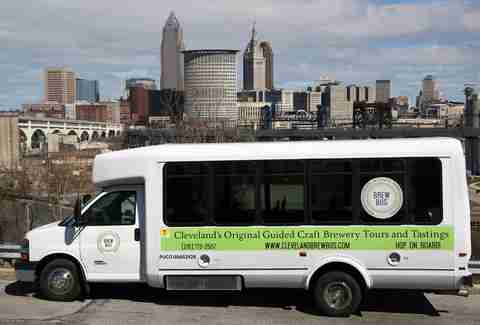 The Cleveland Brew Bus is the original craft brewery and tasting tour, where you can hop on board and sip the night away. Tours of brewery hot spots are arranged by location or theme, with an average of three to four stops per tour and up to four tastings at each spot.
Take a Happy Hour cruise or see the lights of Downtown from the deck while listening to blues music on Saturday evenings. Just make sure your date doesn't get seasick first.
Ohio City Psychic offers group rates, which include one tarot card and two palm readings, perfect to get to know yourself or your potential partner a little bit better -- namely, whether they believe in tarot cards or palm readings. Head downstairs afterwards to discuss your future over a stiff drink by candlelight at TownHall.
Pickle Bill's is just close enough to Mentor Headlands that you can frolic on the beach before heading over for a colorful drink on the Tiki-themed deck of this lobster house. The interior is insanely eclectic, and feels not unlike walking onto the set of a B-52's music video being filmed by David Lynch.
If reciting Edgar Allan Poe is still a good way to pick up women (and it is), then take those you manage to impress on an excursion to this historic burial ground. See all the way to the lake from atop the Garfield Memorial, or take black-and-white photos near some really creepy sarcophagi.
Hopefully you have the same taste in music, because at Jukebox the tunes will be playing all night long from the bar's... jukebox. Stocked with new, local, and touring musicians' songs, grab some free tokens and load it up! You can bring your own vinyl to spin on Tuesdays, and Wednesdays feature a trivia night that offers the chance to win concert tickets.
Sign up here for our daily Cleveland email and be the first to get all the food/drink/fun in town.