The Best Strip Clubs in Dallas, Ranked
Dallas is all about doing things BIG: hair, egos, sports losses, and of course, strip clubs. After all, we invented breast implants here so we might as well showcase them. Here are the seven best strip clubs in Dallas.
East Dallas
Food: Yes
Booze: Yes
Nudity level: Full nude
Located in the middle of nowhere (near Garland) housed in a large nondescript building is something that resembles a large, wild frat party. Depending on how you look at it that could be a good or bad thing. There's weekly specials, booze and it even stays open until 4am Thurs-Sun (BYOB). One thing for sure if you run into someone's college age daughter on stage you can both act like it never happened.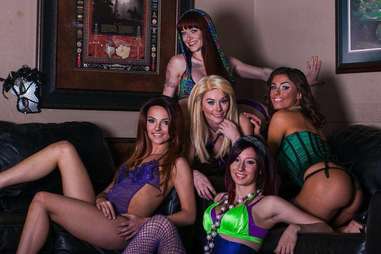 Harry Hines
Food: No
Booze: BYOB
Nudity level: Full nude
This place is perfect in a divey sort of way. What's even better is knowing that Vinnie Paul Abbott, of Pantera fame cofounded the joint with his brother and Pantera band mate, the late "Dimebag" Darrell. Entrance will set you back $20 but you save money on booze since it's BYOB. Rock and roll.
Stemmons Corridor
Food: Yes
Booze: Yes
Nudity level: Topless
This is the largest strip club in Texas with four stages of topless views no matter where you're sitting. But being the largest strip club also means being the most recognizable, located just off congested I-35. If you're looking to be incognito make sure to park in the back or use the discreet VIP entrance.
Harry Hines
Food: Yes
Booze: Yes
Nudity level: Topless
Besides the ever so obvious strip club name, everything about Baby Dolls is perfect. Forget the seedy reputation most clubs have, this could be your local watering hole besides the lack of ahem… clothing. You're more likely to hear the girls dancing to country than to Def Leopard. If you don't want the glitz and glamour vibe then this is your spot.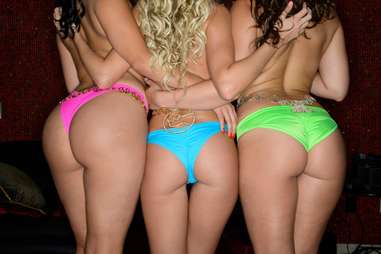 Harry Hines
Food: Yes
Booze: Yes
Nudity level: Topless
There are Beer Bucket Mondays and other monthly sports watching events, why watch a game at the house when you can do it in the company of half-naked women and ice-cold beer? What we are trying to say is this is a casual answer to other more polished gentlemen's clubs. More light beer than martini.
Koreatown
Food: Yes
Booze: Yes
Nudity level: Topless
This is the type of place Hugh Hefner himself would run if he were in the strip club biz. There's a swimming pool, cigar room and a wine selection that would make even the best sommelier raise an eyebrow, just ask Wine Spectator. In short, one simply does not make it rain here; one enjoys a nice glass of red and uses their black card to enjoy the pleasure of beautiful female companionship.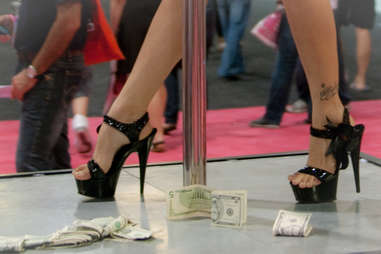 Harry Hines
Food: Yes
Booze: Yes
Nudity level: Topless
This club embodies the best of an authentic men's lodge only with beautiful half-naked women. But perhaps the best thing about this establishment is its ambiance (OK second-best thing). The entryway would make Ernest Hemingway feel at home and there's even a library (yes, a library). And upstairs, the VIP lounge was modeled after Rick's Cabaret from Casablanca. Needless to say this place is more Frank Sinatra than Lil' Wayne. Order a cigar and a Scotch and enjoy the view.
Sign up here for our daily Dallas email and be the first to get all the food/drink/fun DFW has to offer.