Dinner and a movie? No thanks. You're not those kind of people. You are an active, outdoors-loving Denverite and your dates deserve better. So instead of the boring same-old-same-old options, add some excitement (and plenty of fresh Colorado air) to your dating repertoire. To wit:
Catch an outdoor concert
What's better than a great outdoor date? A great free outdoor date! Take a blanket and join the crowds at City Park Jazz or hit up one of the smaller outdoor concert series in town like the Clyfford Still Museum Lawn Concerts or the little-known about Concerts at the Crescent in Greenwood Village.
Hit up some rides
Because amusement parks never get old. Go old-school at Lakeside, drop 200ft on the Tower of Doom at Elitch Gardens, or break out your bathing suit for a day at Water World.
Play a game of mini golf
It's a classic for a reason, and Denver's got plenty of options like Adventure Golf & Raceway in Westminster. With 54 holes that include features like an erupting volcano and a pirate ship, you can tap into your childlike side for a nostalgic outdoor date.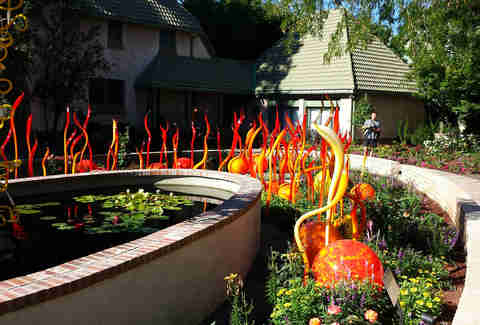 A leisurely stroll around this expansive space gives you plenty of time to get to know your date better. Bring a picnic to easily impress that special someone. No outside alcohol is allowed, but that should (hopefully) keep you from babbling too much about your "cool" collection of Broncos memorabilia.
Get sweaty, then get pancakes!
We know what you're thinking, but no, we're not talking about the typical pre- and post-morning-sex activities. bRUNch Running is a group that meets in a different spot weekly for a run in a Denver neighborhood followed by brunch, making it the perfect date for exercise and booze-loving Denverites. Which is like, all of us.
Do literally anything at Red Rocks
Hike the trails, take a picnic, catch a flick at Film on the Rocks, or, duh, go for a concert. It doesn't really matter what your plans are when you've got a place this gorgeous to set the mood.
Take a hike
Yeah, this isn't what you want your date to say to you. But, it is the simplest, cheapest, and best option for one-on-one time outside since Colorado is home to countless hiking trails both in and outside the city.
They've got options for every skill level and there's no faster way to build trust (or possibly distrust) than hanging off the side of a vertical rocky slope together.
Head for the hills and bring your tent
Nothing compares to an evening spent under the stars. So where should you head? Come on, this is Colorado! Between state and privately owned campgrounds plus all the open wilderness at your doorstep, you can practically camp anywhere.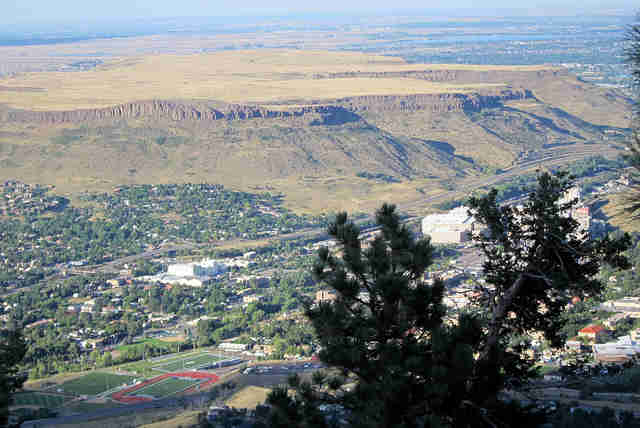 Take in the awe-inspiring views at Lookout Mountain
It's only 30 minutes from Denver and offers an unbeatable view of Golden and the Denver city scape on one side, and the Rocky Mountains on the other. Explore the hiking trails to find a little privacy, cuddle up, and enjoy the scenery.
Cheer on the Rockies
Coors Field is home to one of Denver's best rooftop bars so why not spend some quality time bonding over beers? Bonus: the Rockies are actually winning games this year.
Get wet while rafting
Companies like the Clear Creek Rafting Company will take you out for an adrenaline rush that may just help get the blood flowing... to all the right places (read: your sex organs).
Explore a farmers market
Neighborhood farmers markets can be found on the weekends all over town. Grab fresh produce and head home for an afternoon grill session together. Or go bigger at the The Big Wonderful where you can find food trucks, locally made products, and live music for a farmer's market experience that feels more like a festival.
Create your own brewery crawl
Pick a neighborhood and head out on a walking tour. There are over 200 breweries in Denver so it's pretty easy to find at a few that are close to each other. And most have extremely amazing patios where you can continue soaking up the sun during your stops.
Go classic with a picnic in the park
Greenspace is plentiful in the city so walk out your door and take advantage of your neighborhood parks. Just pack a blanket and some picnic-friendly eats. Yes, this dating thing can actually be this simple.
Sign up here for our daily Denver email and be the first to get all the food/drink/fun in town.