Don't know where to take your date? Take that special someone to one of these sweet spots in a 'hood near you, and you might just end up taking 'em to one of Denver's best breakfast spots the next morning, too.
Cheesman Park
Botanic Gardens (address and info)
It's hard to find a more romantic setting in the middle of the city, plus you can bring in your own picnic (don't forget the wine). And during the holiday season, flowers in bloom are replaced with blossoms of light making this a year-round winner on date night.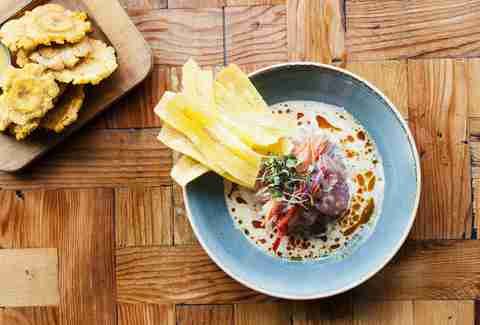 It's hard to find a criticism of this Denver hotspot. Ever since it opened in mid-2014, Leña has been lauded for its warm hospitality and fresh Latin cuisine, which means that even if your date sucks, you know the service and ceviche won't.
You can catch dinner and a show without having to switch venues. And while it may be one of the trendiest restaurant/bar/music venues in town right now, owner Justin Cucci has paid homage to the space's history as a brothel/peep-show/adult bookstore with a sexy theme that's sure to get the conversation heading in the right direction.
Pizza, pasta, and impressive specials like the seared scallops with savory apple galette are sure to please basically anyone (with taste buds), but Trattoria Stella is also a neighborhood classic for another reason: it's only two blocks from Denver's largest park, so it's easy to extend a date that's going well with a nighttime stroll.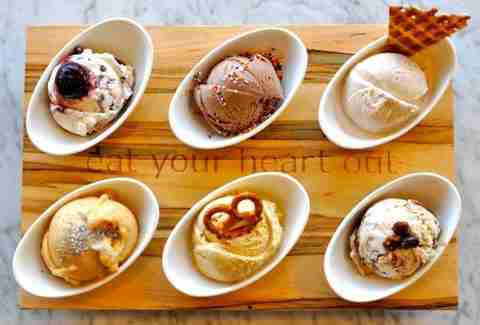 Because anyone will like you once you've bought them a flight of ice cream. Do you need any more reason than that? If you do, there's also a guarantee you'll fall in love... with its new fall flavors like pumpkin pie that's made an actual whole pumpkin pie (made from the owner's mom's recipe).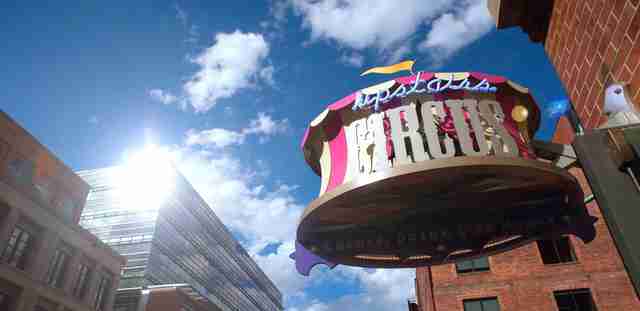 It's the cooler younger sibling of those wine & painting places. Upstairs Circus has reinvented the "arts and crafts" outing with projects like custom leather koozies and flasks, wooden six-pack carriers, and a distressed-wood Colorado flag. And yes, there's a full bar too.
You may not be ready for an actual trip to San Diego together, but you can practice at this beachy establishment. There's a patio complete with fire pits that create some ideal mood lighting, shareable food like fried oysters, and over 100 tequilas to end any date night tension.
The Highlands
Stir Cooking School (address and info)
This neighborhood is packed with popular eateries, but teaming up to cook food together makes for a way better date than trying to get to know each other in a noisy restaurant. And you'll earn some cooking skills that are sure to come in handy during dates to come.
Soft steamed buns, decadent lobster ramen, and a churro ice cream sandwich. Food doesn't get much sexier than this.
University/Platt Park
Grandma's House (address and info), Declaration Brewing (address and info), Fermaentra (address and info), and Platt Park Brewing (address and info)
If you're on a date in Denver, there's a good chance your companion is into craft beer. Since this corner of Denver recently got an influx of new options for quality brews, a mini brewery tour is the way to go. Especially when it also includes old-school Nintendo games at the purposely kitschy Grandma's House.
Your date will be impressed from the moment you pull up. From the outside it looks like a quaint little house transported from the tropics, and inside you'll find some of the tastiest Cuban food in Denver. The only thing you need to worry about is whether to get one mojito, or a pitcher of them.
Using coupons on a date is a quick way to come across as a cheapskate. Instead, head to Americatus on Tuesdays from 5-10pm for its "date night" special: a bottle of house wine, two entrees, and a dessert for just $60.
Country Club
Esquire Theatre (address and info)
Dinner and a movie… blah. Dinner and a movie at the Esquire… yes! It's got a super-central location near plenty of restaurants/bars, and an old-school, Art Deco charm that will make you look cooler than you probably are. Not to mention the fact that catching an indie flick, or a cult favorite like Rocky Horror Picture Show, will lead to much better after-movie conversation than the kind a typical big screen, special effects show can spark.
Civic Center
Clyfford Still Museum (address and info)
This museum is small, so you're not committing to hours of artsy explorations, but what is there (all of the artwork that was part of Still's estate) will give you and your partner in amateur art criticism plenty to talk about.
The upstairs balcony was made for date night. With lights hanging from above, you can have a real-life Lady and the Tramp moment over some pasta and wine. Plus there's zero pretension here and the atmosphere is cozy, which makes it easy to relax and enjoy the real focus of the night: your date.
Sign up here for our daily Denver email and be the first to get all the food/drink/fun in town.
Molly Martin is a Denver-based freelance writer who enjoys strong drinks on her date nights. Follow @mollydbu on Instagram and Twitter.