Flip the radio dial to the oldies station on any sweltering day this summer and let the simmering romantic melodies of The Supremes or Little Stevie Wonder transport you straight back to the early days of Motown. Certainly anyone that loves music, history, and sunshine knows one steamy truth: Detroit is for lovers. And though you might not come across anyone dancing on the streets of Woodward this weekend, summer in in the Motor City is a magical time. To make the most of it, here are 12 new, amorous ways to explore Detroit with the the one you love (or at least kinda sorta like) before the cold comes to confine us to the indoors again.
Eastern Market
It doesn't matter how many times you've strolled down the Riverfront, if you haven't rolled through the RiverWalk or down the Dequindre Cut on a Segway, you haven't experienced all that new Detroit has to share. Also, since helmets (and motorized personal transporters) add just the appropriate amount of levity to any date, romantic hijinks are certain to ensue on your adventure.
Midtown
Meet your date in the Kresge Court at the Detroit Institute of Arts for Sunday Music Bar, a relaxing afternoon of live acoustic music, comfortable couches, and artfully crafted adult beverages. Nursing a hangover after your valiant attempt to down a Bachelor's Bowl for eight at Punch Bowl Social the night before? Pop on your sunglasses until you're ready to commit to the streams of ethereal light that cascade through the Court's overhead skylights.
Downtown
With its Temptations-esque quartet (complete with matching monochromatic suits) and a kitschy, nautical photo opp from behind the wooden ship's wheel, the Motown Dinner Cruise on the Detroit Princess is the embodiment of vintage Detroit, circa 1962. It's also the supreme excuse to grab your best guy or gal, get all dolled up, and go Downtown. The cruise itself boasts spectacular views of the city, voyaging along the coast at dusk -- a vantage point on the river you've likely never encountered before.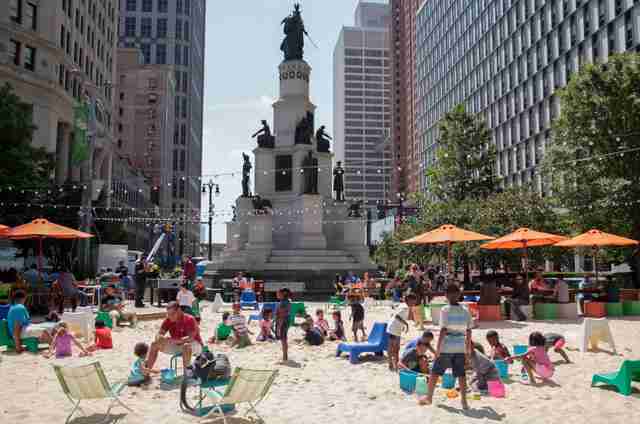 Campus Martius
With your eyes closed to the spray of the fountain, and your toes in the sand of this "urban oasis," you might just be able to envision yourself chilling on the beach of Lake Michigan for a hot minute. But when the waiter interrupts your reverie to take your drink order, or the DJ starts blasting Ke$ha, you'll find an alternative kind of peace in your restaurant date at The Fountain Detroit.
Warehouse District
For those in search of a Detroit date that's one part "Let's Get Physical," one part boozy blow-off, Motor City Bike & Brew Tours offers several historical bicycle tours that trek their way throughout the city. One of the most popular tours winds through sites from Prohibition lore, past breweries of yesteryear, and culminates at one ultimate Detroit brew institution for a refresh, such as Traffic Jam & Snug or Atwater Brewery. While a limited number of bikes are available for rental, most tours are BYOB (bring your own bicycle).
Delray
The grounds, barracks, and outbuildings of Detroit's Historic Fort Wayne, built in 1842, are the summertime home to vintage baseball games, the annual Medieval Days festival, and at least one ghost -- if you're apt to believe in that sort of thing. For couples in search of a supernatural soiree, the Fort offers several Tours After Dark through October, where sightings of at least one spectral figure ("a despondent domestic servant that took her own life") have been rumored to freak people out.
Eastern Market
When was the last time you serenaded your sweetheart with a love song a la Michael Bublé, or better yet, with a little "come hither" number by the late, great Barry White? Bert's Entertainment Complex is where the best (and worst) karaoke crooners display their vocal prowess to the world -- or at least up and down the hallowed echoes of Russell St. Every summer Saturday from 10am-7pm, Bert's also serves up slabs of BBQ ribs from its massive outdoor grills as shoppers from Eastern Market meander over to behold the musical trainwreck.
Cass Corridor
You've probably been to a concert at the Masonic Temple Theatre some time in the last decade or two, but there is so much more to this iconic building that is concealed from public view. For a romantically eerie afternoon date, guided tours of this 92-year-old landmark are offered daily by appointment. Each tour is a one-of-a-kind encounter, spanning any of the 1,037 rooms, including, perhaps, the empty vestiges of the Depression-era swimming pool, a dozen secret passageways, or the top three floors of the 16-floor Temple, which have remained, due to lack of funds, forever -- and seemingly permanently -- unfinished.
Throughout Detroit
From its popular Strolling Suppers events to the weekly Art in the Market tour, the Detroit Experience Factory provides a total immersion adventure within the city proper from an insider's point of view. Executive director Jeanette Pierce adds that "experiences" can be customized to cater to your particular interests or needs. Have a penchant for Art Deco architecture? There's a tour for that. Want to build a first-class date around the budding restaurant scene? Ask and ye shall receive.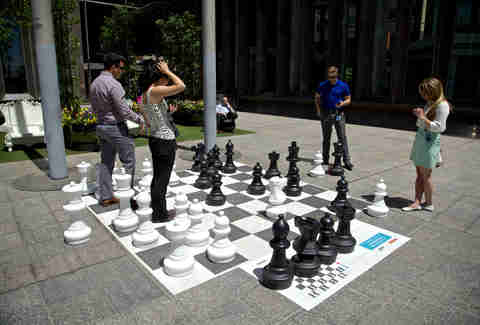 Downtown
A little friendly competition is an expert trick to avert first-date jitters, and these giant chess pieces located on the sidewalk outside the 1001 Woodward Building are an easy way to gauge your potential mate's competitive streak. The vibe around the building is Alice in Wonderland-esque, with massive topiaries and giant throne-like chairs to sit down and dissect your chess game. Grab a coffee afterward at Detroit's Roasting Plant and proceed to act out every first-date cliche, right down to the awkward, "Do I go in for a kiss, a hug, or a brotherly high five?" dance of dysfunction at the end.
Campus Martius
After a rousing game of giant chess, the loser can treat the winner to something cool at Detroit Water Ice Factory, which is just a short stroll away, past the Campus Martius fountain. Founded by local author Mitch Albom, Detroit Water Ice is whipping up its own spin on refreshing, fat-free, dairy-free, and cholesterol-free desserts. One hundred percent of the profits from the store go to help Detroiters in need. Look at you, Mr. Nice Guy. Handsome AND civic-minded!
Downtown
While a date for 16 isn't exactly an intimate experience, a pedal-powered bar crawl around the city is a foolproof way to taste everything that the city -- and summer -- have to share. The HandleBar Detroit hosts two-hour tours fueled by you and 15 of your compatriots (literally -- you pedal your transportation), captained by a sober Bar Handler, with stops at some of the best bars in the city, including Grand Trunk Pub, Coaches Corner, The Old Shillelagh, and Sharky's. Bring a few friends, have them bring a few (preferably nice-looking) friends, and this may just be entree to meeting the girl (or guy) of your dreams. Or maybe it's just the exhilarating path to be introduced to the brew of your dreams. Either way.
Sign up here for our daily Detroit email and be the first to get all the food/drink/fun the Motor City has to offer.