Going on winter dates in Detroit is hard: It's cold, the sun doesn't shine for long, and getting out of a warm car sucks. Most of us want to curl up on our couches with a mug of hot cocoa and do nothing with our lives. However, there is an alternative: Get out there with your boo and make the most out of the cold! Snow is pretty if you want it to be. Ice skating is romantic as long as there are no injuries. Hot chocolate isn't really hot chocolate unless you're drinking it outside. From Monday through Sunday, we've cooked up an entire list of winter date ideas that'll keep you busy each and every night of the week. So forget the couch!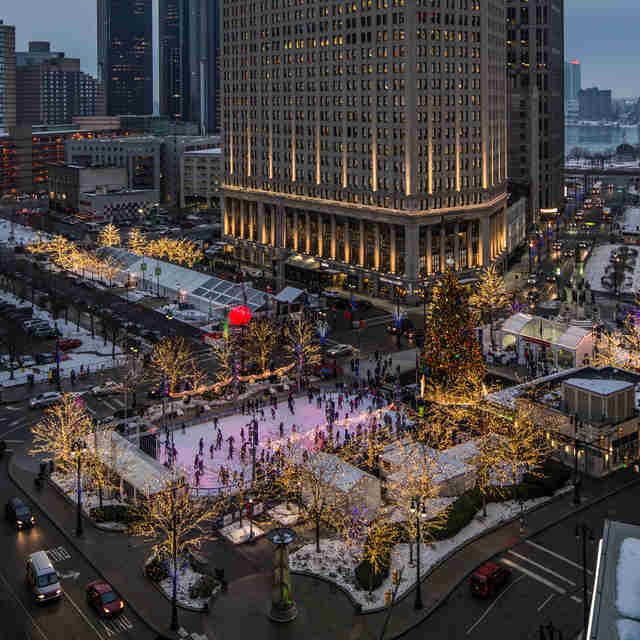 This tried-but-true go-to plan for metro Detroiters can salvage even the most awkward of dates because hey, you can always skate away. From November through March, the ice rink at Campus Martius Park in the heart of Downtown Detroit is open seven days a week and is totally affordable (only $8 for adults, plus $3 for skate rental). During the holiday season, you're surrounded by a towering, glistening Christmas Tree, and in the winter months that follow, the city's glimmering lights shine just as bright. To avoid crowds, go on a Monday.
Tuesday: Sample chocolate at Bon Bon Bon
The chocolatier, which recently expanded to include a second location in Downtown Detroit along with its Hamtramck joint, serves up just about every flavor combination you can think of. But if you want to be all about winter, sample the winter collection: like the Hot Toddy, made up of lemon confiture, whiskey caramel, and tea ganache, or the Pepper Mint, a peppermint and white pepper ganache creation with a dark chocolate shell and peppermint sprinkle. We're very intrigued by the Egg Nog as well, which has custard ganache and nutmeg.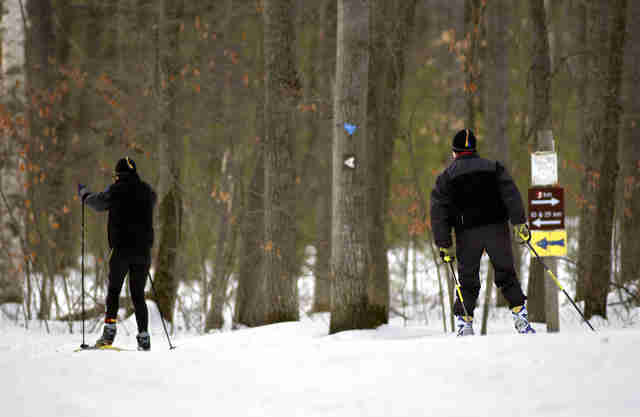 Wednesday: Go cross-country skiing at Belle Isle
Even during the colder months, you can make the most out of Belle Isle, one of Detroit's biggest summer attractions thanks to its beaches and unbeatable view of the city's skyline. Rent a pair of skis and hit one of the island's trails with your boo. Later on, take a break and build a snowman, have a snowball fight, check out the Belle Isle Aquarium: you know, all the fun and not vomit-worthy date stuff.
Thursday: Embark on an evening snowshoe hike at Stony Creek Metropark
Don't worry, we're not throwing you to the wolves on a cold winter night: With the help of an Interpreter, hike the sprawling park's best winter trails in snowshoes. This is a sure way to woo a new date with not only your unheard-of date idea, but your willingness to do something as unprecedented and brave as hiking remote land at night, in the snow, in the cold, just to impress them. It's only $5 for a guaranteed second date.
Friday: Catch a movie at the old Redford Theatre
Detroit's Redford Theatre is a true gem, the city's last neighborhood movie house that was built way, way back in 1928. Its beautiful interior is one thing, but what really captivates about this historic structure is the movie curation: The Redford Theatre is known for always screening classic films, from Hollywood classics to Harry Potter. While snow is fun, sometimes the best way to make the most of winter is to avoid it and cuddle up in a cute theater sharing a bucket of popcorn (which is very good here) instead.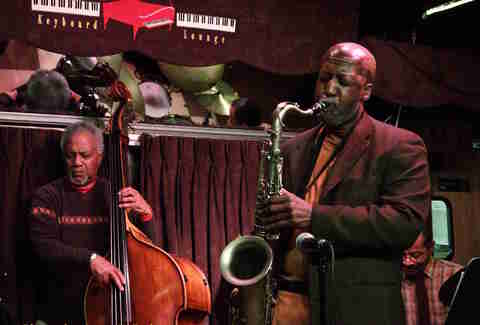 An appreciation for jazz can automatically boost your intelligence and cultural awareness. Therefore, it's only right to take your date to Baker's Keyboard Lounge, which is not only Detroit's oldest operating jazz club, but the oldest in the entire country. Order a nice bottle of wine, enjoy delicious soul food, and kick back and relax to the sounds of smooth jazz. We have a theory that jazz sounds best in the winter, when snowflakes are falling and there's a fire roaring nearby.
Sunday: Take a staycation at the Townsend Hotel
If you've got kids, treat yourself to a staycation at Birmingham's super-swanky Townsend Hotel. If you don't, treat yourself to a staycation anyway. Hit the spa, order room service, and feed each other strawberries in bed for breakfast; don't worry about a thing and take a little us-time because you both deserve it. During the day, shop Birmingham's many boutiques and grab a latte; at night, throw on some Netflix or order a movie and unwind. (If you're still not sold, we hear the Townsend has incredibly comfy bathrobes.)
Sign up here for our daily Detroit email and be the first to get all the food/drink/fun the Motor City has to offer.