Whether you've been seeing your partner for five months or 15 years, keeping the flame alive requires a little ingenuity. Sometimes, date night should be more amazing than just ordering takeout and catching up on Game of Thrones (not that we don't love this plan on a normal night). Shake up your regular routine with these off-the-beaten-path date ideas to keep the romantic juju flowing.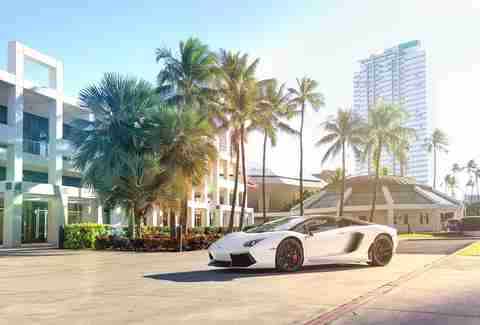 Rent a super-fancy car and drive around the island
Sure, you could road trip around Oahu with your standard, everyday automobile. But if you want to amp up a special day date, renting a luxury vehicle is the way to go. Temporarily trade your car for a luxury vehicle and whisk your date away in a smooth-riding, air-conditioned chariot like a Ferrari Spider or a Maserati… and take in all of Oahu's 112 miles of coastline in style.
Make your own wine
Take your relationship to the next level and create a signature wine at Oeno Winemaking, then come back in a month or so to bottle your love potion and taste, label, and cork the fruits of your labor. Sadly, no smashing grapes with your feet is not involved in this endeavor.
Swim with sharks
Dunk your date below the ocean's surface in the safety of an aluminum cage and try not to hold your breath (you'll be given snorkels) as Galapagos and Sandbar sharks twist into view. Added bonus: depending on the season, you might be able to see dolphins and whales on the boat ride out to sea, so you can cross multiple items off your bucket list -- all while showing your date a good time.
... or hop aboard a glass-bottom boat
If you'd rather stay dry, take your date to Hawaii Glass Bottom Boat's daytime tour, where you can check out tropical reefs together. The 90-minute tour will sail you towards Diamond Head, where you can spend a magical day seeking out sea turtles, eels, tropical fish, and dolphins from the boat's deck or glass-bottom view ports.
Get a-hopping at iTrampoline
Trampolining: it's not just for kids anymore. This 14,000sqft bouncy playground is filled with spring-loaded frames made for cardio enjoyment. Join in on a dodgeball game, try your hand at Harlem Globetrotter-style dunking, practice backflips into a foam pit, or just jump around till one of you pees your pants laughing (OK, hopefully not).
Ditch brunch for breakfast in the great outdoors
Nothing is less romantic than long Sunday brunch wait times… or washing your own dishes. Hit up Ward Village's monthly Courtyard Brunch and leave the hard work to the experts: the old IBM building transforms into a pop-up breakfast extravaganza, where you can sip morning cocktails while you choose from themed brunch plates shaped by local food vendors, and shop at a mini farmer's market. Don your Sunday best as you and your partner chow down on delicious farm-to-table ingredients... and find out if good food is really the way to the heart.
Take a zipline tour at Keana Farms
This three-hour tour at a working agricultural farm makes for a great date that sends couples sailing from their comfort zones. Start with an ATV ride through the jungle, then zip side-by-side through the lush, working agricultural farm, with lines ranging from 500ft to half a mile long, as you'll pass through sky bridges, rappels, and scenic boardwalks.
Go night sailing
Take to the open seas for a 90-minute moonlight sail with Maita'i Catamaran… you and your paramour can snuggle up under the stars while imbibing unlimited Mai Tais, beer, wine, Champagne, and soft drinks. The Mahina sets sail on Friday nights, which means you'll also be treated to an oceanfront view of the Hilton Hawaiian Village's Friday fireworks show. Pro tip: leave the high heels and covered shoes at home; all sailboats involve barefoot boarding... so wetness will definitely occur.
Catch air with tandem parasailing
Take to the skies in a double harness for an exhilarating ride, where you and your date will have some quality alone time… all more than 500ft above the ocean's surface. As you're flying through the air, you'll barely be able to contain your glee. Hovering above the ocean as you're being towed by a boat might be the most scary (and fantastic) thing you've done together.
Learn how to kick each other at a Krav Maga class
Maybe Isreali military self defense might not be the first thing that comes to mind for date night, but learning how to defend yourselves against attackers will mean you both have increasingly better chances of surviving a possible future zombie apocalypse together... and really, what's more romantic than that?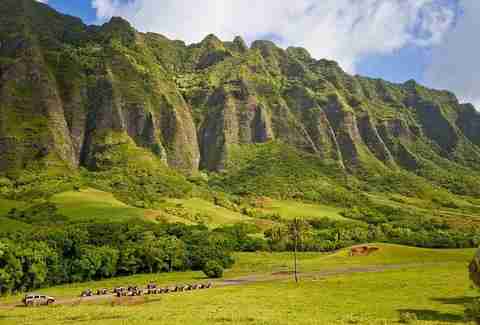 Get rugged with an ATV tour
Hop onto a four-wheeler and take in the unspoiled beauty of Ka'a'awa Valley, which have served as backdrops for Hollywood movies and TV shows like Lost and Hawaii Five-0. The helmet hair is totally worth it.
Visit some beautiful local architecture
Get off your couch and into a beautifully designed architectural home for a (temporary) change of scenery. Book a tour with Doris Duke's Shangri La and see how the heiress and philanthropist built and designed her five-acre home to reflect her love of Islamic art and culture. Or schedule a tour of Vladimir Ossipoff's mid-20th century Liljestrand House and take your date to see how the famed architect blended modern and natural materials to create a beautiful retreat.
Become escape artists
Unleash your inner Sherlock and show your beloved how sexy your brain is as you work together to solve riddles and clues to escape from a locked room. Get locked up at Room with a Clue or Breakout Waikiki and see if you have what it takes to bust out in the allotted time. Make it a double or triple date to enhance your chances of problem-solving success... or tackle the tasks as a duo for added intensity. No pressure.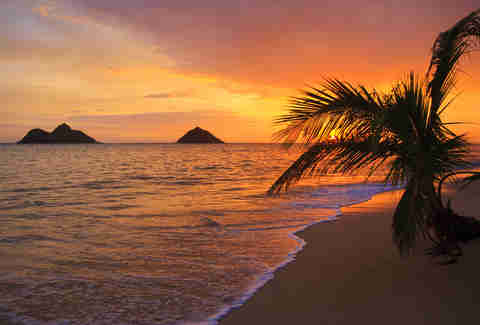 Watch the sunrise in the great outdoors
Set the alarm for an ungodly hour, pack a blanket and a Thermos full of coffee for you and your paramour, and head to sunrise-worthy spots like Lanikai Beach, Kāne'ohe Bay, or Sandy Beach Park to watch shades of pink color the horizon. For a more adventurous bird's-eye sunrise view, lace up your sneakers, ignite your flashlight app, and climb up the short pillbox hike in Kailua... or the more than 1,000 steps of the Koko Crater Railway Trail in Hawaii Kai, then curl up with your date as the island fills with color.
Test your balance with tandem surfing
Two people, one board, maybe your best date ever (or at least one of the most memorable). Rent a longboard, jump into the ocean, and spend a few hours working together to skim across waves.
Sign up here for our daily Honolulu email and be the first to get all the food/drink/fun in town.