11 of the Most Romantic Date Ideas in Houston
For those looking for love in Houston, these romantic date ideas—getting cozy at a speakeasy, taking a pottery class, going skydiving—will be sure to fan the flames.
Romance isn't only reserved for Valentine's Day. In our opinion, it's always a good time for a special night out. And we've got some unique and romantic date ideas in Houston to help keep things fresh. Try a new cocktail at clandestine bar Marfreless or a sexy rooftop bar. Push your romance to new heights at Skydive Houston. Smash a room apart as a team at Tantrums. There's no shortage of unique date night ideas, day or night, to keep the sparks flying. Houston always has something fun going on, after all. (And, when in doubt, you can always just visit the most beautiful places in Houston together for a romantic stroll or picnic.
Spring Branch
Sometimes, you need to let off some steam. But maybe punching your pillow isn't cutting it anymore. Book a trip to Tantrums and have the chance to destroy a whole room. Starting at $35 a person, you can smash TVs, break dishes, and other various fragile items with your weapon of choice. Because who doesn't want to use a sledgehammer every now and then?
Various locations
Looking to mix up the typical dinner date? You could always add some CBD or THC. At Wild, get your drinks and dishes infused with hemp for a mellow vibe perfect for great convos. The menu includes classic drinks like an Espresso Martini to lesser-seen finds like Duck Pancakes. Grab your person and try a different type of food experience.
River Oaks
Put on your best detective glasses to find Marfreless (or just peep the "2006" right above the signature blue door, then you can't miss it). Inside one of Houston's most exclusive bars outfitted with low lighting and '80s music blasting, trade the upscale feels of River Oaks for a menu of champagne and vodka with Red Bull. For a little extra privacy, head upstairs to the "couples only" area. Curtains included.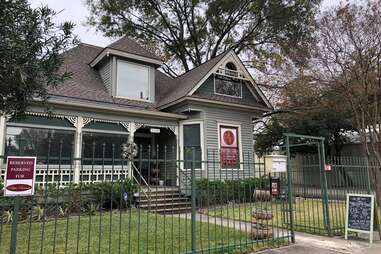 The Heights
Unwind at the Petite Retreat with a customized experience where you can choose from a menu of aromatherapy, mud wraps, eucalyptus showers, and other zen-inducing activities. You can even pay for a couples tutorial session to learn how to properly massage each other. Don't forget to have a hot tub soak before you leave this relaxing oasis. Couples Spa Packages start at $210.
Downtown
Take your bike rides to the next level. Rent EBoards Houston has Escooters, electric skateboards, and even Onewheels for adventurous types. Go smell the flowers at Buffalo Bayou Park. Ride under the electric lights on Montrose Bridge. You can also cruise to Eleanor Tinsley Park and get some of the best downtown views in the city. With your helmet on, of course.
Various locations
Visit Smashed Clay + Studio and live out your clay-making fantasies (Patrick Swayze not included). With a Couples Challenge Package for $85, work with your significant other on one pottery wheel and make two projects. Don't worry about being the best artist in the room. No experience is necessary. And you can bring your own adult beverage.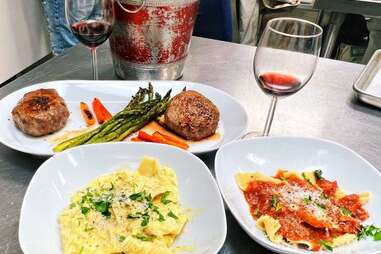 Highland Village
Get into your "Cater 2 U" bag and learn how to be a culinary star at Urban Chef. You and your partner can choose from numerous dishes to learn, from Thai to steakhouse classics. Plus, you can use these recipes for future date nights. Prices range from $180 to $200 per couple. Get your reservation in. This class is known to sell out quickly.
Montrose
Have a hilarious night together at The Riot. Every Thursday through Sunday, the Montrose comedy club features comics from Netflix, Comedy Central, and more. Don't worry about grabbing food before the show. There is plenty of food and drinks (that can be CBD-infused) to choose from, as well as sweet treats.
Waller
Drive about 45 minutes outside Houston to Skydive Houston for a date y'all will never forget. Starting at $209, you can enjoy a 20 minute plane ride up…and up to a 60-second freefall back down. Don't worry, there is a training session included with the price as well. When you make it back on the ground, go grab a drink to celebrate being daredevils.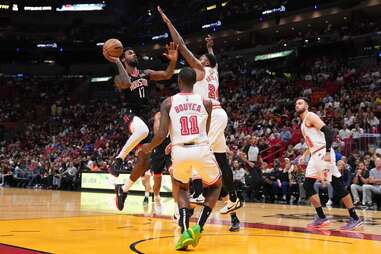 Downtown
There's nothing like the energy at Toyota Center as the Rockets get ready to play. So put on your best 'fit and watch the team (hopefully) secure a victory. You can either watch the game from your seats or at Sire Spirits Social Club for drinks and Southern eats. Who can say no to crawfish mac and cheese?
Downtown and Fourth Ward
Pur Noire is Houston's first Black-owned winery and tasting room.Here, find plenty of options for an intimate wine night. In the tasting room, go for packages like the Pur Noire Grand Tasting, which includes a flight of six wines. If you are strictly a merlot or red fan, this urban winery has options for you, too. Feeling extra fancy? Order ahead and add a charcuterie board to your reservation. Y'all both deserve the ultimate wine and dine experience.
Madelyn Gee is a contributor for Thrillist.