Dating in Houston can be great, despite what your single friends may have told you. We have great patio weather almost year round (and if it gets too cold, fire pits!). But if you're finding it difficult, don't worry friend. We're gonna add some extra confidence to your romance game by listing out a whole bunch of cool, affordable stuff to do with whoever actually agreed to go out with you.
Whether you're looking for a cozy first date spot or desperately seeking a way to heat up your current situation, these foolproof date ideas are sure to light a spark. And hey, on the incredibly off chance you don't find something on this list that suits your needs, check out our Houston bucket list for a lil' more inspiration.
Escape to Hawaii in Houston at Lei Low
Heights
You and your date can channel tropics without even leaving the loop by popping in for a few tiki drinks Lei Low. Don't be fooled by its unassuming strip center appearance; you'll be shouting "Okole Maluna!" (bottoms up) after the first round of mai tais.
Listen to live music
Multiple locations
Test your date's ability to rock by hitting local live music dives like Fitzgerald's, Satellite Bar, Continental Club, Warehouse Live, and White Oak Music Hall. Then, if you can still hear over the ringing in your ears, get to know each other over one of our picks for great late-night eats. If your date calls you back, they passed the test.
Take your dogs for a drink
Multiple locations
Because if your dogs can't get along, there wasn't a chance to begin with.
Take a farmers market bike tour
Multiple locations
You'll be able to bond over locally made jams and fresh-picked produce as you hit two or three farmers markets over the course of a few hours. But be warned: you should be able to make it through a 15-mile ride (there are stops) without uncontrollably sweating before you attempt the Bayou City Outdoors ride.
Catch an outdoor flick at Axelrad
Midtown
Mondays are for movie night at this expansive beer garden, with screenings of cult classics and top blockbusters starting at sundown. Snuggle up in a hammock and grab a slice of pizza from the neighboring Luigi's.
Attempt a two-step at Goodnight Charlie's
Montrose
This brand new honky-tonk lights up with live musical acts -- from country and bluegrass to Zydeco and Americana -- on Thursday through Saturday. Even if your two-step doesn't impress your date, a little late night bourbon and a loaded cheesesteak taco will.
Bocce in the yard at Brooklyn Athletic Club
Montrose
An intense game of bocce in BAC's charming backyard will get the juices flowing. And if it doesn't, a few rounds of intense cocktails by the outdoor fireplace should.
Play endless vintage arcade games
Downtown
Channel your inner fifth grader at Joystix Classic Games and Pinballs. The Downtown gaming center opens up its showroom for free play on the first and last Friday of each month ($15 per person at the door). Just play it cool after you get whomped in Street Fighter.
Say "cheese!" at Houston Dairymaids
Heights
Local cheesemongers, Houston Dairymaids, offer free cheese tastings whenever they are open, which taste even better when paired with the free booze tastings offered on Saturdays. Pick out a few varieties then head to Buffalo Bayou park for a picnic under the skyline.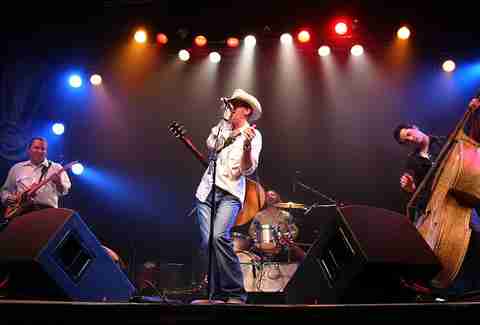 Craft brews and country at Cottonwood
Garden Oaks/Oak Forest
Grab a fireside seat and enjoy a selection of 42 craft taps and live music on Cottonwood's always popping patio. Follow the music schedule on Facebook. 
Experience Vietnamese crawfish
Alief
Who new devouring crawfish heads and cracking king crab claws with butter-soaked hands could be so erotic? Us. We did. And we found out at Crawfish and Noodle.
Settle in with wine & s'mores
Midtown
13 Celsius is a dimly lit, very sexy wine bar, made 10 times sexier when tableside s'mores get added into the mix. Enjoy those alongside a 450+ library of eclectic, global wines, offered by the bottle, glass, half-glass, and taste.
Sing your hearts out at Glitter Karaoke
Midtown
Kick back a shot to help with the nerves then pick your song and see if you're a match made in karaoke heaven at this cult favorite Midtown spot. If you're looking for some weekday tastiness, Glitter rocks pop-up kitchen takeovers on select Thursdays.
Drink for a cause at OKRA Charity Saloon
Downtown
Not only is this Main St bar's dimly lit, brick-walled interior a thing of beauty, but its mission is too. All proceeds go to a different local charitable organization each month. Each drink you get earns you a vote for that month's winning charity.
Pearland
While you can almost certainly expect a line around the corner on weekends, the wait time -- coupled with the free beer -- will really help you get to know each other.
Get your hookah on at Cafe Mawal
Galleria/Uptown
You'll both get high (on life) as you smoke shisha in your cozy Bedouin tent. Also, watching your date smoke hookah is probably pretty hot.
Nerd out at trivia
Multiple locations
Geeks Who Drink host about a trillion trivia nights around town, so the least you can do is make one of them.
Throw some large axes at wooden targets
Sharpstown
Houston Axe Throwing offers a limited number of hour-and-a-half ax-throwing sessions for $25 a person, including 30 minutes of lessons and practice and another hour of ax-throwing games. The best part? The more rugged you look, the better.
Catch a sunset light show on Rice Campus
Rice University
Sitting pretty next to the Shepherd School of Music at Rice U, James Turrell's "Twilight Epiphany" Skyspace rocks LED light sequences at sunrise and sunset (but who are we kidding, you're going to the sunset showing). The trippy shows are 100% free, but you'll have to make reservations first.
Das boots and Battleship at Bar Munich
Midtown
This laid-back brewhouse's board games and cheap beer specials will keep both you and your date happy, even if your battleship gets sunk.
Go on an old-school roller-skating date
West Oaks
Relive your youth/bruise your bum the Dairy Ashford Roller Rink, which is open for public skating Thursday-Sunday. And while you're going old-school suburbs with it, you may as well finish the night off with a sundae at Baskin Robbins. Admission is $7 and skate rental is $3.
Get your Mario Kart on at Neil's Bahr
EaDo
Neil's Bahr, named after physicist Niels Bohr, is the spot for all things amazingly nerdy. Bond over a few games of Mario Kart and even more rounds of PBR.
Slurp down Gulf oysters at Caracol
Galleria/Uptown
The coastal Mexican restaurant's raw oysters on-the-half-shell are no joke (and are natural aphrodisiacs), but their wood-roasted oysters with chipotle butter are the real winners here. Get them for half-off during happy hour.
Make up a DIY taco crawl
Multiple locations
Perhaps start with breakfast tacos?
Bike along the bayou and into Downtown
Multiple locations
Pick up a B-Cycle at Spotts Park and make your way to Market Square, where you can refuel at one of many bars and restaurants. We suggest sangria and tapas at Batanga or brews and falafel at Niko Niko's in the square.
Go beer tasting at a local brewery
Multiple locations
With powerhouses like Saint Arnold, Karbach, Buffalo Bayou, and 8th Wonder, plus promising neophytes like Platypus, Eureka and Under the Radar, the beer date choices are aplenty. Most taprooms for are open for single pours or tasting tours for around $10-$15.
Sip wine in one of Houston's oldest bars
Downtown
Housed in Downtown's oldest building, the chandelier-lit La Carafe oozes sex appeal. Just be warned: the spot is said to be haunted. More important warning: it's cash only.
Hit the tracks at Sam Houston Race Park
Northwest Houston
Betting on horses is fun because 1) you can win money and 2) you can win that other bet you and your date made.
Multiple locations
The best part? No driving needed.
Do dim sum
Multiple locations
Go crazy on dumplings, chicken feet, and pork buns at Fung's Kitchen's legendary dim sum. You'll notice a crowd there every single weekend, so Hong Kong Dim Sum and Dim Sum King are also worthy contenders.
Play around on giant trampolines
Spring Branch
Sky Zone's indoor trampoline park offers open jump, a SkySlam court, and a SkyRiser bungee trampoline. Get 60 minutes for $15 per person (plus $2 sock rentals), and be prepared for a lot of bouncing.
Share a late-night slice of pie
Upper Kirby
Head to House of Pies to get a giant slice of pie no matter the hour; the old-school diner is open 24/7.
Check out one of our many boozy brunches
Multiple locations
And why not start with the best brunches in Houston?
Break out your best '80s dance moves
Montrose
Friday and Saturday are '80s nights at Etro Lounge. Dress in the decade's finest and break out those old-school moves your funky cousin Tevin taught you. Because if your robot doesn't turn your date on, what will?
Washington
On the second Saturday of every month, local artists open their studios to the public. Head to the repurposed Sawyer Yards warehouses to explore everything from rad painting and sculpture works to jewelry and photography.
River Oaks
This Art Deco theatre plays your favorite foreign flicks, indie films, and monthly showings of The Rocky Horror Picture Show.
Needville
Head to the nearby Brazos Bend for a romantic hike and finish it off with a sick stargazing sesh at the onsite George Observatory. Just be sure to check for closures due to flooding before doing so. #HoustonProblems.
Montrose
The Menil Collection is hands down one of the most prized artscapes in Houston, so go there to stare at some pretty cool walls, get zen at Rothko Chapel, then hop on over to Bistro Menil to take turns sniffing wine and discussing existentialism.
Downtown
This amazing 87,500-square foot, 25-foot tall underground cistern was built in 1927, but it only recently opened to the public. Sign up for a 30 minute tour to take in its cathedral-like magnificence in person. It's a quick date, so you may want to also pack a bayou-side picnic.
Laugh yourselves clean at Improv Houston
Spring Branch
Some pretty excellent comics make their way through Houston's Improv. Get your tickets online (shows start at just $7 for open mic night but bigger acts will run you around $25-$35) and show up early to get a head start at the bar (and ensure prime seating).
Be a pinball wizard at Poison Girl
Montrose
Bring quarters to this whiskey-fueled cocktail bar which, in addition to having a comfy back patio, houses a stellar selection of vintage pinball machines.
Sign up here for our daily Houston email and be the first to get all the food/drink/fun in town.