For anyone who has ever tried to think up an acceptable date night only to settle on bowling, this one's for you. Granted, it can be tough going inside the mind of your plus-one without doing so in a disturbing, "I'm watching you" kind of way. These personality-driven experiences – perfectly tailored to suit your date's tastes and agenda – should help.
Sexed-up extrovert
The Moonlight Dolls show at Prohibition Supperclub & Bar
Downtown
Throw yourselves way, way back, to the sultry 1920s, when bootleggin' gangsters and provocateurs ran the world (or at least underground speakeasies). This sultry supperclub doubles as a cabaret on weekends (Thurs-Sat), when burlesque troupe The Moonlight Dolls steams up the stage with titillating numbers complete with audience participation that will excite any extrovert. Suck down oysters and steak frites bordelaise to make the rendezvous truly transcendent.
Cultured thinker
River Oaks Theatre
River Oaks
This Art Deco theatre is known for its lineup of thought-provoking independent films and the monthly belligerent funhouse that is The Rocky Horror Picture Show. Cozy up to an indie flick or foreign film, and afterwards, head to the nearby Brasserie 19 to sip Bordeaux while you explore your super-profound feelings and stuff.
Self-proclaimed foodie
Demos at Revival Market
Heights
Sure your date may have been to all of the hottest new restaurants, and may follow the Twitter accounts of, like, every cool chef in the city. But have they ever learned how to butcher a whole entire hog? We think not. Look out for a special roster of events held at the farm fresh meat market and cafe, which range from the aforementioned hog butchery demo & dinner to latte throwdowns and baking 101s.

Sorta artsy
Pinot's Palette
Houston
Anyone's paint skills will look halfway decent after a few glasses of wine, so it's a good thing this amateur artist's dream date is BYO. Bring one of them big bottles and some cheese to snack on while you and your sexy Frida Kahlo try your damnedest to recreate the teacher's actually great painting.
Full-on artsy fartsy
Menil Collection
Museum District
For the slightly-more-pretentious (but in a cool way) type of human who appreciates the finer things in life, the Menil Collection is hands-down one of the most prized artscapes in Houston, featuring art from antiquity, the Byzantine world, tribal cultures, and the 20th century. Go there to stare at some pretty rad walls, then hop on over to Bistro Menil, where you'll take turns sniffing wine and discussing existentialism.
Fitness nut
Houston B-cycle
Houston
Since running Memorial Park is a pretty lame date (even if you finish with bunless burgers at Becks Prime), the bike-sharing program B-cycle is your best bet. Ride from Montrose to the bayou, stop for goji berry smoothies and kale salads at The Dunlavy, and make your way through the historic streets of Downtown. Then, depending how athletic you want to pretend to be, ride all the way back to wherever your car's currently getting towed.
Wannabe Bachelor contestant
Texas Air Adventures
Houston
Channeling your inner Ben Higgins (or maybe you're more like Juan Pablo) with a super-romantic, show-boaty hot air balloon ride isn't cheap, but it is infinitely cooler than watching your date tear up over Bachelor reruns and leftover lo mein. Plus, add-ons like a post-flight country breakfast, fresh flowers & champagne, and an overnight stay at a B&B make it fairly certain they'll say yes to the honeymoon suite. We hear there are no moneybags included in the package pricing, so you may want to bring some of those.
Outdoorsy
Brazos Bend State Park
Needville
In Texas, there's no shortage of lakes, campsites, and open fields to get your outdoors on. If, however, your idea of a good date doesn't include five hours of eating your way through beef jerky in a car, Brazos Bend is a lot closer to home. Fish, hike, gator-watch, and finish it all with a sick stargazing session at the onsite George Observatory.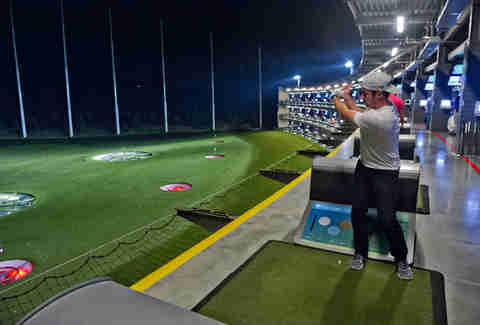 The competitor
Topgolf
Katy/Spring
Hit this playful golf arena to place bets on which of you is a better swinger (the golfing kind, unless you want to get into a whole different kind of competition). When you inevitably lose, redeem your good name in a game of life-size Connect Four or a good old-fashioned "chug the beer." That's totally more your speed, anyway.
Charitable drinker
OKRA Charity Saloon
Downtown
This unique personality type enjoys giving back just as much as they enjoy taking in a good time. Thankfully, there's a bar with the exact same vision. First opened as the Original Casino Saloon in 1882, the fine-looking space keeps the chill, saloon feel but adds a truly beautiful cause: 100% of its proceeds get donated to a different local charity every month. It's the kind of place that makes you feel good about ordering that second round of Fernet.

Basic yogi
Discovery Green
Downtown
Break out your sexiest "Wine & Pizza & Netflix & Yoga Pants" tank for a sweaty but free yoga session in the beautiful Discovery Green (there are legit group classes on Tuesdays and Saturdays). When you're finished doing whatever the hell acroyoga is, get all un-sweaty with a glass of sangria on The Grove's patio.
Totally chill
Karbach Brewing Co.
Lazybrook/Timbergrove
Jeans and T-shirt types can get down with a day at the brewery, especially one that has a sweet biergarten and a seriously good in-house restaurant. Ordering in rounds is the way to go. Start with a fat pretzel with boudin, beer mustard, and cheese sauce, then get all googly-eyed over Weisse-Versa-battered fish & chips, and a bunch of craft suds, because you're at a brewery, so, obviously.

Vegan
Cafe TH
Houston
What? Vegan totally counts as a personality type and you know it. Strong-minded, willing to sacrifice deliciousness like bacon, and highly likely to mention their veganism to anyone within earshot, vegans may not eat hearts, but they do have them, so they deserve a little love, too. Show your date you're OK with their life choices by bringing a bottle of fish-bladderless wine to Cafe TH, where vegans and non-vegans can grub on excellent Vietnamese curries, pho, and banh mi.
Sign up here for our daily Houston email and be the first to get all the food/drink/fun in town.
Brooke Viggiano is a Houston writer who would totally bring her plus-one to Cafe TH, whether he had the personality of a vegan or not. Follow her @BrookeViggiano to see where else she would bring him.