Houston may be a booming metropolis with one of the most diverse populations in the country, but that doesn't mean its residents aren't susceptible to a bit of uniformity. Live here long enough, and you'll find that all of us develop the same habits, especially when it comes to the way we date. Some are cool, some not so much. Either way, here's what you need to know before forging a romantic relationship with one of us:
You're absolutely chillin' with granny this weekend
Been dating a while? Hope you like Sunday services and family time, because you're spending at least a portion of your football watching days at your G/BF's parents house. Don't worry, the games will be on and beers will be had. 
 
We may not have any kids, but we do have a baby... our car
Don't be surprised when the apple of your eye treats his pickup truck as the most precious entity in his life. It will be cleaned more often than his apartment, cared for more often than his physical health, and talk about more often than his feelings. Get used to it.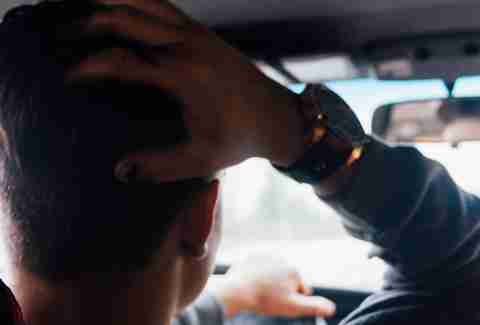 We're super chill until the traffic hits
You may think your new hot catch is sweet, that is until you sit in the passenger seat. No doubt a local's true colors will fly the second someone tries to cut us off and all hell breaks loose. A good test of our mental health is to see how long it takes us to calm back down afterward.
 
Happy hour is more important than dinner
You may have to curb your expectations for date night, because happy hour is happening first and foremost. Instead of pinot and filet, think more along the lines of BOGO burgers and half-price beers. Or 10pm pizza delivery after a sick bar hopping sesh. 
 
You're 100% going to a couple's brunch this weekend
You didn't really plan on going for a nice Sunday afternoon bike ride, did you? Your newest conquest wants you to meet her bestie's newest conquest over eggs Benny and bottomless mimosas, and she wants to do it NOW.
 
Where you reside is a significant factor in how hard we'll try with you
Fact: things aren't going to work out if you live in Pearland and we live in Midtown. Most importantly because why are you living in Pearland, but also because that thing we said about traffic earlier.
We're not country, but the cowboy boots will pop out on occasion
Though it's doubtful any Houstonian considers themselves to be Southern, we're known to get down with some country-ish stuff. So whether you hate our cowboy boots or not, those babies will make an appearance every now and then. Those times include but are not limited to rodeo season and work dinners with out of town clients we take to Taste of Texas.
 
Don't try to pick an argument with us
Your biggest mistake will be mistaking our kindness for weakness. Because once you do, we'll use every down home, dirty trick in the book until we're satisfied we've won the argument. Sure it's not pretty, but it works. 
 
There's an infinity chance we're running into our ex at some point
Houston may be a city of sprawl, but we are pretty hardcore about hanging around our respective 'hoods. Meaning the same bars you frequent now were once frequented by your date and a lineup of questionable others in the past. Whatever, you're hotter.
You're going on a yearly float trip with our friends
First of all, you should like this because tubing the Guadalupe, or even better, the Frio, is incredible. If for some reason you're not down to float a river with a cooler of beers tied up behind you, we're not sure why a Houstonian agreed to date you in the first place. 
 
We're accustomed to service being a bit slow
Out of towners may not be able to handle the wait for the margarita you clearly ordered 15 minutes ago, but the extra wait time is already ingrained in your Houston bred SO. That's why we always order the second marg before the first is done (not because we're functioning alcoholics like you thought). 
 
You kinda have to be OK with a weapon in the house
OK, so not every single H-town dweller owns a gun. But given the fact that Texas has a higher gun-ownership rate then the rest of the country, we're pretty sure a bunch of us do. Ergo, don't be surprised when you open your girlfriend's nightstand drawer to find a bright pink one sittin' pretty.
 
We're going to suggest a date that revolves around beer
Surprised that your last three Tinder connections suggested meeting at Karbach? You shouldn't be. First because they're roster of craft beer is delicious AF and secondly because PRETZELS WITH BEER CHEESE.
We're not over college and we're not trying to be
Saturdays are for college sports, and yes, we're still rocking our old fraternity/sorority tees. They don't get old, just like our love for tailgating and ability to absolutely crush the flip cup table.
 
We have a Whataburger addiction and it's not going away
Save your breath when trying to convince us Shake Shack really is seriously going to change our life. We're Orange & White, Fancy Ketchup, Honey Butter Chicken Biscuit ride-or-die. Also, we're stopping there on the way to your coworker's engagement party whether you like it or not.
 
That being said, we expect our dates to love all kinds of food
Remember that thing we said about Houstonians and diversity? That means we want have a go to spot for pho, another one for curry, and at least five for tacos. We expect you to be down for all of it.
 
We may not actually be from Houston
We may say we're from Houston, but that either means we're from a 'burb we know you've never heard of or we moved here 10 years ago and are therefore staking claim to the this city as our own. You may as well just say you're from here, too.
Sign up here for our daily Houston email and be the first to get all the food/drink/fun in town.
Brooke Viggiano is a Houston writer who is but isn't from Houston. Not sure what that means? Find out by following her @BrookeViggiano.