Why Dating in Houston Is Different Than Anywhere Else
We're not here to tell you the whats, wheres, and hows of Houston dating (because we already did that, here, here, here, and here -- pay attention!). No, this time we're here to tell you the WHY. Because for better or for worse, dating in Houston is different than anywhere else. So next time, when the date-life struggle gets too real, here's why you can know it's not you, it's Houston:
Where you went to college actually matters
College football rivalries are alive and killing it. And by it, we mean your doomed relationship if you went to opposing schools.

The person you're dating? They're getting relocated soon.
Most people are here for work, so be prepared to get your heart broken when your new girlfriend takes a two-year expat assignment in Germany. Auf Wiedersehen.

No one dresses up
Unless you're dating one of the 22-year-olds teetering in stilettos at turtle races, your date is probably not dressing up. Which is sweet, because you only own flip-flops.
This ain't no Paris. Houston food's not exactly date friendly.
Sticky ribs, massive chicken-fried steaks, sloppy burgers, hot-as-hell curries. The number of ways to get sauce all over your face knows no bounds.

You'll date an engineer, a med student, and a bartender
Wash, rinse, repeat until someone actually sticks.

It's hard to just "bump into" someone
Everyone drives. Everywhere. Meaning you won't find any "missed connections" on the light rail.
The schizophrenic weather will ruin your date plans at least once
It was nice out when you left the house, but by the time you made it to your picnic in the park the sky looked like the coming of the Apocalypse. Always have a backup plan (and an umbrella/bathing suit in your car).

And there's a good chance you'll fall in love during a hurricane
Or at least severe tropical weather. Does your date keep their apartment stocked with beef jerky, water, and tequila? Marry them.

It's not uncommon for friends to come along
You thought it was going to be just you two, but Mackenzie just broke up with that guy she was seeing and your date felt so bad so she couldn't not invite her to happy hour. Good thing, because you just spotted some friends at the bar.
Proper dating etiquette is either a huge priority or not a thing at all
There is no in between. It's either 100% Southern charm, opening doors, and covering the bill or you're considered a real gent so long as you buy the first round and let your date get into an Uber first.

A stance on something as simple as jalapeños can be a deal breaker
And suddenly, with one order of nachos, your Tinder love affair was over.

Tinder isn't just for sex
True story: people actually use Tinder to respectably "meet up for drinks after work." And if things are going well, they may even get tacos!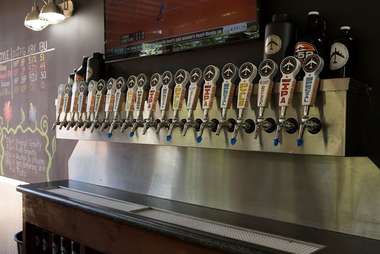 Going to a brewery is a perfectly acceptable date idea
Male or female, young or old, Houstonians like their local beers. And if they don't, they aren't a Houstonian and therefore you shouldn't date them because as stated earlier, they're probably moving soon.

Parking is always an issue, because you both drive trucks
In fact, your first kinda real fight was over who was the better parallel parker. You lost.

You probably work for competing energy companies
Don't worry -- this won't be a conflict of interest until you move in together.
If your date lives outside the Loop, you will never see each other
Ever. That one time you met at Top Golf was fun, but is it really worth the inevitable traffic and subsequent road rage? Your cardiologist doesn't think so.

You can judge a person by their neighborhood
Midtown and over 30? You may have a bit of Peter Pan syndrome on your hands. The Heights and under 30? What's the exact opposite of Peter Pan syndrome?

Neither of you have roommates
So going back to someone's place is as easy as choosing whose is the shorter ride.
Your attractiveness jumps considerably if you have a pool
The floating beer pong was cool when she could tan, but don't be surprised if your Monday hangovers aren't as cute come September.

Intern season: it's a thing here
Beware the summer interns you find partying in Midtown. They may look your age, but they could be out celebrating their 21st. You'll know by whether they're ordering "Buttery Nipples" or not.

As big as the city is... it's also pretty small
Meaning that girl you met at your favorite local bar and dated for three weeks before things went nuclear is probably going to be at that same bar when you are trying to hit on another girl three weeks later. You've been warned.
Sign up here for our daily Houston email and be the first to get all the food/drink/fun in town.
Brooke Viggiano is a Houston writer who has been through ALL of this. Follow her at @BrookeViggiano to find out how she escaped.