Dating is as brutal in Las Vegas as anywhere. And figuring out what a potential partner really wants to do can be tricky. Fortunately, and maybe surprisingly, Vegas is full of endless opportunities for romance. So whether you're looking for a quick fling or a long-term commitment, check out the best activities to keep couples busy. These come free, cheap, and Vegas-levels pricey.
Find Lost Vegas at The Neon Museum
Downtown
If you do nothing else in Las Vegas this year, see the "Lost Vegas" exhibit at The Neon Museum. This is the first exhibit of director Tim Burton's fine art in the US in almost a decade, and features little creatures and beasties straight from your favorite Burton films, as well as new creations you've never seen. The Neon Museum is already a Vegas bucket list experience, but with the addition of Burton's artwork it is now an absolute MUST. It's only open until February 15, 2020 (conveniently, through Valentine's Day!), so get your tickets ASAP and be sure to also add on the spectacular light show in the North Gallery -- it's an extra charge and only available at night, but very much worth it. 
Eat, drink, shop, and eventually staycation at Ferguson's Downtown
Downtown
Over the last few years, the historic old Ferguson's Motel on East Fremont has been quietly transforming into a dining, shopping, entertainment, and live/work district, and its transformation is nearly complete. If you haven't seen it yet, make dinner reservations at Hatsumi, a Japanese robata grill concept from the folks behind the popular Other Mama, or its newer sister restaurant La Monja Cantina, a Mexican restaurant with a nun theme. Grab a coffee or beer cocktail at Mothership Coffee, which has a stunning new space with floor-to-ceiling windows looking out at the imposing "Big Rig Jig," the extremely prominent sculpture (originally created for Burning Man) that is the centerpiece of Ferguson's courtyard. Be sure to also wander the various locally owned boutiques, and definitely come out for one of the regular Pour in the Alley events. Starting next year, you'll also be able to staycation at their micro-hotel, where each unit has been decorated and curated by a local artist.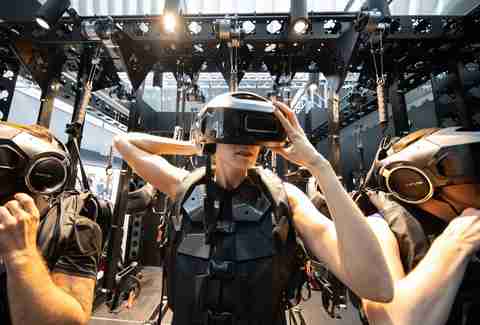 Rediscover Venice in Vegas
Multiple locations
The Venetian hasn't undergone any extensive remodels like other recently vastly improved properties like the Park MGM, Palms, or Palace Station. But it has been quietly adding some new restaurants and attractions that have made it an exciting place to (re-)explore, especially at the Grand Canal Shoppes. Enjoy some beer and BBQ at Trustworthy Brewing Company, or hit sixth & mill for Neapolitan-style pizzas and homemade fresh pastas. Enter The Void for an excellent immersive VR experience, which includes Star Wars: Secrets of the Empire and the demonic Nicodemus. Take a gondola ride, because what's more romantic than that? Then see the new, sexy Atomic Saloon Show, a Vegas vaudeville-style show with a Wild West porn parody theme (also, the best craft cocktail program of any Vegas show yet). Elsewhere in the Venetian, the Cocktail Collective operates three of the best bars on the Strip -- Electra, Rosina, and the Dorsey -- which have collectively raised the spirits stakes in Vegas casinos, which have rested on Grey Goose bottle service for far too long. 
Watch a Golden Knights viewing party
Multiple locations 
Cheering for the Golden Knights has quickly become one of Las Vegas's favorite activities, and while we would all love to go to each of the 41 home games at T-Mobile Arena, most of us will be lucky to get to one or two each season. Which is why there are watch parties! Plenty of bars will have the games on while the Knights are playing, but if you really want to immerse yourself in a fan experience, head to the Downtown Las Vegas Events Center or Lagasse's Stadium at the Venetian for their official watch parties and be surrounded by the energy and enthusiasm of other VGK fans. Even if you and your date aren't die-hard fans, this is still a fun night out.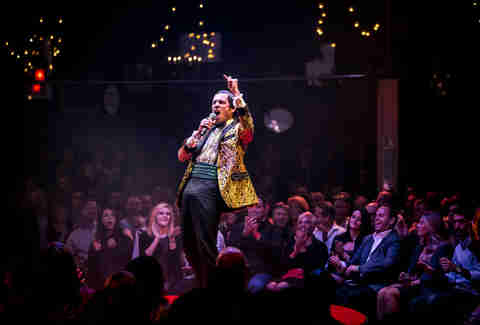 Actually, see any of the Spiegelworld shows
Multiple locations
If you see any show in Vegas, make it one of Spiegelworld's. The company redefined entertainment on the Strip with Absinthe, which took the familiar Vegas show, turned it on its head, doused it in gasoline-laced absinthe, lit it on fire, and danced naked around the flames. Opium did the same, but did it on a spaceship heading back to Las Vegas from Uranus. Now Spiegelworld has once again ups its own ante with the phenomenal aforementioned Atomic Saloon Show, which somehow manages to be even more batshit crazy and lewd than its predecessors, and coming from someone who has seen the previous shows several times, trust me when I say that is a HIGH bar to clear. If you and your date are at all prudish, these are not the shows for you.
Explore the booming Arts District
Arts District 
Dunno if you're noticed this yet, but DTLV's 18b Arts District has undergone some major transformations lately, with killer bars, restaurants, and breweries now opening at a breakneck pace. The Arts District is the closest thing that Vegas has to the kind of bustling, walkable neighborhoods with lots of foot traffic and street retail that other major cities take for granted. In no particular order, eat and drink at Esther's Kitchen, Jammyland, Able Baker Brewing, AdCraft Kitchen, Cornish Pasty Co., Hop Nuts Brewing, Velveteen Rabbit, CraftHaus Arts District, Three Sheets Craft Beer Bar, Vesta Coffee Roasters, Makers & Finders, 18bin, and Artifice. Peruse "Antique Alley," which is full of kitschy retro antique and vintage stores. Catch a quality independent theater production at the Majestic Repertory Theatre or Cockroach Theatre. And, of course, explore the galleries and artist studios at the Arts Factory and Art Square, check out the public art installations like "Paintbrush Gateway" (don't worry, you'll see it), and don't miss the monthly First Friday arts festival/block party.
Check out one of Vegas's many residencies
Multiple locations 
While the headlining names come and go, one thing is for sure: there is always an A-list residency to see, and even if you missed your favorite, they will most likely be back. Celine Dion may have bid her forever adieu (allegedly), but Lady Gaga, Christina Aguilera, Aerosmith, and Shania Twain all currently have residencies, and Chicago, the Doobie Brothers, and Mariah Carey are on deck to launch their latest runs -- and that's just naming a few. 
Elevate your movie night at Palace Station
Chinatown
Palace Station is just one of several Vegas properties that has seen a massive revamp over the last year or so, and it has introduced some fantastic new spots. First, if you haven't been to BBD's yet, get there. The phenomenal beer list (with some stuff you won't find anywhere else in Vegas) and absolutely awesome goth art and rocker vibe put this place over the top. Hit it up before or after seeing a movie at Cinebarre, a truly luxurious movie theater with plush seating and in-house food and drink service. Get to the show early and settle into your seats, then order off the menu of elevated concession and pub food that's actually legit really good and not too overpriced, considering this is a movie theater near the Strip in Las Vegas. There's even boozy milkshakes!
Do a restaurant/bar crawl at the Park MGM
The Strip
Even if you're not catching a show or game at the Park Theatre or T-Mobile Arena, the new restaurants and bars at the Park MGM deserve a visit, and there are a lot of them. Make a day -- or, rather, date -- of it. Nibble on cheese and charcuterie with an Aperol spritz at Eataly, head over to the Crack Shack for some fried chicken and bourbon cocktails, duck into Juniper Cocktail Lounge for the largest selection of gin in Las Vegas, share some carne asada tacos while drinking your way through the extensive mezcal and tequila offerings at Mama Rabbit, snack on some "LA Sh*t" with frozen drinks at Roy Choi's Best Friend, head to NoMad for the baked Alaska flambéed tableside inside its stunning library/dining room, have a couple of Old Fashioneds inside the secret lounge at Bavette's, wrap up the night at On the Record (and check out the new Queen mural by Shepard Fairey on the patio), and maybe even make it a staycation followed by bottomless brunch at Primrose the next morning. I know it's a lot, but believe in yourself. 
Book a VIP hot tub table at BLANC de BLANC
The Strip
BLANC de BLANC is a new show at the re-rebranded Sahara Las Vegas (RIP, SLS, we hardly knew ye). The show is sexy, naughty, champagne-soaked fun, and to really get in on the good time, you can book a VIP table -- in a stage-side hot tub. It even comes with champagne on arrival. Before or after the show, have dinner at Bazaar Meat by José Andrés right nextdoor, which is easily one of the best restaurants in Vegas.
Enjoy craft beer and fancy eats at one of the city's oldest bars
East Fremont
Atomic Liquors is the oldest free-standing bar in Las Vegas and a beloved local dive, as well as a beloved local beer bar (still one of the best in the city). Now, with the Kitchen at Atomic, there's a separate full-service restaurant that shares the same property and outdoor patio as its namesake. The restaurant is a sunny, airy, open, reclaimed-chic space rehabbed from an old auto shop that serves excellent, seasonally changing elevated gastropub fare. Belly up to the bar to chat with the knowledgeable bartenders about what's good on the menu and off the beer list, and enjoy a casual night out that's still a best face forward in local food and drink.
Head to the top of the world for a few thrills
The Strip
The top of the world = the Top of the World restaurant located at the top of the Strat, more than 800 feet above the madness of the Strip. The revolving restaurant is a bit of a Vegas bucket list item and a great place for a special night out with someone you rather fancy. You can also up the ante a bit with one of the thrill rides that drop, dangle, and spin you over the side of the Strat some 900 feet off the ground. For the real adrenaline junkies, though, there's also the Guinness Book record-holding SkyJump, an open-air 829-foot jump. And while you're there, check out the new Celestia show at the Strat's new big-top tent, which offers all the crazy acrobatics of a Cirque show at a fraction of the price in a high-quality production.
Sign up here for our daily Vegas email and be the first to get all the food/drink/fun in town.