There's no better place to date during the summer than LA: when the sun is just going down for the night and golden hour hits, just about everyone looks great, which means there's no doubt that you'll find someone to share at least one of those nights with. And when you want to figure out just what to do with that night -- well, check out our best bets for summer dates in LA: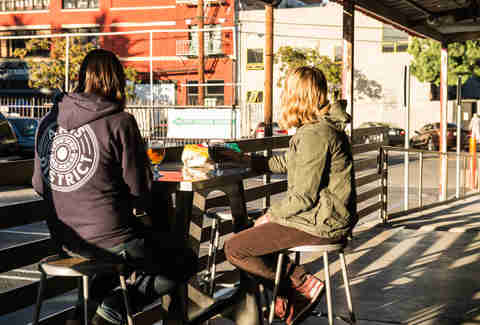 Do a DTLA brewery crawl
Downtown
Downtown breweries have been multiplying like a wet mogwai as of late, and in arguably the best place in the city for walking, a brewery crawl is a no-brainer. If you start in the Arts District, you can make your way from Mumford Brewing east towards Angel City Brewery (which generally has some sort of event or special going on) and over to the brand new Arts District Brewing (where you can play some Skee-Ball and grab some food at Fritzi). From there you can go south to Iron Triangle Brewery -- and by late August, the highly anticipated Boomtown Brewery is slated to open, which is a straight shot north of the Arts District. Hooray for LA beer!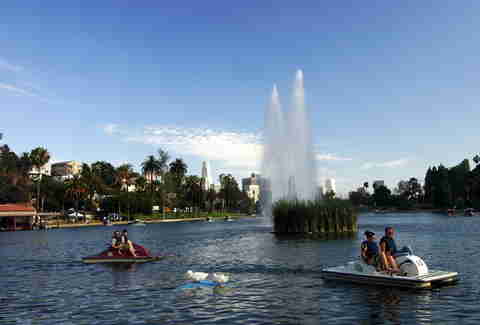 Echo Park
It's become an LA staple, and for good reason: when it's hot in the summer, you can cool off by getting damp from the lake's fountain, and the teamwork it takes to drive one of the boats can be a make-or-break proposition. And afterwards, you can always picnic on the grass -- next-leveled if you pick up Night & Market or Pine & Crane on the way there.
Culver City
The new multi-use Platform development has been killing it in Culver City with a collection of food, art, and fashion all housed inside a verrrrrry hip lofty compound. Loqui Taqueria and Van Leeuwen ice cream both started as trucks in San Francisco and Brooklyn respectively, and are now rocking their own brick and mortars inside the Platform, with amazing tacos and cold desserts steps from each other. Just across the street (but still part of Platform) is The Cannibal, one of the year's most exciting openings; if you and your date are carnivores, you can chomp down on one of most impressive Charcuterie spreads in LA. They also boast over 500 beers, so make sure to come thirsty.
Venice
Every first Friday of the month in Venice, Abbot Kinney explodes with food trucks and open-late shopping -- and over the summer, the beach vibe means beautiful people-watching while hitting free tastes at pop-up art openings. Boom.
Highland Park
This just-opened relaunch of an old-school bowling alley in Highland Park comes from the same team that's responsible for amazing bars like La Cuevita and Thirsty Crow: the stunning design of the lanes themselves will blow your date away, and while you're waiting to throw, you'll also be able to get down on a rock solid Neapolitan pizza menu (like confit heirloom tomato/burrata/rustic pesto and pancetta/egg/pecorino/black kale) and bowling-themed cocktails, like The Dude Abides (similar to a White Russian, but with Tito's vodka, house-made Civil Coffee liqueur, horchata cream, and cinnamon tincture).
Do an escape room
All over LA
We've said it before, but escape rooms are taking over LA, and you should get in on one. As you solve puzzles and decode clues to escape within a certain time limit, you very well might get frustrated and be subjected to the worst of each other, so at least you know there's nowhere to go but up! There are loads of them in the city, but new ones are opening all the time (especially with Escape Key Entertainment, who has six new games about to launch throughout the city). Extra summer bonus: they're all indoors, which definitely, definitely air conditioning. Phew.
Newport Beach
Sure, you can ride them in the daytime also, but you can't really brag about that as much (and what's the point of going on a date if you can't brag about it?) as if you did it at night. Pirate Coast Paddle Company at the Newport Dunes Waterfront resort just launched some "radiant" paddle board adventures, where your board is rigged with LED lights to make the water look that much better at night. You can even take tours that show off some marine life only visible at night. 2016 has made being a pirate so much cooler.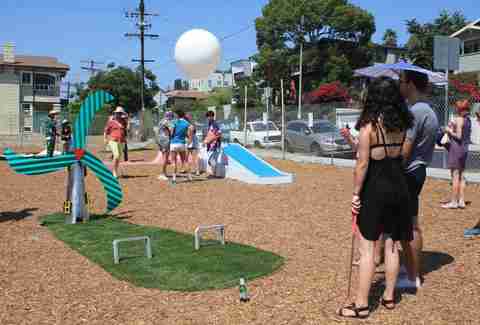 Bring it back to the '90s with mini-golf
All over LA
Summer always conjures up nostalgia, and that means mini-golf -- and thankfully, there are a lot of places to scratch that itch, like Castle Park in Sherman Oaks (with an arcade!) and Glowzone in Woodland Hills (glow in the dark!). And until July 31st, you'll be able to check out Turf, a temporary mini-golf setup in Echo Park that is more of an art installation than an actual game.
All over LA
Concerts are happening like, every 10 seconds this summer. Highlights this year include Thao & The Get Down Stay Down, everybody's favorite '90s anthemic band Smash Mouth, tribute bands for everybody you can think of, and looooooots of DJs.
All over LA
We'll be honest, if your date isn't interested in watching The Goonies, then they're probably not for you.
Sign up here for our daily LA email and be the first to get all the food/drink/fun Los Angeles has to offer.