Online dating... for a limited time only!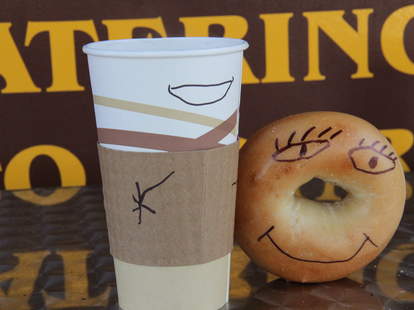 Tired of exclusively talking to your cat, even though it totally gets you and is actually very polite and thoughtful? Well, don't tell anyone about that, and sign up for Coffee Meets Bagel, a free dating site that puts a clever twist on things by putting you together with one person per day.
It works like this: sign up via Facebook connect, answer six "light" questions, and the site's wizard elf technology will go HAM on your social networks, searching for compatible matches who also enjoy watching other people wakeboard. At noon each day, you'll receive an email with your "bagel", aka match, along with relevant deets and which friends you share, at which point you have 24hrs TO LIVE! No, wait, 24hrs to decide on whether you "Like" or "Pass" on this person. Mutual "Likes" will then be connected via text on a private line and given one week to decide whether to take it offline and figure out where they'll go to watch people wakeboard before the communication window turns into a pumpkin.
To sweeten the deal, people finding dates the first week will receive a $25 SideCar credit, or as your cat calls it -- wait, you said you'd stopped that!!!