Comic Iliza Shlesinger's Guide to Surviving Valentine's Day in LA
Marteen Deboer
Marteen Deboer
Comic Iliza Shlesinger -- who's got three specials currently on Netflix -- is a longtime Angeleno and is performing at the Wilshire Ebell Theatre on Valentine's Day. But if you're not going to her show, she's got some advice on how to make V-Day in LA work for you, especially if you're single.
Love doesn't suck. You know what sucks? Being the bitter one saying, "love sucks," when everyone around you is in love. That sucks. And no time of year makes people think more about the lack of love in their life than Valentine's Day... and Christmas -- oh, and weddings... and birthdays (OK, a bad Fourth of July party will do it too). A Los Angeles Valentine's Day can be particularly brutal because it's already a city that runs on pure FOMO, and add into the equation a tender heart in a city that praises singlehood but seldom rewards it -- Valentine's Day in Los Angeles really just becomes a test on how good your acting is when you say "I'M FINE! REALLY!"
I can honestly say, having been in relationships and single on various V-Days, it's a dumb holiday. If your relationship is so bland that you need an ordained day to instruct your loved one to buy you a sawdust-stuffed bear from Rite Aid, then your relationship sounds boring. "Oh, a dyed red lollipop in the shape of a heart with shitty white lead paint icing on it? I can't wait to eat that along with my foot long candy cane from Christmas. Novelty candy is so tasty!"
I don't think about Valentine's Day when I'm dating someone. In fact, I don't think about it when I'm single, and you shouldn't either. But that's hard, huh? It's hard to not think about a whole day when everything around you is covered in gross chalky antacid candy hearts and red roses (ew, red roses, the French-tipped nails of the flower world). I say take Valentine's Day and make it what you want:
Valentine's Day doesn't…
have to be about Snapchatting pictures of your triple marked up grilled salmon at Connie and Ted's.
have to be your boyfriend, panicked at the last minute trying to get a reservation at Laurel Hardware, the Urban Outfitters of food.
have to be you agreeing to a dusty hike at Runyon after he surprises you with another charm for your Pandora bracelet.
Valentine's Day should be about what every other celebration in Los Angeles nightlife is about: looking cool and having a few drinks. And I'm here to tell you there are several ways to execute this plan without paying into the corporate hand job that is Valentine's Day price inflation.
First idea? Grab an ex-boyfriend and get gritty. We all have that one, or two... or three. That ex who still carries a torch for us. The guy you broke up with who is still down. Take advantage of it now because that won't last forever. Eventually, he'll meet a girl named Beth and they'll accidentally have a baby and they'll have to move to the Westside to be, like "closer to her family" or something boring, and your stalwart make-out buddy will be gone. So, call him up, and head to a dive bar. Go somewhere where the lighting is forgiving, the crowd doesn't know or care who you are and public making out isn't noticed.
My picks, because I've done this before, are:
It's got plenty of room, the crowd is always there to party and there is food. If it gets too crowded, walk across the street to The Drawing Room for a change of scenery and comfy booths for kissing and feigning interest when your date starts to tell you about the script he's working on. Uh huh, great, Caleb -- is it make-out time yet?
Jones is my favorite bar in LA and I've had several birthday parties there. The people are always attractive, bartenders seem like they actually want you there, there's a fun long couch you can sit on, the jukebox is good, and they have one of the most underrated full late-night menus in Los Angeles. No one has ever not had fun there. Ever. Except liars.
Sunset Blvd (The street, the whole thing. There will be multiple stops on this journey.)
I've spent many a LA night starting at some Eastside bar, whether it be Short Stop, Thirsty Crow, or even Bar Stella and just crawling my way back West. Have a drink and walk to the next bar. You can get pretty psyched by the time you hit Tiki-Ti (GO TO TIKI-TI!!) and it's always nice to walk off some of the alcohol. You can make it from Echo Park to about Sunset and Vermont and hit a decent number of themed bars before you need to call an Uber. And if you're hungry? Thai Town is only a few blocks over and they're open late night 7 days a week.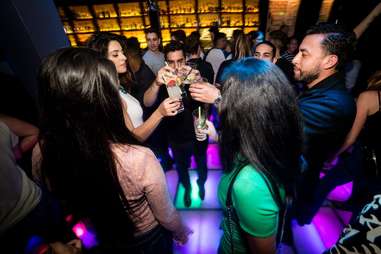 Guyless on V-Day? Go Downtown with a girlfriend (which, btw, sounds like the way Cosmo would describe lesbian sex).
I'm saying call your best friend, get dressed up (wear that fun hat you bought but have been insecure about wearing in public!), and go explore a part of LA you keep hearing is cool but never go to because it's Downtown, and that's far away, and you're tired from living. You can dance on a light-up dance floor at Honeycut. You can let loose to a DJ at The Lash. The bars are endless (literally just Google "Downtown LA bars" and you're good). There's also Little Tokyo on the edge of Downtown if you want to eat conveyer belt sushi at Kula.
Speaking of Asian-inspired ideas... get drinks in K Town!
There are two ways to do this: down Soju in some hovel until you throw up on your shoes or try the classier route and go to The Normandie Club. It's a beautiful bar, and if you call ahead and make a reservation at their speakeasy, The Walker Inn, you can spend your night in a tiny hidden bar drinking gorgeously crafted cocktails under a dim light. Who doesn't want that? Then, when you're hungry? Next door is Cassell's hamburgers. After all that, if you can still waddle, wedge yourself into the king of dive bars, Frank N Hank. It's never too crowded, the drinks cost what they would in North Dakota, and there's a pool table, darts, and other trashy bar games.
And if none of those options seem like fun, you can just go to bed. Go to bed and wake up to a world of 90% off Valentine's Day candy, buy-one-get-one heart-shaped pillows and the warming comfort of knowing that you didn't give in to the dumbest holiday ever by settling for a prix-fixe menu and a cold hand job.
Because love doesn't suck, Valentine's Day does.
Sign up here for our daily LA email and be the first to get all the food/drink/fun Los Angeles has to offer.
Iliza will be at the Wilshire Ebell Theatre on February 14. She's on Instagram at @ilizas.