Finding love in Los Angeles is not entirely unlike finding tacos on the Westside that are good/cheap -- it either ends in joy and smug Instagram posts or terror and resentment. (Or Tito's.) Somewhere along the way it's also going to end up at all 11 of these guys, who every woman in LA is pretty much guaranteed to date at least once.
(And hopefully only once.)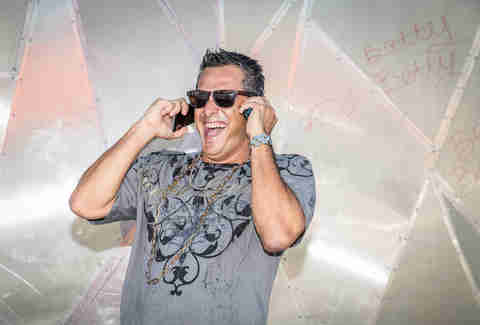 The (Failed) Reality Star
Ryan, 28 (... on Tinder, aka 39 IRL)
Neighborhood: Culver City (the nice part)
He was very likely on America's Next Top Survival Chef (that's a thing, right?) for 15 whole minutes before getting kicked off for making so many sexist comments that it went from "Watchable Trainwreck" to "Potential Lawsuit." Still, it hasn't stopped him from using the network promo photos in his dating profile. He claims to be a personal trainer now, which just means he posts a lot of gym selfies with inspirational quotes underneath. You will go out with him because his arms look like a Greek god had sex with a canister of whey powder -- and you're only human.
Your first date: He'll take you to Ugo in Downtown Culver and ask you over prosciutto e melone if you've "seen his work."
The breakup: You'll end it one day over text in Target when you decide you can't make life plans with a man who Snapchats you "Gainz for days" unironically.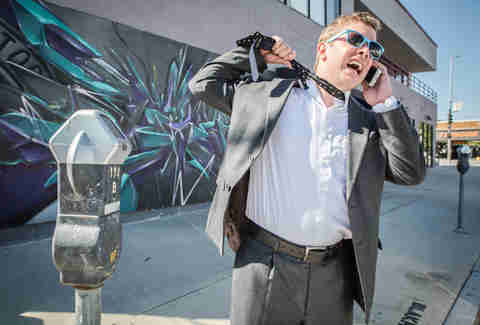 The Baby Exec
Steven, 32
Neighborhood: North Hollywood
Originally from Tustin, Monterey Park, or Fullerton, he worked hard at UCSB and earned a mid-level spot in some major corporation's marketing or legal division. Or the mail room. You're really, really not sure.
Your first date: $90 charcuterie in Studio City. He'll regale you with tales from his frat days that you have no desire to hear... but you'll let him keep talking if it means you can eat more expensive salty meat.
The breakup: He'll ghost you after a few short weeks -- but not before introducing you to his entire pledge class, his game-night buddies, and strangers in dive bars. His reasoning? You were coming on too strong.
The Film Douche
Max (or Tanner or John Abercrombie Mayonnaise III), 24
Neighborhood: Wilshire/Fairfax
After moving from a tiny smudge in Fairfax County, VA  (or "just outside DC," as he puts it), he's finally crushing it at his entry-level job at Fox or NBC. He lives in a cramped townhouse with five of his film school buddies, all of whom seem infinitely more interesting than your suburban Dollar Tree Ken doll.
Your first date: A dim bar arcade or ethnic-fusion eatery in K-town that he's just discovered (but locals have been going to for years)
The breakup: While out of town he'll cheat on you with your old college roommate that sold weed out of your bathroom. Or your surly coworker. Or someone else similarly strange but somewhat close to you. When you confront him about it he'll look you dead in the eye and blame his indiscretions on being "bummed out" by whatever national tragedy is currently in the news.
The Improv Nerd
Mark, 28
Neighborhood: Thai Town
You'll meet during a weekend intensive at Second City, intrigued by his obligatory nerd shirt, man-boy demeanor, and self-deprecating humor. You'll bond over Goonies references and improv inside jokes.
Your first date: Drinks and a show at IO West. You'll pretend that the two girls in TARDIS dresses screaming obnoxiously during Doctor Who Live don't remind you of yourself when you went through a pretty heavy Whovian phase two years ago. No one can ever know.
The breakup: You insult his favorite comedian, he uses your relationship for joke fodder in a performance. Things take a nasty left turn and you realize it was never meant to be -- no one man should own that many Star Wars vessel blueprint shirts from Target.
The "Artist"
Stefan, 33
Neighborhood: Arts District
Almost entirely nocturnal, he lurks around Downtown, being photographed at events. He's a local celebrity despite creating very little art -- unless you count his artfully disheveled hair and vaguely Roald Dahl villain-esque ensembles. His loft is full of both instruments and giant canvases, so you can never really tell if he's an artist or a musician. Or neither. Probably neither.
Your first date: Drinks at the King Eddy Saloon where he tries to explain whiskey to you as though you are not an adult with a decent number of hangovers under your belt. You spend the night trying to figure out if you're boring him or if he's just really, really, really cool.
The breakup: You finally see him in broad daylight and notice his "artfully disheveled" hair is actually just dirty. But honestly, what did you expect from an adult man who owns fingerless gloves in Los Angeles?
The Local
Matt, 22
Neighborhood: Cheviot Hills
Ah, The Local -- a rare and majestic find, like a unicorn in a beanie. He's special for having grown up here and, boy, does he know it. He went to his first Dodger game before he could even walk and barely even registers that tar pit smell that engulfs the Miracle Mile every day at noon. An entrepreneur, he's either started a skatewear line or started a rap collective whose name is some kind of pun about smoking weed.
Your first date: Sandwiches and artisan ice cream at the Farmers Market. You'll compare high schools and favorite taco joints.
The breakup: You'll call it quits after he get a little too friendly with local aspiring models during his half-baked "urban photographer" phase. There's only so many ways to photograph a topless girl holding a skateboard in front of her boobs before it gets suspicious.
The Fish Out of Water
Kevin, 21
Neighborhood: Mar Vista
Young, wide-eyed, and new to town, you're the big city girl of his dreams. He'll half-ass his way through SMC acting classes while living off of funds from back home until he gets "settled." Spoiler: he's never settled and rarely employed.
Your first date: A lunch date at Bay Cities where you'll offer to go Dutch but end up paying for him when his mom's transfer doesn't go through
The breakup: The final straw will come when you start pressuring him to do things like "get a job" and "vacuum." He'll skip town for another girl in another city with fewer expectations and a lower cost of living.
The "I Hate LA" Struggling Artist Transplant
Chris, 27
Neighborhood: The most pee-soaked corner of Hollywood
Originally from a small town in Illinois, he came to Los Angeles with astronomically high hopes and no ability to handle rejection. He'll bemoan the fate of his manuscript/demo/feature over Stumptown on Hollywood Blvd to other transplants.
Your first date: Happy hour at Sunset Trocadero. You'll watch tourists poke each other in the eye with selfie sticks while he talks about Lake Michigan.
The Bbeakup: Severely in debt from some for-profit university, he'll go home, insisting that his hometown has a "booming arts community." When you leave his apartment for the last time you'll step in a puddle that could either be dirty water or urine or both. You'll feel nothing but relief.
The "I Love LA" Struggling Artist Transplant
Travis, 23
Neighborhood: Santa Monica
He surfs Zuma, roots for the Dodgers, comes out for the Lakeshow, and buys avocados on PCH. He's more LA than fusion food and complaining about parking.
Your first date: Drinks at Angel City Brewery Downtown. He'll order you an avocado IPA and a Srirachelada for himself and the two of you will bond over your favorite eateries.
The breakup: One day he'll mention that he doesn't think Tito's Tacos is that great. You immediately end things. You don't need that kind of negativity in your life.
The Health Nut
Zach, 25
Neighborhood: Silverlake. Or Venice. Or both.
Part-time man-bun model and full-time male yogi, he has "eating clean" down to a science. Weekend hikes in the Hollywood Hills and Malibu Canyon and monthly yoga retreats, he dedicates his every waking moment to improving his body and "transcending" -- a practice that apparently necessitates $75 distressed linen drawstring pants. You didn't even know linen could be distressed!
Your first date: A communal freegan-scavenged dinner in an alley Downtown where everyone is named "Milo" and "Steph"
The breakup: After trying and failing to convince yourself that quinoa and black beans are as good as a burger, you cave and get In-N-Out. In the drive-thru you write a pseudo-spiritual breakup text about how your relationship has run its course and return to your life of moderation and semi-regular bowel movements.
 
The Outlier
Johnny, 27
Neighborhood: City of Industry
While not technically part of Los Angeles, you'll be hard-pressed to find someone with more regional pride. You can tell from this LA skyline tattoo on his forearm and how loud he plays "California Love" on his phone sans headphones while walking around literally anywhere.
Your first date: A Raider game-viewing party at his cousin's place in Pomona
The breakup: You'll finally call it after a huge blowout fight the day before your sister's wedding when you tell him his Puig jersey isn't acceptable wedding attire.
Sign up here for our daily LA email and be the first to get all the food/drink/fun Los Angeles has to offer.
Devon Henry is a native Angeleno. Part-time writer, full-time dinosaur, and a weekend swamp hag. Find her on Twitter at @DevasaurusRex.