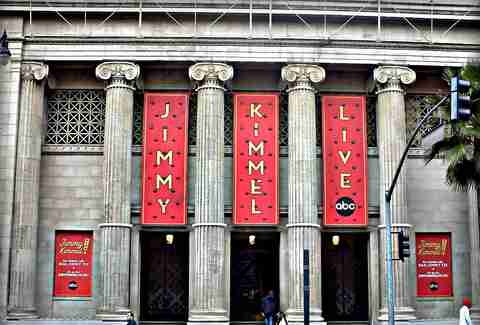 Go to a taping of your favorite show
Yeah, it may seem like a tourist activity, but so long as you choose the right show (many, many of which are available at 1iota.com), it can also be a killer date. Do they like live music? Jimmy Kimmel often has big bands play full sets at his outdoor stage -- for free. Are they into comedy? Though sitcom tapings can be laborious, they're also, uh, free. Trivia buff? Yeah, Jeopardy tapings: free too.
Though there's a cost to get in early in the day, LACMA is free every day after 3pm, which means you can explore more than just the street lamps outside. Show off your art smarts by pointing out the Picasso. (Pro tip: make sure you can actually point out the Picasso before you get there.)

Do a free-gifts scavenger hunt
So Geocaching is an Internet thing where people hide gifts all over the world, then tag 'em and leave them for people to find on self-made scavenger hunts: stuff's hidden everywhere from the Hollywood sign, to Third Street Promenade, to underwater hydrothermal vents in the waters off White Point near the San Pedro-Palos Verdes border (yes, seriously). Sounds complicated, but downloading the app is easy -- and spending the day tracking down clues means executing teamwork, which sends off signals of compatibility. Hopefully.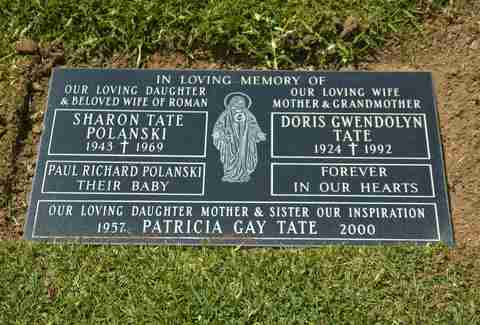 Go dead-celeb hunting
If you're down to be a bit macabre, LA's cemeteries 1) are beautiful, and 2) host a ton of famous people. If you're on the Westside, you can leave a pink lipstick kiss on Marilyn Monroe's wall at Pierce Brothers Westwood Village Memorial Park, and also visit Rodney Dangerfield and Dean Martin while you're there. Holy Cross Cemetery in Culver City is home to Sharon Tate and Rita Hayworth. And of course, there's Hollywood Forever, which isn't just a place to watch movie screenings: Johnny Ramone, Bugsy Siegel, and voice-of-Bugs Bunny Mel Blanc (whose tombstone actually says "That's All Folks") are all there.

Throw an empty-the-pantry picnic
If even a picnic is too extravagant for your pocketbook, get creative and empty your pantry and fridge, then create faux-extravagance by heading to the Hollywood Bowl -- where you can picnic for free during the day and evenings when there isn't a concert, which, now that the season is officially over, is... most days. And evenings.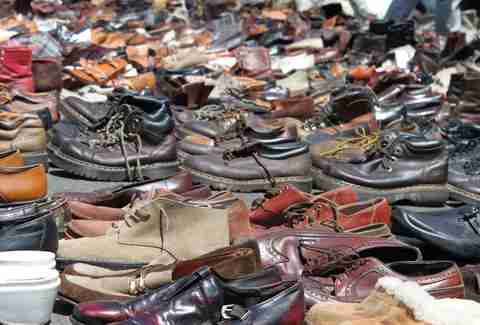 The Rose Bowl Flea Market may be the most famous game in town, but it has an entrance fee of $8-$20 per person, so that's a no-go. But you can still get in on some swap-meet action with no fee for admission at the Pasadena City College Flea Market, which is held on the first Sunday of every month. With more than 500 vendors, you'll have ample opportunity to stumble upon your secret obsessions, collections, and stories from your childhood, which are great ways to better get to know a date and decide if a shared love of Milli Vanilli's remix album is a make or a break. (Make. For sure.)
Go on a secret hike
There are sooo many killer hike dates in LA, and thankfully, we've got a list of the best secret ones for you, which includes hiking to NAZI RUINS (!!!) and ABANDONED MANSIONS (!!!) so you can prove that you not only exercise but know about off-the-radar stuff as well. You're welcome.
Hit a free outdoor movie
Maybe the quintessential free LA date, but no less excellent: free outdoor movies run almost year-round from a ton of different promoters, including Front Porch Cinema, who this year is running free movies (including The Imitation Game and Ghostbusters) at least through October on Fridays on the Santa Monica Pier.
This one is seasonal: around the holidays, an eight-block section of Woodland Hills does it up for Chrismukkah, and we mean DO IT UP; every single house is festooned with crazy lights, figures in the yard, the whole shebang. Whether you're going ironically or not, this much is true: traffic is at a near standstill, which means plenty of time for adult fooling-around in between kid-like "ooh"s and "ah"s. (Begins the second Saturday in December through the season.)
On weekends in Van Nuys, tons of cricket players from around the world gather in Woodley Park and, uh, do whatever cricket players do, like, hit that plastic thing over the net? Oh, that's badminton? Well, whatever: it's fun to watch, you and your date can commiserate about having no idea what any of the rules are, and once you figure it out, you can try to get in on it, too -- use of the fields is totally free.
Chances are you've never been inside Downtown's killer Central Library, but it's packed with amazing Art Deco architecture, rooms (and rooms) (and rooms) of interesting books, and -- heads-up, this is where the date part comes in -- free classes and lectures, including everything from interactive tai chi to lectures about the history of Italian food.
Mountain High -- essentially, the closest ski slope to LA, an hour-and-a-half away -- already has snow, which means you can totally go on a drive-to-the-snow-and-play-in-it date. Oh, and bring a trash can lid with you so you can go for a sled, because danger = romance. Or so we've heard.

Tennis may seem to be a highbrow sport, but there are dozens of free courts throughout the city where you can get your game on and see (and smell) each other sweat -- which is always a major step in the dating arena. And if your date doesn't work out, find a new "partner" at Let's Play Tennis (which is kind of like a dating/socializing site for tennis players apparently).
Throw your own mini music festival
On Mondays, all the best venues (The Echo, Satellite, Bootleg, and Silverlake Lounge) in hipsterville are free and book some of LA's best about-to-break bands (seriously, alums include Foster the People, Grouplove, Cold War Kids, and Silversun Pickups). If you get tired of one band or one room, they're walkable enough, which means you could shuffle around all night for nothing, or stay in one place for legitimately nothing.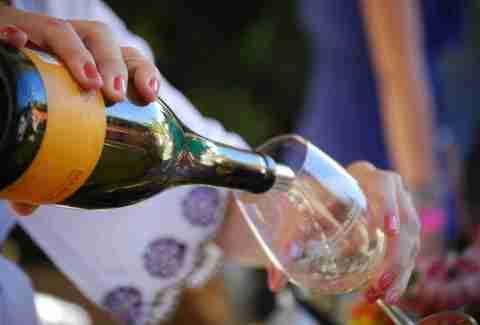 Most wine tastings charge a flat fee for samples. But not Martian Ranch & Vineyard at the Sunday farmers' market on Grand View at Venice Blvd in Mar Vista. Start your date by snacking on fruit and vegetable samples, then enjoy a free meatball, followed by Greek yogurt, and a surprisingly massive sample size of baked mac n' cheese. Then book it to the Martian guys -- who will fill your cup with tastes of their rosé, red, and white of the day. And then throw on fake moustaches and attempt to do it all again.
Sign up here for our daily LA email and be the first to get all the food/drink/fun Los Angeles has to offer.
Laurel House is a "Screwing the Rules" dating coach and the dating coach for Three Day Rule matchmaking. She is also a proud born-and-bred West Angeleno. Find her at ScrewingTheRules.com, on Twitter, and on Instagram.