What Actually Happens at a Nevada Brothel
Lamar Odom's recent wagon-fall at Love Ranch South in Crystal, NV cast a renewed spotlight on the state's legal sex trade. Yet the un-salacious truth remains: thousands of customers bump and grind their way through Nevada annually and without incident. The mystery is, if it's not all sex scandals and drug overdoses, what actually happens inside a legal brothel? To find out, I headed 20 miles south of Crystal to Pahrump: home of the iconic, legally operating brothel Sheri's Ranch. My goals? Get a first-hand look at what goes down when someone pays to get down. And eat a great burger. Seriously.
The hiring process
In order to apply for most jobs in the "real world" you have to have access to the Internet, a carefully crafted cover letter, and an often padded and exaggerated resume. In order to apply for a job as a courtesan at Sheri's Ranch (yes, "courtesan" is actually the preferred nomenclature unless you yourself work there, and then you can join in with the other girls and playfully call each other sluts), you have to have access to the Internet, know your measurements, and have three really hot pictures (unfiltered, if that's even a thing anymore) of yourself. Yeah, so anyone, including my mom, can visit the employment section on Sheri's website and apply to be a courtesan. But that doesn't mean anyone can actually be one: the process is incredibly selective.
The madame at Sheri's Ranch is your first real hurdle in the application process. Meet Dena, a beautiful woman in her mid-40s who appears as the exact opposite of how I imagined a brothel madame would look: nary a fat, hairy mole or tattered kimono with cigarette burn holes to be found. With over nine years of experience at the Ranch, she has never been a courtesan, but she knows the exact ingredients required to make a great one. While years of experience in the sex trade aren't required, it wouldn't hurt your odds to have at least one trip around the block under your garter belt. Once Dena sorts through the hundreds of submissions (it's a down economy and great sex apparently never depreciates), she passes on her selections to the owners.
Once the owners have narrowed it down even further, phone interviews are made. If the owners and Dena like what they hear, you will be invited out to the Ranch for a week trial where you will be assigned to a senior courtesan, aka a "big sister," who will teach you all about turning legal tricks and making customers come back for more. When your week is up, you will sit down with Dena, the owners, and your "big sister" to discuss if this is a right fit for both you and the Ranch. Ultimately they are looking for two things: is this girl someone Sheri's customers would be interested in, and will she mesh well with the Ranch's existing family. Sheri's has every flavor of the rainbow and sometimes they may want a new flavor or maybe a little more of the same. But either way that flavor had better pair well with the flavors already in stock.
The girls
Every girl at Sheri's got there through a similar progression of choices: everyone started with stripping, then moved on to escorting or prostitution, and, eventually, if they were lucky, they ended up at Sheri's before they get arrested. Beyond how they got there, every girl has a different reason why she even went down that road. There's the single mom, the girl putting herself through school, the girl with the higher-than-normal sex drive, or the girl trying to get out of her little town.

One girl's story in particular sticks out in my memory: Emma. We all grew up with an "Emma." You know, the girl who was the sexy dark horse in high school. The smart girl, but you didn't really know this because she was quiet. The pretty girl, but you didn't notice because she was still shaking off those awkward puberty years.

Emma greeted me wearing a sexy negligee and patent black stilettos. She walked with the stride of a French runway model and spoke about brothel life with the confidence of a Fortune 500 CEO. Emma is approachable, but pretty with porcelain skin, long dark hair, and ruby-red lips. She's built like a dancer (because she was one): tiny, but average on top with small, yet ample perky tits, long, strong, sturdy legs, and an ass that is most certainly her milkshake.

At the age of 18, Emma started stripping, per the suggestion of a friend, to pay for professional dance school in Australia. (Side note: why didn't I have friends like this?) The money was so great that she eventually dropped out and headed to the US where she stripped her way across the country. Let me repeat that: Emma funded a cross-country road trip by going from strip club to strip club dancing for a night or two and heading on her way. Along the way, she heard about Sheri's and the rest is history.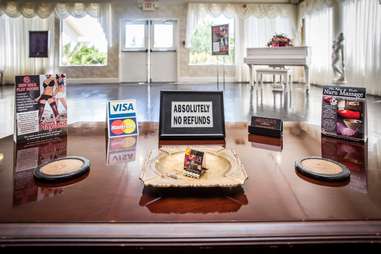 The prices
If you think hiring a courtesan is cheap, think again. Don't bother combing through the website for prices because they aren't there, and don't bother calling and asking because they won't tell you.

You won't actually be given a number until you are in the room talking shop with one of Sheri's courtesans. Each girl is considered an independent contractor and sets her own rates -- and the more popular the girl, the higher she can set her asking price. Put it this way: when not at the Ranch, Emma lives in Hawaii (yes, the money is that good). Then once a month for one week, she heads to her other "home." For the ladies at Sheri's Ranch, the funniest part of Pretty Woman is when Vivian tells Edward it will be $3,000 for her to spend the week with him.

The set-up
Sheri's is laid out like a dormitory where each girl (around 20 girls at a time) rents her own room ($46/day) where she lives and conducts business during her stint (one to three weeks max) at the Ranch. If the girls aren't working or sleeping, they are usually hanging out in the restaurant bar scantily clad in their sexiest outfit (we're talking skirts so short you can see them ovulate, if that's your thing) waiting for customers.
The customers
When I told my friends I visited Sheri's Ranch, the first thing they asked me wasn't what the girls were like or what I did. All anyone wanted to know was whether I'd seen any customers. You know: who is the guy going to a brothel in the middle of the day on a Wednesday? On my way to the Ranch, I imagined a greasy gas station attendant or John Travolta a la Pulp Fiction. What I got instead were a bunch of dudes who looked like they could manage the course at a golf club... or sell Cutco knives at Costco. According to the girls at the Ranch, one in eight is also a virgin -- which carries the added "bonus" of showing them how it's done/presumably having an extra-quick session.
The sex
After seeing these average-looking dudes, I immediately had one question: what kind of weird shit are these guys into? The answer: anything and everything you can think of. Erin, one of Sheri's top courtesans, had a regular customer come earlier this year requesting a threesome. But not just any threesome! He wanted to be with two girls at the same time while watching Frozen. "He knew every song and encouraged me and the other lady to sing along," she said. "It was so much fun! Probably one of the most fun parties I've ever had. We were having sex and then randomly bursting into song… I'll never look at Olaf the same way again."
And if Frozen for some odd reason doesn't turn you on, there are themed rooms that are the epitome of campy. Sadly, the only one available for me to directly explore was the '70s-themed room straight off the set of Austin Powers. Of course, all I could think of the whole time I was in it was how many bodily fluids would be visible with a UV light and some luminol.

I also got to check out Sheri's Playland, which is basically a bunch of different rooms set up like real-world places where customers can live out every cheesy porn scenario. For the guy who's a nobody at his day job, there's an office where he can finally be the boss and legally bang his secretary. For the guy who never made the football team but always wanted to hook up with the popular cheerleader, there is a locker room with a sex swing (because don't all locker rooms have one of those?). For the guy who's still hot for teacher, there is a fully equipped classroom complete with a dunce cap and paddle (if he's an early-20th-century role-play enthusiast). Or for the guy who's looking to Netflix and chill with his girlfriend, there is a pimped-out living room with a video game console -- since nothing says "girlfriend experience" like a guy playing video games while his girlfriend Snapchats selfies.

The truth of the matter, though, is that most of the guys who come in are just straight-up lonely. One courtesan said it's pretty standard for guys to come in for an hour, with maybe 10 minutes of that time for sex and the other 50 for talking and hanging out.
The gift shop
Sheri's has a gift shop. Let me say that again: Sheri's has a gift shop. I'd love to meet the guy (or girl?) walking out of Sheri's who says, "Oh snap, I should grab a little keepsake to remind me of my time here at the Ranch." Choose from all the typical gift shop fare: T-shirts, shot glasses, or baseball hats. Or the less-typical items such as the #1 seller, the Sheri's Ranch "playmate"-style calendar with a different courtesan featured every month. Or if your family is open-minded, you can pick up a few gift certificates for all your stocking-"stuffer" needs. And don't forget some low-compression golf balls for your office secret Santa.
The sports bar
You will never hear someone say, "That brothel's sports bar has the best burgers!" -- unless of course, you're lost in the Nevada desert just west of Las Vegas looking for a delicious burger and a place to watch the big game. No joke, lots of locals and people from surrounding areas come into Sheri's just for the food because it is that good! Wives actually believe their husbands when they tell them they were "only eating lunch" at the brothel. Nothing like eating some feelings with some girls who probably just ate some… I'll stop now.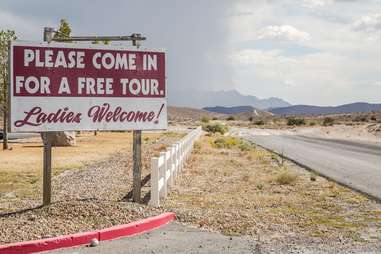 Conclusion
While I sat in the bar with Emma waiting for her appointment to arrive, I had the chance to interact with and observe some of the other girls as well. Contrary to what I assumed the atmosphere would be like in a house with 20 women, everyone got along. If they weren't glued to their phones (like most people on Earth), they were usually swapping stories, having a laugh, or tweeting sexy pics to their fans. Sure they have their cliques, but everyone is really respectful towards one another. Maybe they were on their best behavior since the madame was there, or because they knew I was watching, but it seemed to me that one of the benefits of living in that world is no one is pulling any punches. Everyone knows exactly why they're there and no one is judging anyone for it.
Who knows, maybe one day when I have the money, I'll even go back and find out what courtesan Kitty Kat meant when she said she would "tear that ass up." Until then I'll just stick to reading all of their tweets.
Sign up here for our daily LA email and be the first to get all the food/drink/fun Los Angeles has to offer.
Nicole Aimee Schreiber sort of regrets not paying for sex (or getting paid for sex) when she had the chance. She's on Twitter and Instagram at @nicoleaimee and Snapchat at @THEnicoleaimee.