From interesting date ideas, to the best make-out spots, to the most romantic restaurants, we've always done our best to be your personal relationship coach. Now we're making hooking up even easier for you by rounding up the best date spots -- from suburban dim sum joints to sexy retro lounges -- in Miami's best 'hoods, that -- hopefully -- includes yours.
Homestead
Schnebly Redland's Winery & Brewery
Address and Info
This tropical fruit winery is everything that sets Miami apart from the rest of the country. It produces wine in flavors like avocado, mango, and passion fruit; is located on a 20-acre compound outfitted with waterfalls, Tiki huts, and twinkling string lights; and also has Miami Brewing Company (not to be confused with M.I.A. Brewing Co. in Doral) on the premises if you really can't get into the wine.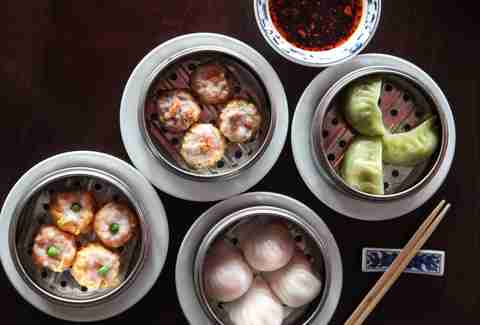 Westchester
Tropical Chinese
Address and Info
Located in a strip mall across from Tropical Park, this place is literally hidden (hint: it's in the back, on the west side), but once you find it, the crisp, white linens, and Chinatown excess will remind you of the kind of spots you'd find in New York or -- dare we say -- San Francisco. Hong Kong-style pushcart dim sum service is available every day of the week from 11am to around 3pm, but if you want to go all out, whole Peking duck is a fancy experience, carved tableside. Oh, and don't even get us started on the fluffy scallion pancakes. Or do... how much time do you have?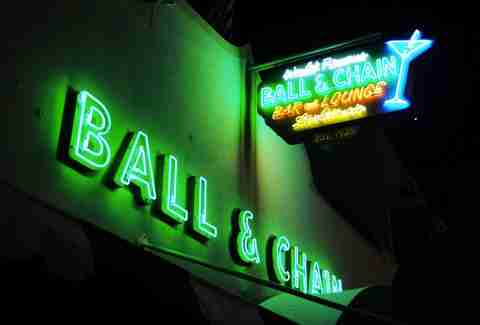 Little Havana
Ball & Chain
Address and Info
A modern-day reincarnation of the popular nightclub that hosted greats like Billie Holiday and Count Basie in the '30s and '40s, B&C is now a live Latin music open-air destination with guava-infused cocktails served with whole pastelitos, pre-Castro Havana stylings, and a pineapple-shaped stage.
Brickell
NAOE
Address and Info
Offering only two eight-person seatings per night, it may be hard to get into this omakase-style (chef's choice) restaurant. But once you're in, well, you'll be IN, so to speak. Plus, it eliminates the entire ordering process, giving you more time to learn about your date's extracurricular activities, which, after this meal, will definitely include seeing more of you.
Downtown
Toro Toro
Address and Info
This underrated steakhouse by acclaimed chef Richard Sandoval doesn't get enough credit. If the dark woods and sultry ambiance don't draw you in, the Latin-inspired shared-plates concept will truly bring everyone together. Save room for La Bomba, an interactive, take-over-the-table chocolate bowl ice cream dessert. We'll leave it at that, to not ruin the surprise.
Midtown & Wynwood
Lagniappe
Address and Info
This New Orleans-style wine house will make you feel like you stumbled into a beautiful version of the Jazz Age with live music, shabby chic appeal, and an outdoor BBQ, minus the whole Prohibition nonsense. Oh, and it's pronounced lan-yap, in case you were wondering.
Midtown
Sugarcane Raw Bar Grill
Address and Info
Trends and hotspots tend to change on the regular in Miami, but this OG has kept its date game strong with its consistent lineup of sushi, shishito peppers, and bacon-wrapped dates, plus drinks like the Spice of Love (jalapeño, passion fruit purée, mango essence, vodka) and the Strawberry Balsamic (strawberries, aged balsamic, vodka, fresh lime juice). Pro tip(s): the outdoor tree-covered seating area is a prime location for getting romantic. Plus, shishito pepper roulette is consistently a fun game.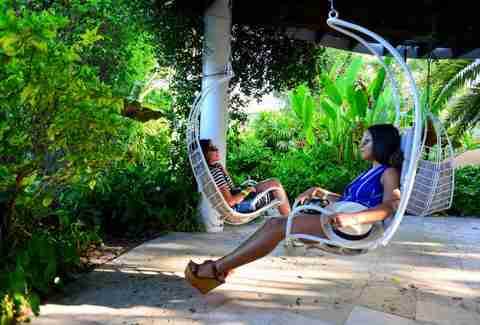 Miami Beach
The Standard Spa
Address and Info
Sure, it's your go-to Sunday playground, but this bay-front garden/spa/pool paradise is also legit for extended day-dates, plus the spa has a hammam-style Turkish bath, which means you can get hot and heavy, before getting... well, hot and heavier.
Miami Beach
Freehand Miami
Address and Info
Talk about a transformation. In a few years, this spot has gone from bumbling boutique hotel to uber-trendy hostel complex, complete with award-winning cocktail bar, The Broken Shaker, and adjacent restaurant, 27. What will keep you there is the dreamy garden at the heart of it all, outfitted with comfy seating and retro games for all-day lounging, a specialty of sorts for Miamians.
Coral Gables
The Local
Address and Info
Chicken & biscuits, beef jerky, and a burger drowned in Mississippi comeback sauce... eat good ol' American classics with a Southern twist, then take a post-grub stroll down Giralda.
Coconut Grove
Ariete
Address and Info
The Grove's newest eatery, Ariete, has one thing most restaurants can only dream of -- peacefulness. The restaurant, located a few blocks away from the area's otherwise busy and rowdy streets, offers a petite, white-fenced garden with intimate tables. Be sure to bring a date who you're comfortable getting cozy with.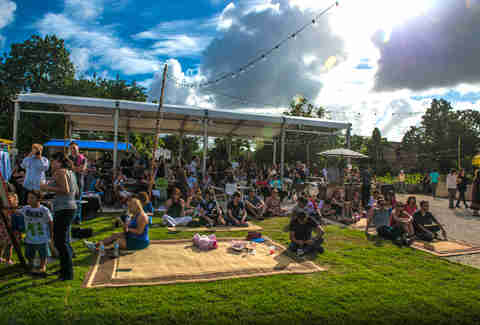 Wynwood
The Wynwood Yard
Address and Info
The pop-up space nestled within Miami's art-filled district is perfect for a post-Tinder introduction. With a full-service bar, culinary concepts, and various activities held nearly every night, you can avoid an awkward encounter by meeting at one of the most public (and coolest) places in the city.
Downtown Miami
Pérez Art Museum Miami and Verde
Address and Info
It's no secret that dinner dates can get boring. Wine, average food, and nice-but-semi-forced conversation is enough to kill the mood for anyone. Forgo traditional for something edgy. Visit the Pérez Art Museum Miami on a Thursday night, where galleries are open late ('til 9pm). There are beautiful views of Biscayne Bay, as well as Verde, a quaint museum bistro with waterfront seating where you can grab a bite once the galleries close.
Sign up here for our daily Miami email and be the first to get all the food/drink/fun in town.