When you're in Miami and single, dating is irrefutably a one-of-a-kind shitshow, complete with lifelong bachelors, grown women in comically large hoop earrings, foreign transplants, 30-somethings who live at home, cougars, and A LOT of funny stories. So if you're new to the Miami area, new to the dating scene, or even worse, both -- fear not! We've got your back. Before you venture out into the concrete jungle that is "the 305," here are all of the people you'll inevitably fumble around conversations with.
The Party Girl
Age: 21
Neighborhood: Coral Gables. Wait, actually, the Tri Delta house at UM.
You'll meet her at LIV. She's that girl in the tight Bebe dress who accidentally grinds up on you when you cross the dance floor to get to your table. You smile and tell her it's OK when she bats her eyes, giggles, and says, "Ohmaigosh. I'm like SO sorry!" The flirtatious looks continue throughout the night, and after a Bacardi & Coke, you get the urge to invite her and her hot friends to join you and your friends. You know nothing about her except that she just moved here from Boston and is only 21. None of this matters as you order your third Bacardi & Coke to keep the conversation flowing. Your two friends have since disappeared with her two friends. Plus, she's a total 10.
Your first date: Drinks at Hyde Beach. Yes, she knows the SoBe scene, but she's also 21, so you know drinks are enough. You ask her what she's studying, only to find out it's some vague communications degree and her real plan is to be an Instagram model. She tells you she has 2,894 followers as of that morning (not that she's counting), which you help her boost to 3K that night by taking pictures of her dancing on the bar.
Your inevitable breakup: Her hotness aside, you're broaching 30 and can't rage like her. Plus, you miss your solid Friday night routine of pizza, beer, and House of Cards Netflix binges. When you tell her this, she claims "pizza is the enemy" for her Instagram career, and you decide you have no room for that kind of negativity in your life.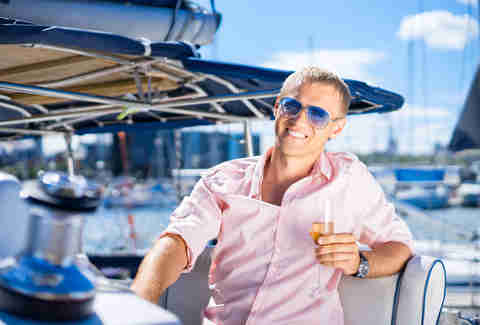 The Lifelong Bachelor
Age, 41
Neighborhood: Downtown Miami
You're at brunch with your girls at Seaspice, when Rick and company casually pull up on a yacht. You think, "#NBD, it's Miami and who DOESN'T have a yacht?!" He sends a bottle of Moët to your table, and you feel obliged to go over and thank him. He invites you and your friends to hang out on his yacht later, and while his dyed-brown hair plugs make it hard for you to guess his age, he's got that Clooney thing going on (and, you know, a yacht), so you agree.
Your first date: The yacht party, obviously. You decide to take an Uber because your 2007 Hyundai Sonata with the broken door handle just won't cut it on Fisher Island, and you're glad you did, because when you get there, there's Moët and Belvedere EVERYWHERE. Ten minutes later, Scottie Pippen shows up. There are now so many reasons to get to know him.
Your inevitable breakup: While Friday night dinners at The Forge and diamonds and breakfast in bed at his Fisher Island mansion never get old, you're only 27, have grand plans of settling down with a family, and you gather from the framed Heidi Klum pinups in his living room that he has no such plans. Plus, your mom can barely look at you since finding out your dad went to high school with this guy.
Mr. "305 'Til I Die"
Age, 27
Neighborhood: Westchester. Or as he says it, Way-chay-ster.
Much like your parents, how you met is the classic love story of two millennials who also own phones: Tinder. According to his profile, he's cute, and he can cook, likes dogs, and wants to settle down with a nice girl, so you swipe right.
Your first date: Per his suggestion, happy hour at Chili's at Dadeland. He looks like his picture and is tall, which are plusses. He tells you he's dropped out of MDC because the traffic from Kendall sucked, but it's OK, because he "knows a guy" and is going to be a cop soon. In the meantime, he's pretty confident about his NBA fantasy draft, is a waiter at the Chili's you're currently sitting in, and hooks it up with the drinks, so you focus on the cop thing and make out with him anyway.
Your inevitable breakup: You start to hate the fact that he spends all his waiter money on big gold watches and MJ sneakers, but can only "treat" you to Chili's, and also the fact that he loves Pitbull and yells "DALE" every time he's about to orgasm. He drives a Mazda Miata and still mooches off his parents' HBO Go account. Once he announces plans to move to Hialeah, it's all over.
Ms. "I Still Got It"
Age: 41
Neighborhood: South of Fifth. A one-bedroom condo.
You meet her at Bougies, because she's recently gotten out of a divorce and still thinks that's what the cool kids are doing these days. But then again, you're there, so you try not to judge her for it. She's way too old for that romper she bought at Forever 21... but she's hot, is in relatively decent shape, and from the looks of it, can throw back a couple Tequila Sunrises. She's also wearing platforms and a headband, but you're currently 150% single, so... again, not judging. You buy her another Tequila Sunrise and make plans for dinner.
Your first date: It's obvious she wants to relive the glory days, but is old and wise enough to know that "pizza, Netflix, and chill" does not a future make. You settle for somewhere classy like the Gables, but also somewhere that 1) doesn't break your bank (because, unlike her, you have no alimony), and 2) attracts an appropriately young-adult crowd; like Tarpon Bend. You tell her all about your job using big words because you feel like you're dating your teacher, and she tells you all about her divorce, her kids, and how this is a "new phase of her life." By her third martini, you think she's both suffering a mid-life crisis and intriguing, so you pay the bill and know that, against all better judgment, you'll be texting her again.
Your inevitable breakup: It's four weeks in, and she blows up at you for turning down Friday night Boggle plans to go out for your friend's birthday. She determines you're an unfit father for her children, Johnny and Amy, which is a new level of intense. You back away slowly for fear she might stalk you or key your beloved Honda Accord. (Which, oddly enough, you also call Johnny.)
The Married Guy
Age, 32
Neighborhood: Coral Gables
Your boss makes you work the door at a work function, and this guy starts cracking jokes while checking in. He's funny and good looking, so you let him bring you a comped white wine spritzer from the open bar. The function ends at 8:30pm, leaving plenty of time for a fourth spritzer next door. You play tonsil hockey by the end of the night, which thankfully leads to an actual date, because your boss totally saw you and now you have to go on a date to make it legit.
Your first date: Drinks at the Pawn Broker. He's funny, has totally nailed the flirt/chase balance, works in finance on Brickell, goes to church on Sundays, and describes himself as "a real family man." You picture him being your "plus one" at your cousin's wedding, and this gets you excited because that means you don't have to sit stag at Table Eight with grandma... again.
Your inevitable breakup: You find out he's married when his wife friends you on Facebook because she saw your text messages on his phone. You decide that, since she's stalking his phone, this isn't the first time this has happened, but that also makes her the perfect wingwoman for a live reenactment of John Tucker Must Die. Two weeks later, he is inevitably single and living out of his suitcase at the Starlight Motel on 8th and 1st.
The Gym Rat
Age: 31
Neighborhood: Brickell
You meet at Equinox (obviously), when he finally introduces himself after weeks of flirty glances over the hip abductor machine. He's in perfect shape, talks about his diet, and spends 30 minutes telling you about his CrossFit obsession. You get bored and start to zone out, but then mid-convo he takes off his shirt and you come back to life. You waste no time giving him your number.
Your first date: Drinks at American Social, where you can only assume all gym rats in perfect shape go to mingle with their kind. He looks h-o-t in his dark jeans and fitted Express button-down, so you're completely ignoring the fact that he's stopped and looked at his reflection at every storefront, car window, vending machine, and parking meter between his place at Brickell on the River and the bar. He tells you he's a lawyer and 31, so you decide for yourself that he must be ready to settle down and thank GOD because you've also told yourself that's why it's OK to definitely have a nightcap at his place later.
Your inevitable breakup: It's been six months and you're still only going on dates at AmSo. You start to realize that he takes longer to get ready than you do, mostly because he has a solid post-shower routine of lotions, gels, and whiteners you assume are for his teeth, plus he Snapchats it for 25 minutes, and then shaves while pumping himself up to Kanye. He also wears the same pair of jeans every date and does push-ups after sex. You re-download Bumble to "keep your options open."
The Cougar
Age, 44
Neighborhood: Pinecrest
Debbie is similar to Ms. "I Still Got It," except for the fact that she has never been married and knows that she has always had it. You see her sitting alone at the bar at Flanigan's, watching the Heat game and throwing back Corona Lights. Your friends convince you to hit on her, and you oblige... she has a strong Stifler's-mom vibe. Since you're a Gym Rat, she's into it. You get her number and head over to her place after she answers "Yup" to your incredibly lazy text of "U up?"
Your first date: Dinner at Brio at the Falls, because who are we kidding: it's a Monday, she's older, you live in Kendall, and you just want to end up at her place anyway. You're digging the tight maxi and the push-up bra she's wearing, which helps make up for the fact that she's also wearing a toe ring and probably spent five too many sessions in the tanning bed. At this point in her life, standard first-date talk bores her, so she tells you about her love for casinos and an unsolicited story about last Saturday, when she took body shots of tequila at Soho Beach House. You pay the bill and follow her home.
Your inevitable breakup: You're 25, and while the sex is great, you're not attending multiple 50th birthday parties in a week. Also, the people at the Miccosukee Casino have weird odors and you start feeling very uncomfortable about the fact that the guy at the door now recognizes you and has started calling you "Debbie's little cub."
Mr. "I'm Not From Here"
Age: 28
Neighborhood: Brickell
You go to the doctor for a check-up, and he's the attendee on staff. He tells you he's just moved here from Indiana, which is an immediate turn-on for you, because you just went on your third date with Mr. "305 'til I Die." You start talking about him settling into Miami, and give him your card if he ever needs someone to "show him around."
Your first date: Lagniappe, because he's heard that's a hidden gem, which it was... five years ago. He buys wine by the glass and not the bottle, because he is clearly new here.
Your inevitable breakup: While he moves to Miami with every intention of sticking to his classic Midwestern morale, the Magic City starts to creep up on him. Next thing you know, he's cancelling dinner plans because "he has to work late" and starts hanging out at E11EVEN on Tuesdays and chatting up bachelorette parties from Wisconsin at FIFTY on Saturdays. He does the slow fade, and next time you see him, he is at a table at STORY with three matching blondes named Candy who are probably lying about the fact that they're 21 and not escorts.
The Shady Entrepreneur
Age, 29
Neighborhood: Miami Beach
You're at Merrick Park for your tri-weekly SoulCycle class, and he's there shopping for ties at Vineyard Vines because he just dropped his Porsche off at The Collection and needs to kill time. You accidentally bump into him, he knocks over your purse, and then helps you pick up all the spilled contents. He realizes he has made you late for class, and offers to take you out later that week to make up for it.
Your first date: Casa Tua, because he's a regular there. You have the best table in the room and you wonder why. You start asking him questions to find out why he's such a big deal, to which he makes vague statements like "I own some businesses" and quickly changes the subject. You're smart enough to know that you don't ask a Miamian for specifics when they say they run "businesses."
Your inevitable breakup: The more time you spend together, the more you realize he never has to go to work, ever. He lives at The Edition, but you can only go there during off-hours and always have to walk in through the back door and be let in by a guy with a permanent black eye named Pete. One day, he tells you he has to be out of his apartment in 24 hours because "it's having work done to it," legally changes his name to Derek, and moves to Uruguay, never to be heard from again.
The Guy Who Still Lives With His Parents
Age: 31
Neighborhood: West Kendall
After a night out on Brickell, you both end up at La Moon for the Super Salchipapas. In your bacchanal, you don't remember you gave him your number until he texts "hey u" the next day.
Your first date: The Captain America movie at Sunset Place, because that's what was cool in middle school, and since he still lives at home with mom and dad, what more does he know? He springs for popcorn and Milk Duds, holds your hand, and the whole thing is oddly nostalgic. Plus, if he lives with his mom, you think he MUST know how to treat women, right?!?! Ugh, dear God, please let that be true.
Your inevitable breakup: One month in, your "dates" start being at his family's dining room table, with leftovers his mom made. While it's delicious, it does not overshadow the fact that he also still has his same Marlins sheets from high school, his laundry magically appears folded on his bed every morning -- which you've never seen him do -- and he has no plans to change that anytime soon, because it means he can still afford to keep his standing weekly appointment with his weed dealer. Since your dates are now usually at "his place" (as he calls it, in big-boy terms), they always include watching soap operas with his grandma, whose hearing is NOT as bad as you were led to believe last night.
Mrs. 305
Age: 26
Neighborhood: Kendall
You meet at the gas station, specifically the Shell on 117th and Kendall. She marches out of the car with a wild outfit with Demi Lovato blasting. You say "daaaaaaamn girl," which she thinks is flattering, and you ask her for her number to get drinks later. She obliges.
Your first date: Dancing at Ball & Chain that Friday. She only orders two mojitos, tells you she wants to be a nurse, a mom, and has three years left at MDC, and answers phone calls from her mom at least seven times in a span of three hours.
Your inevitable breakup: She thinks the hostess at La Carreta is actually hitting on you when she says "your table is ready," and starts a scene by the colada counter. She says she's breaking up with you, and you show up at her house later with flowers and tell her you're sorry, even though you don't know what for. This happens four more times before you find another girl at a gas station and "daaaaaaamn girl" her into your phonebook.
The European
Age, 33
Neighborhood: South Beach. Definitely The Flamingo.
His name is probably Phillip, but it's pronounced "Phil-LEEP," and definitely not "Phil-lip" or "Felipe." You meet him at Bâoli on a Wednesday, because that's where all Europeans in Miami hang out on Wednesdays. He's the only guy sitting at the bar eating cheese and drinking red wine when you walk up to order a Cosmo, which he scoffs at and judges you for ordering. But then he smiles, tells you he's kidding (he's not), and charms you with his sexy French accent.
Your first date: A hole-in-the-wall wine bar on South Beach. You've never heard of it, and in reality it's probably complete crap, but Phil-LEEP has determined that this is the real deal because he is French and he knows things of this nature. He takes the liberty of ordering a bottle for the two of you, and you pretend you know how to do that smell-sip-slurp thing that they do in Sideways. You talk travel, philosophy, art, culture, and a bunch of other things you know nothing about, and you start picturing the chateau you'll have in Nice together. You go home to Wikipedia all the cities he mentioned on the date, and also to find out how to spell "chateau."
Your inevitable breakup: Days with the Frenchie are magical and involve lots of wine, romantic dinners, and brunches at Bagatelle. But while his worldly knowledge is 100 times better than any conversation you had with Mr. Gym Rat, he never lets you pick a restaurant or what you're wearing, and you realize that's because he's kind of an elitist. Plus, eating cheese for dessert every night has made you fat, and the Google Translate you need to talk to him is draining your data plan. When he starts visiting Paris for work every other month, you start ghosting... and stop hanging out at The Flamingo, which you realize is a good life decision in general.
The Creative
Age: 26
Neighborhood: Wynwood
You meet at Art Walk, because you're both checking out the same piece of art at the same gallery. He's got that Harry Potter-meets-hipster vibe going on, and wants to know what you think of the painting, so after more art talk, he asks for your number to "discuss it further."
Your first date: At Panther Coffee, because it's cold brewed and "only buys its beans from the little guys, which makes the world a better place," according to this smiling hippie man. You find out he owns an art studio in Wynwood, which also happens to be where he lives. He thinks rocks are beautiful and is currently launching an introspective art project on whether or not rocks have feelings.
Your inevitable breakup: He goes to Burning Man, and marries a girl he does shrooms with in a sham wedding by a guy who drinks his own pee and calls himself the "Shaman." He comes back with a newfound desire to find himself, which involves a lot of pot, painting wall murals with his feet, and not showering. You decide he needs to find himself... a new girlfriend.
Girl With Dog
Age: 31
Neighborhood: South Beach
You meet at Haulover, because you're there checking out the nude beach, and she's there for the dog park. You pretend to ask for directions to the dog park, which she sees right through because, well, you have no dog. She, however, obliges and points you in the right direction. You chat her up, secretly wishing she will then ask you for directions to the nude beach, but she doesn't, so you ask for her number instead. Smooth.
Your first date: You've dated girls with dogs before, so you're well aware of the early-dinner-or-late-drinks window of opportunity, because we all know Peanut has to be let out at 6pm on the dot. You drive to South Beach because you're a gentleman, and also because you want to go back to her place later, so you opt for 8pm drinks at STK. She has an iPhone-photo slideshow prepared with a timeline starting with how her and Peanut met, and you spend the night evaluating the hotness-to-dog ratio to see if this is all worth it.
Your inevitable breakup: She hears the dog barking mid-sex and gets up to let him out to pee, which causes you to start having visions of running him over with your Honda Accord. It ends forever when she asks you to buy him the special brand of Purina he loves, but you get the discount one from the 7-Eleven on the corner. She never forgives you.
Sign up here for our daily Miami email and be the first to get all the food/drink/fun in town.