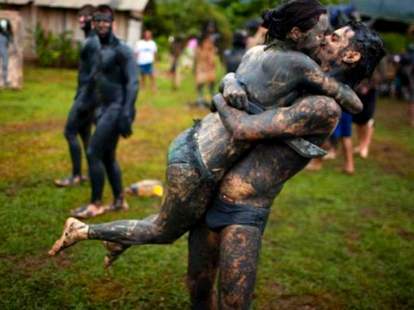 Are you looking for love? Do you often fall for people covered in mud? Do you often fall in mud yourself, and not care at all? Then you need to sign up for Mud Mingle, an extreme run that sends you through a grip of harrowing, generally disgusting obstacles, before you hit a party to find someone with whom to get generally disgusting back home. Everything you need to know:
You're seriously required to be single for this. Yes, they'll absolutely check marriage records. No, they probably won't actually check marriage records, but it sure sounds cool.
It's going down at private oceanside Virginia Key Beach Park, so go ahead and check off "enjoys long, arduous runs on the beach".
While you aren't required to tackle every single obstacle unless you're Terry Tate: Office Linebacker, they include monkey bars, cargo nets, climbing walls, and a few ocean relays.
There will be blood. That's just a great movie, seemed worth mentioning. There will also be ziplines.
Post-race mingling kicks off with a free beer, and an after-party with live music, food, and more of that beer.
And because they're just that dedicated to making mud-covered singles actually look attractive, there's also an after-after-party with even more booze. In love yet?