Everyone has their favorite date night place, whether you're into wooing others with expensive steaks at Carnevor or you and your significant other have designated stools at Burnhearts. If you're willing to step outside that comfort zone though, there is way more to see and do on dates in Milwaukee, even in the dead of winter when all you want to do is hibernate. Here are 15 great MKE date ideas that will help you break out of your bubble.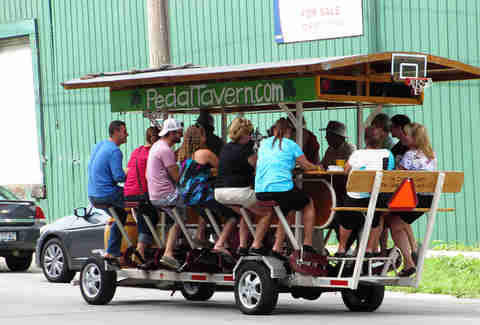 Especially great for first dates or blind dates because there are other people to break any awkward silences. Pedal from one pub to another and drink your way through the city. Just be sure to Uber home.

If you've ever wanted to go ice skating in the middle of the city just like every character in every Christmas movie set in New York, then this is your place. It's free, unless you count the skate rentals, and it's bound to bring about some mittened hand-holding.
MKE has its very own kite store, conveniently located at the lakefront where it's almost always breezy. It's usually a hotbed of kite-flying activity around there, so you can watch people with those crazy trick kites, then buy your own and laugh when you can barely get it off the ground. But hey, at least you spent a lovely day at the lakefront.

The facility is small, so it's an easy -- but very informative -- tour. The highlight comes at the end when you get to sample a ton of their alcohol, from maple rum to absinthe. Then head back upstairs and belly up to the bar for some great cocktails. Don't forget to eat some free popcorn, you'll need it.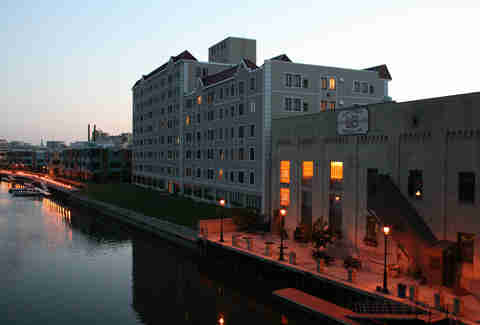 You'll laugh, you'll drink, you'll sing the theme song to Laverne & Shirley, and learn about bungholes. Tours fill up fast with walk-ins, especially on weekends, so plan ahead and buy tickets.

Women love doing the picnic thing, and it's even better when there's great live music. It gets pretty crowded, but that's part of the fun and everyone makes friends. Stake your spot with a blanket or lawn chairs.
Riverwalk Boat Tours operates a themed booze cruise every day of the week. You and your date can decide whether you'd prefer margaritas, hurricanes, or Bloody Marys while cruising up and down the Milwaukee River.

Go retro at At Random
At Random is only open randomly, so it's worth calling ahead to make sure they're serving up their retro cocktails. From crushed ice and paper umbrella tiki drinks to the best boozey ice cream shakes ever, this bar is dark, cozy, and totally unique.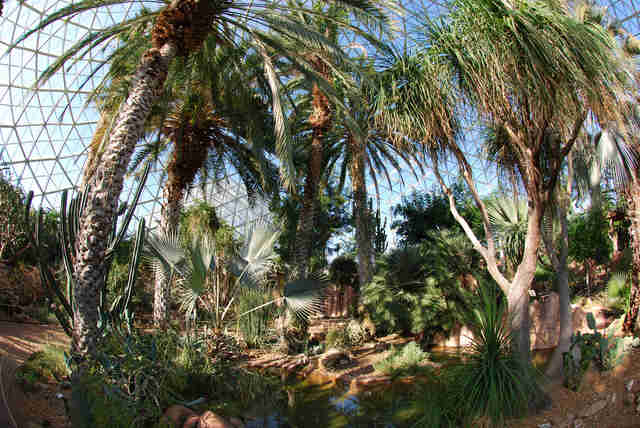 If it's a little too early in your relationship to take a trip to the Bahamas, then just head to The Domes instead. The tropical dome is full of palm trees, humidity, and secluded paths for a quick make-out session.

Or if you prefer, walk and eat -- or bus and eat, for the lazy among us. Guided tours take you from one restaurant or bar to the next, where you'll try a new Bloody, chocolate, pizza slice, or whatever fits the theme of your tour. It's a great way for new MKEans to explore together.
What better way to get you engine going than revving one at the Harley-Davidson Museum? After learning everything you ever wanted to know about H-D, have dinner and drinks at Motor without even moving the car (or bike).

This huge park has everything from golf to botanical gardens, but the real fun comes in winter. The main sledding hill at Whitnall Park is lit and open until 8:30pm, and there's a concession stand with hot chocolate to warm your hands while you sip.
You can now rent kayaks from the Milwaukee Kayak Company and paddle around the city at your own pace. Stop at some of the many bars and restaurants along the Riverwalk with docks and make a day of it.

We all know about the Public Market, but it's not well known that there are cooking classes offered upstairs. The schedule is up in advance so you can see what strikes your fancy, whether it's beer cheese soup or profiteroles. Bonus: those cooking skills may come in handy later on in the relationship.

A great little restaurant, Meritage, is conveniently located across the street from the beautiful old Times Cinema. So if you're in the mood for a classic dinner and a movie (and who isn't sometimes?), it's one of the best spots in the city to do it.
Sign up here for our daily Milwaukee email and be the first to get all the food/drink/fun in the Brew City.
Lacey Muszynski is a Milwaukee writer who needs to schedule a date to Meritage. Follow her on Twitter @worthhersalt.