All the Reasons Why Dating Someone From the Twin Cities Is the Best
For those unfamiliar with the dating landscape of the Twin Cities -- or newbies arriving to town looking for love -- there's one thing you should know: we've kind of got it going on. In addition to being extremely good looking in our own Norwegian, lumbersexual sort of way (and that's just a fact), we're fun, funny, open-minded, and basically the best at everything.
Oh, and we're humble, too.
Still need more reasons to date someone from the Land of 10,000 Lakes? We've got you covered.
We stay active
We love binging on Netflix just as much as any other state, but the idea of spending every day in front of a screen just isn't our jam. That's why on any given day you'll find us cruising around town on a Nice Ride cycle, running the Chain of Lakes, or hiking Minnehaha Falls. We're all about finding any way we can to get our move on, and all of that activity helps us keep it tight. Which is a total bonus.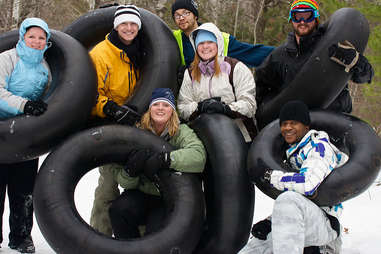 There's no such thing as "too cold" outside
Have you ever seen what you look like with icicles coming off of your eyelashes? Are you familiar with the feeling of watching a parade or a football game and not knowing whether you still have all your fingers? Well, we are. The reality is that our weather is brutally cold for way too much of the year. But we adapt, survive, and get back out there. So if you're looking to hibernate for the winter, deactivate your Tinder account. Whether it's snowshoeing at the Loppet Festival, having beers outside at the Beer Dabbler Winter Carnival, or snow tubing at Buck Hill, the cold weather just can't cool off our dating lives.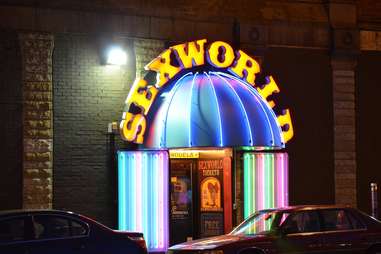 We can embrace our inner freak
We get it. We're polite Midwesterners, which means we must be boring in bed, right? Wrong. From our iconic sex shop, SexWorld, to the surprising number of gentlemen's clubs, and the progressive female-oriented Smitten Kitten, people from the Twin Cities know how to keep things interesting between the sheets.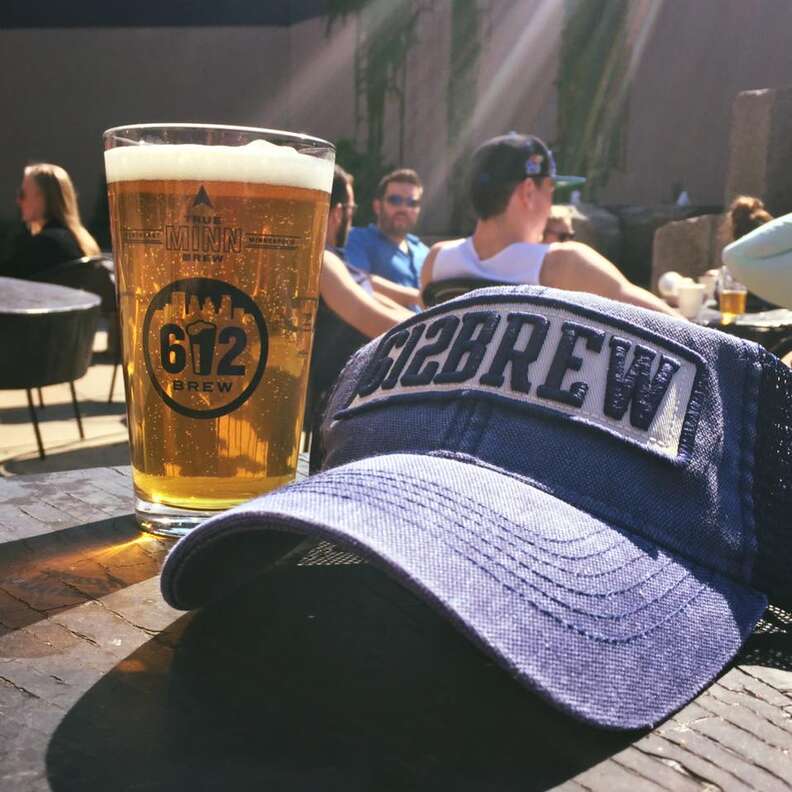 "Chain restaurants" and "cheap beer" aren't in our vocabulary
Our local restaurant and beer scene is very impressive. So much so that even the least sophisticated eater may learn a thing or two and embrace their inner-foodie or craft-beer snob while in town. If you're going to date someone from our city, brush up on what makes it great: anything from quality hot dogs (Butcher & the Boar) to lobster rolls (Smack Shack) to the various taprooms guaranteed to be prime first date locations (612Brew, looking at you).
We love our State Fair in a completely non-ironic way
Socks with sandals, deep-fried candy bars on sticks, and barnyard animals giving birth. This is the quickest way to describe the State Fair. "The great Minnesota get together" is a tradition that both natives and transplants celebrate each summer, and if you're in a relationship (or looking to start a new one) come Labor Day, don't plan on being anywhere except the fairgrounds. Just remember to bring your finest sweatpants to accommodate for all of the deep-fried dough you'll be scarfing down.
The accent is real
Yes, we've all seen Fargo. Yes, we know they talk funny. Yes, we know a lot of us sound like that (even if it's slightly more subdued). But still, it's an endearing accent. So either get your "you betcha!" jokes out of the way early or your date is going to get snatched up by someone sporting a flannel and offering promises of hot dish at their parents' house over the weekend.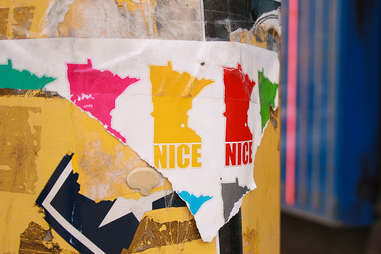 About the whole "Minnesota Nice" thing...
It's not a lie. We are super nice, almost to a fault. That means even if the first date is a real dumpster fire, there's a chance we'll be willing to give you a do-over.
We all have a six-degrees-of-separation story about The Mighty Ducks
If you've seen The Mighty Ducks (and honestly, who hasn't?) then you may recognize that the film was shot right here in Minnesota. While you may be hard-pressed to find Emilio Estevez roaming through the skyway or enjoying some cheese curds at Mall of America, essentially everyone you meet has SOME story about how they have (at least) a loose connection to the making of that movie. Looking for a conversation starter for that awkward first date? Just think about Gordon Bombay and the "Flying V."
Our music scene is undeniably incredible
Regardless of your taste in music, the local scene is unparalleled. From socially conscious rappers to experimental noise rock and, of course, the spirit of Prince (thank you again) hovering over all of us, there's no shortage of amazing music all over town. You can't go wrong by taking your date to First Avenue or Turf Club for an evening of locally sourced, face-melting music.
Sign up here for our daily MSP email and be the first to get all the food/drink/fun the Twin Cities have to offer.