Forget LA: Montreal Is North America's Porn Hub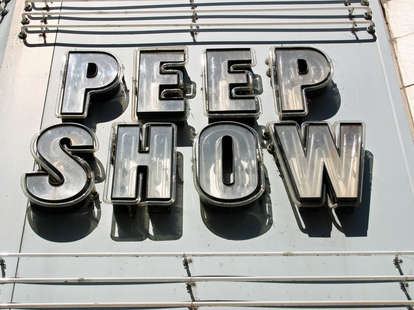 Peep show in Montreal

| Chris Bradshaw/Thrillist
Peep show in Montreal

| Chris Bradshaw/Thrillist
New York has pizza and yellow taxis. Chicago gets deep-dish pizza and a lot of wind. Los Angeles is full of movie stars and palm trees. And Montreal, we have poutine, bagels, orange construction cones, and potholes.
But there's another thing that Montreal is notorious for, although the general population might not be so aware. I'm talking about porn.
"Traditionally, when people think of the adult film industry, they think of LA," explains Dave Strauss, partner and creative director at Arm Candy Creative, a marketing agency specializing in adult entertainment. "Although Los Angeles remains the mecca of the adult entertainment industry, the landscape is quickly changing. Over the past several years, we've seen production begin to move east to more porn-friendly cities such as Las Vegas, as well as north to places like Montreal and Toronto."
"Montreal is the hub for all porn! Pun intended!"
The inclusion of Montreal, then, should come as no surprise given our city's history in red-light districts and burlesque, ensconced in the city's only venue dedicated solely to the performance art, The Wiggle Room, and general sex-positive attitude. It's a commonly cited statistic that Montreal is the third-biggest porn city in the world, behind Amsterdam and Los Angeles. But much of where Montreal falls into the greater landscape of the adult film industry comes in after the cameras are turned off and performers are clothed.
"Pretty much all the business-related aspects of the more popular porn sites happen in Montreal, minus production. For the brands that are based here, most of the post-production takes place right here," says Jake Wolf, a former social media director for Playboy.com, Girlsway, Fantasy Massage, and Pretty Dirty. If the adult film industry was a computer, then Montreal would be the motherboard, making everything run.
"Montreal is the hub for all porn! Pun intended!" proclaims Wolf.
The pun he's referring to is, of course, PornHub, one of the many assets of adult film giant MindGeek (SFW), the company that's most often talked about when porn in Montreal comes up. It's headed by two Montrealers, Feras Antoon and David Marmorstein Tassillo, and despite being an international company with offices all over the world, the vast majority of its employees are based here. Glancing at its website, you would never in a million years be able to guess the sort of business that MindGeek does. It looks like a tech company -- and it is, providing IT services ranging from development to marketing and SEO, specializing in the "management of highly trafficked websites." You could say that again.
"If I had a dollar for every time someone in Montreal told me they had a buddy who's an editor at MindGeek, I could retire," jokes Strauss.
MindGeek is the Goliath of the porn industry in Montreal, wielding valuable assets like PornHub, a bevy of tube sites, as well as several studios, including Brazzers, which was started by two Concordia students. While content management and website development might not exactly be the glamorous piece of the puzzle, it's where the money is. And in a $60 billion industry, there's quite a bit of it for local programmers to take home. As Catherine Dunn, MindGeek's vice president, told the Financial Post last month, "We've got some of the best minds in software engineering and programming, and that is in part due to Montreal's reputation as 'Silicon Valley North.'"
But there are other local companies that play a big role too, according to Strauss. There's Gamma Entertainment, behind Fame Digital, producing, editing, and marketing out of Montreal. There are also production companies, like Vid Vicious, AD4X, and Pegas Productions, which also has its own acting school for men in adult films.
With such a competitive and fast-evolving landscape that serves a demanding client base, it's no wonder that these adult film companies are quickly becoming some of the world's most innovative tech companies. Ever see the Silicon Valley episode when Pied Piper flirted with the idea of adult film server compression before hitting an accidental button deleted the company's hundreds of thousands of assets? Life imitates art. (Sort of.) Look no further than virtual reality live-cam shows for proof of how important a role tech plays in the future of the porn industry. There's been a shift in an industry that's seemingly all about the sex stuff to a focus on how to best deliver with innovative tech.
It isn't all business, though. A lot of the top names in the industry come to Montreal to work with local production studios. "You know when they're in town because they're probably doing a feature at your favourite strip club," says Strauss.
"If I had a dollar for every time someone told me they had a buddy at MindGeek, I could retire."
Montreal boasts a slew of home-grown talent too, though it isn't exactly a performer's dream location. According to Shana Lane, an eight-year industry vet, "It's difficult for girls to be able to live on porn work alone. That's the difference between Montreal and LA. It's a bit of a catch-22; the talent wants a certain amount, and the Montreal producer can't afford to pay because the [production] demand just isn't there." One way she plans on beefing up Montreal's stake on the performing map and fixing this dilemma is by starting her own studio.
Despite not yet being a performer's haven, Montreal is a major player in the adult film industry, no matter how you look at it. Keep that in mind next time someone says the city is only famous for pouring cheese and gravy over French fries.
Sign up here for our daily Montreal email and be the first to get all the food/drink/fun in the City of Saints.
Tyler Lemco is a writer from Montreal, Quebec. He enjoys burgers, basketball, cheeseburgers, music, and bacon cheeseburgers. Find him on all social medias @tlemco.