The US States That Love Strip Clubs the Most
SHUTTERSTOCK/EDITED BY JENNIFER BUI
Strip clubs are a great symbol of America's sexual confusion. While they're huge tourist attractions in cities like Las Vegas, Miami, and Portland, many places regularly pass laws trying to get rid of them. Even the states that welcome naked dancing are often conflicted, with some towns enacting tough regs while others remain more lax. But which states as a whole are the most strip-club friendly? We wanted to know.
While every state has at least one good club, we started with those that have the most strip joints per capita. From there, we factored in whether the clubs are full liquor, no booze, or BYOB; if the dancers were naked, topless, or in pasties/bikinis; and whether a lap dance was actually on your lap or 5ft in front of you. And finally, we looked at how many of the 21 best strip clubs in the country were located in those states, and adjusted accordingly.

In the end, we came up with these 15. And, sadly (for the folks who live there), the five worst.
Disclaimer: Remember, laws vary from city to city within these states, so while you may live in a place that allows full nude clubs, the ones you frequent may not be. Please take that into consideration before calling us ugly names in the comments section.
15. Ohio
As you stare at Ohio's purple outline on CNN for the next 16 months of the presidential election, remember that inside the state sits 174 strip clubs (one for every 66,000 people), most of which boast full liquor bars. Honestly, they'd have cracked the top 10 if only full contact lap dances were allowed.

14. Maryland
Two words: The Block. Sure, that's about all Maryland's got going on strip joint-wise, but with 20 clubs on one street (none of which charge a cover), that's enough to land them in the top 15.

13. New York
Though the fourth-largest state in the nation maintains a respectable 223 clubs, it lags behind big-state brethren Florida because clubs can only serve liquor alongside topless (rather than fully nude) dancers.That said, being home to Scores and the Vivid Cabaret -- two of our 21 best clubs -- helps catapult them onto the list.

12. Wisconsin
A state known for its copious consumption of beer and cheese also maintains nearly 100 joints where residents can ogle naked people who hopefully do not... consume a copious amount of beer and cheese.

11. Alaska
If this list was based on strip clubs per square mile (rather than per capita), the last frontier would be dead last. With only eight clubs in a state 1/5 the size of the entire contiguous United States, you may need to take a bush plane to reach one. But once you do, you'll be pleased to learn that they're all full nude, full liquor, and full contact. Also, the Great Alaskan Bush Company is one of your 21 best strip clubs in America.
10. Oklahoma
When you see where Washington State ends up on this list, it's pretty much a no-brainer why an NBA franchise would relocate from Seattle to OKC. This state's got 55 clubs where topless women provide full-contact lap dances while patrons enjoy their favorite booze served from a full bar. Yes, a far better place for KD to make it rain than the great Northwest.

9. Kentucky
Because, really, what goes better with horse racing than a trip to the strip club? A mint julep? A funny hat? Maybe. But Kentucky has 56 clubs statewide where (at least outside of Louisville) private dances are perfectly fine.

8. South Dakota
You may have to drive a while to get to one, but SoDak actually has the second most strip clubs per capita in the nation behind West Virginia. Sadly, the bevvy of freeway billboards that beckon you to Wall Drug, the Corn Palace, and one of the most disappointingly small tourist attractions in the world won't be directing you to any topless bars. Although when you do come upon one, you'll enjoy a full bar with your half-naked women.

7. New Jersey
Thank you Atlantic City for bringing us the great advancement in high culture that is the BYOB full-nude strip club. That's now a solid $7 we can use to make it rain instead of blowing it on a lukewarm domestic draft. While NJ strip-club regulations vary from town to town, and there are waaaaay too many bikini bars for our liking, the most densely populated state in the country does have the third most strip clubs per capita.

6. Georgia
While the billboards that line I-75 as you drive north from Florida might lead you to believe there's a strip club every 50 feet in the Peach State, sadly there are only 52 for all 10 million-plus people. But the ones that are there.... well, ask any rapper from the ATL, and he'll vouch that it's the best strip club town in the country. With full nudity, full liquor, and two of our top 21 clubs, the 404 does quality over quantity better than anyone else.
5. Oregon
No East Coast media bias here, Oregonians. Despite calling yourselves "The Beaver State," your strip club scene still just misses the top four. Sure, there are 59 clubs (12 more than Nevada) in a state of about four million, and Portland is the best place on the planet if you like your strippers with a heavy side of tattoo, but the no contact rules make the strip clubs here almost as much of a tease as the Ducks during football season.

4. Louisiana
Somehow the Bible Belt kinda forgot about Louisiana, where the uptight rules on nudity and booze fly out the window as soon as you get west of the Mississippi. New Orleans leads the southern charge with two clubs in our top 21 and full liquor in all their strip clubs. Sure, they're still only topless -- a big reason why Louisiana doesn't rank higher -- but the full-contact lap dances should help you forget about that.

3. Nevada
If there was ever a Family Feud category that asked "Name a city you go to for strippers," Steve Harvey would absolutely lose his shit when you said Las Vegas and it rang up as the #1 answer. And while Sin City might be America's top town for strip joints, there's a whole lotta state out there and only 47 clubs populating it. So despite having two clubs in our top 21, Nevada only ranks third thanks in part to laws prohibiting full liquor and nudity in the same spot.

2. Florida
Who cares if you're last at everything else; as long as you're tops in identity theft and second in strip clubs, people will keep moving there. Not only does the Sunshine State have the most strip clubs in the country with 243, they've also got FIVE in Tampa and Miami that cracked out Top 21.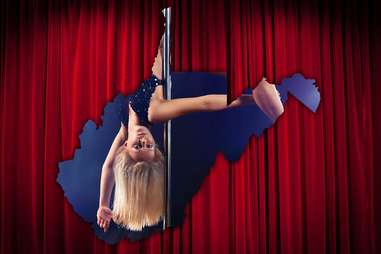 1. West Virginia
Perhaps the only state in the nation that's the butt of more jokes than Florida is also the only one that beats it out for strip clubs. There's a reason they call this place "Almost heaven," and that's because West Virginia's got a staggering one strip club for every 28,456 people. Which might also explain why John Denver was in such a hurry to come home. Not only does WV have full liquor and full nudity, but they also boast full contact couch dances. As long as that couch isn't on fire.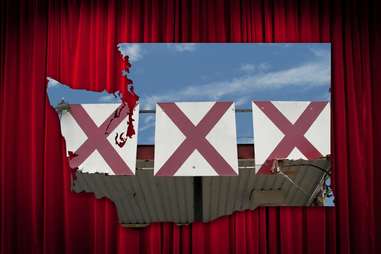 And for kicks, the bottom five...
46. Washington
Somehow the largest state west of the Mississippi not named Texas or California has a paltry 20 clubs statewide (although here are the best eight in Seattle). And the few they do have prohibit liquor and nudity under the same roof. Amazon probably doesn't mention that when recruiting all those Bro-grammers.

47. Arkansas
Only eight clubs in the entire state, and you can't have booze and nudity together. Somewhere, Bill Clinton is crying.

48. Virginia
Sure, that little corner next to DC has made this once-southern state officially part of the mid-Atlantic, but that's why they should be split in two. The rest of the state is as Bible-thumping as the rest of the south, which is why you can't even find a club with naked women -- with or without booze -- anywhere.

49. New Hampshire
Three clubs in the entire state, and none of them are full nude. When it comes to strip clubs, clearly "die" won out over "live free."

50. Vermont
One strip club in the ENTIRE STATE. Ben and Jerry must think they have better ways to spend their money than making it rain, but on the upside, at least it's a short drive to Montreal.
Sign up here for our daily Thrillist email, and get your fix of the best in food/drink/fun.
Matt Meltzer is a staff writer for Thrillist. Follow him @mmeltrez.