Men and Women Reveal Why They Cheated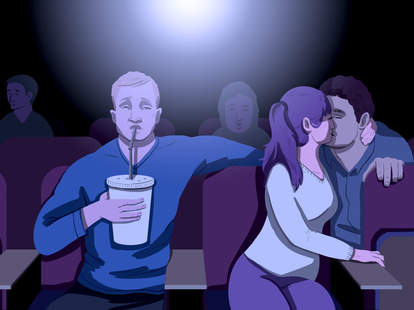 As much as infidelity sucks, it happens all the time. I've cheated and been cheated on, and had my heart smashed into a million pieces by others who have. I want to be a woman of my word, and dammit, I try. But people do make mistakes.
In some cases, cheating stems from addiction, validation, or a craving for a little human touch. For others, it's hardwired in their genes. Whatever the case, one in six Americans have admitted to cheated on a partner: 20% of men, and 13% of women. So why did they do it? Here, five stories submitted by people who've cheated shed some light.
 
"We hit it off immediately"
James, Portland
We had stories published in the same literary journal, and I asked the editor for her email because I admired her essay. We emailed once a week or so for a while, sharing drafts of writing or quotes from our favorite books. Then we started talking about other things: baseball, hiking, our fathers... She knew I was married. I knew she was engaged. There was never anything remotely romantic in our correspondence.
But both of us admitted to being excited to see the other's name show up in our inboxes, and the messages soon became daily instead of weekly. We wrote that way for a year. Then, we met at a conference in Vancouver, BC. I lived in the Midwest, where I'd grown up, and had never been to the Pacific Northwest. When my plane descended out of the clouds and I saw the dark-green mountains and steel-colored water surrounding the city, I felt like I'd left my life and was now in some fictional world.
"It felt like living in someone else's life. Which was a relief."
She and I met the next day. That was before social media, and we'd never even seen a picture of the other, so we introduced ourselves in a café based only on descriptions given over the phone. We hit it off immediately, spending all of our time at the conference together, going to panels, seeing people we knew, going out to eat, the conversation never ending. The last night we were there, we sat in the hotel bar holding hands under the table while talking to people sitting with us as if nothing was going on. I told her my theory about how you can tell when characters in classic movies have slept together because afterward, they call each other darling. We left the bar after having a half-dozen cocktails, and walked around this foreign city; signs in English, French, Korean, Japanese, and it felt like living in someone else's life. Which was a relief.
My grandfather had died two weeks before, I had two young sons at home, and my marriage was disintegrating. It felt like standing on the edge of a cliff and then deciding to jump because you no longer feared what lay below. We went back to my room. We told each other that nothing had to happen. We lay together and talked about the James Dickey poem "Adultery."
We had breakfast. We parted cheerfully. On the flight home, I thought about going back to my life with a new determination to make it work. She and I still wrote every day. The only clue that anything had happened between us was the fact that we began each message with "Darling."
The truth did come out. Things got messy. And she and I didn't communicate with each other for almost 10 years. Then one day I wrote her to clear the air, to apologize for any pain or harm that I'd caused. We both had ended the relationships we had been in, found new loves and new lives, and she and I exchanged the news of our newfound happiness in clean and efficient prose one last time.
 
"At the end of the day, nobody got hurt"
Jason, New Orleans
When I met Kelly, she was living with her boyfriend in Los Angeles. We hit it off at a mutual friend's party, slept together that night, parted ways, and stayed in touch. I had a girlfriend at the time, but she was studying in Europe and I'd embraced an out-of-sight, out-of-mind mentality. When I had an opportunity to pursue a summer law internship in Los Angeles, I jumped on it. Subsequently, I ended up crashing at her and her boyfriend's apartment for the summer. The underlying chemistry was electric. She and I hooked up every chance we got.
Was it wrong? Yeah. But Kelly and I had a spark I hadn't felt with another woman in a long, long time. We fucked all summer, then I got a job back east. We saw each other a few times after that, but the sex was never quite the same. Eventually I split with my girlfriend, met someone new, got engaged, and ended my casual arrangement with Kelly.
Do I feel bad about being the other guy? I kind of felt like a douchebag doing this under my host's roof, but it happened. We had hot, exhilarating sex, and at the end of the day, nobody got hurt. I guess if you're going to be an adulterous jerk, this had the best possible outcome.
 
"I cared for my husband, but I wasn't in love"
Ruth, Seattle
I didn't wake up one day and think, "I'm going to go have an affair." It was a more gradual slide into a love affair that to that point was the most passionate, most intense relationship of my life.
I was unhappily married at the time. I cared for my husband, but I wasn't in love with him. We were just companions: no sex, no passion. We were two people who enjoyed each other's company and slept next to each other every night.
The other man was an old friend from high school. I'd had a crush on him (and apparently he on me) that I had never acted on. Throughout the years I had thought of him, occasionally emailing back and forth with him before it faded away again. Until one time that it didn't. First we talked about our lives and marriages -- at least, the rosy versions we had portrayed to the world. After a month, the conversations turned personal. We began talking on the phone on our drives to and from work. It all felt very innocent.
"Now I knew something better was achievable."
Eventually, we decided to meet up. Our spouses knew we were seeing each other, but I doubted either of them knew what brewed beneath the surface. During that first meeting, we spent almost 10 hours together. Nothing physical happened, but something took deep root that day. A month later, we spent the night together. Both of us described that night as one of the best, if not the best, of our lives. It was filled with deep conversation, belly laughs, intimacy, passion, and a tenderness we both craved. We were in love.
He was very clear that he would never leave his marriage; but I woke up the next morning and knew I had to leave mine. Now I knew that something better was achievable. I told my husband I wanted a divorce. Six months later, we separated.
As for the affair? It went on for about another year and a half. We saw each other a handful of times until he decided that it was too difficult to have me in his life and he disappeared. I was devastated. But when your heart breaks from an affair, there's no way to talk about it. The world to most is black and white; and in the world of love, an affair is squarely seen as BAD. I don't feel that way anymore. The world is messy. Love is messy. There is so much gray. Did we both betray our partners? Yes. Would each of them have been very hurt to know what he and I shared? Yes. Do I feel guilt about that? Absolutely. Do I regret having the affair? No, I don't. I loved him in a way I had never allowed myself to love before and it gave me the opportunity to learn that I was capable of that kind of love. It also gave me the push I needed to get out of a marriage that was slowly killing me.
There are days when I absolutely wish that he and I could be together. But I've also recovered from the heartbreak. I loved someone after him and while that didn't work out, I took the lessons I learned from the affair and carried them with me. I imagine I will again.
 
"I guess they call it 'emotional cheating'"
Emma, Denver
I was in a new relationship and had just moved to a new town when I met Alan. Right from the bat, the chemistry was electric. I'd meet up with Alan maybe once a month for drinks, a few rounds of pool, and hours of conversation.
One night, we ended up in the front seat of his truck making out like horny high schoolers. From then on, we had amazing make-out sessions every time we saw each other. We also talked at length about sex, how his cock bent to the left about halfway down (I never did see it), and what we liked in bed. Despite these no-holds-barred conversations, the flirtation never went any further.
But it still felt like cheating -- I guess they call it "emotional cheating." I got more excited than I probably should have when we made plans and went out of my way to keep our meetings a secret from my boyfriend. This went on for a year or so, until he moved away. To this day, I get turned on when I think about the heated conversations we had and the unactualized sex we discussed in detail.
 
"A few hours later, my girlfriend showed up"
Raul, Boston
I was going away for an event that my girlfriend would be arriving to the following day. Right before I left, we got into a huge fight. So when I got to the hotel, I mingled for a long time. Finally, I got bored and went out by the pool. I met some people and there was this girl. We were flirting with each other. She was leaving in the morning and wanted to have some fun that night. I was still pissed about the fight. So we started kissing by the pool, and finally went up to her room. I was out of there by the morning.
A few hours later, my girlfriend showed up and we reconciled. Later, I met a friend of hers at the event, who was also at the pool the night before. The friend (an ex-boyfriend) said that he thought I was someone else the entire day before and that I had different color hair. He also mentioned something to my girlfriend about seeing me at the pool with another woman. When she brought this up to me, I mentioned that the source of the information was completely invalid, and that he'd mistaken me anyway. And that's how I got away with cheating on my girlfriend.
Sign up here for our daily Thrillist email, and get your fix of the best in food/drink/fun.
Charyn Pfeuffer is a Seattle-based food, sex, and travel writer who believes there's always two sides to every story. Check her out on Twitter: @CharynPfeuffer.