Things People Don't Understand About Being a Sex Addict
Most of us have seen addiction in action enough to know its disastrous effects on dreams, families, goals, health, and spirituality. My own struggle with addiction has lasted for 25 years, the last seven of which have been spent "sober."
But my stories differ from those you typically hear, because my addiction is to sex, not drugs, gambling, or alcohol. To many, this addiction is a strange one to consider. So I'm sharing some of my anecdotal experience, and hope to dispel a few myths and offer clarity about sex addiction and recovery from it.  
 
We're human
It sounds like a line from David Lynch's The Elephant Man, but it's true: sex addicts are just human beings trying to work through our issues. For a sex addict looking for help, the first therapy session or 12-step meeting can be petrifying. Many of us expected a shadowy cabal of oleaginous men in trench coats and skeevy women in stilettos. Instead, we discovered a group of mothers and fathers, daughters and sons whose sexual proclivities threatened their livelihoods and very literally, their lives. Perhaps our preconceived notion of sex addicts keeps our addiction on the fringes of the mental health world. Sadly, this notion also prevents more of us from seeking therapy in the first place.
Nevertheless: we're real people, all the same.
 
We really are addicted
Sex addiction was excluded from the latest edition of the American Psychiatric Association's Diagnostic and Statistical Manual of Mental Disorders (DSM-5). In the mental health world, there's a schism between those who do and don't believe sex can be an actual addiction. Some think the corpus of research isn't robust enough yet. Historically, the American Medical Association didn't consider alcoholism a disease until 60 years after the term "alcoholic" was coined. So, it may take a while for healthcare to catch up to sex addiction. Characterizing it as a behavioral addiction, like a gambling disorder, is gaining some traction, however. Regardless, those of us who suffer the throes of sex addiction know for sure it's not a bad habit like biting your nails; and it doesn't lend itself to a three-week "cure" gleaned from watching an episode of Oprah.
SpeedKingz/Shutterstock
We seek and support sexual health
Recovery from sex addiction isn't about suppressing our sexuality, ignoring sensuality, or refusing opportunities to date, make out, or be intimate. Instead, we learn incrementally to reconnect sexuality with values like intimacy, honesty, and trust. 
 
Also, there is a clear distinction between being celibate and being abstinent from those deleterious sexual acts which helped ruin our lives. "Many sex addicts new to recovery worry that sexual sobriety mirrors chemical sobriety, where permanent abstinence is nearly always the goal," says Robert Weiss, LCSW, CSAT-S, senior VP of clinical development at Elements Behavioral Health. "Fortunately, sexual sobriety is not defined in this way. Instead, sexual addiction is handled much like an eating disorder -- another area in which long-term abstinence is simply not feasible. So instead of permanently abstaining from all sexual activity, recovering sex addicts learn to be sexual in non-compulsive, non-problematic, life-affirming ways."
 
Our modus operandi differ
I personally abstain, one day at a time, from all pornography, unhealthy sexual relationships, and unsafe sexual relations. That doesn't mean I don't have sex, don't masturbate, or don't date or flirt. Like any addict, my triggers are unique to me.
A sex addict's "drug of choice" varies just as much as the bandwidth of healthy sexual expression. Someone sitting next to me at a 12-step meeting may be totally fine with porn, but can't stop soliciting prostitutes, cruising bookstores, or having anonymous sex. Dr. Rory Reid, a research psychologist at UCLA, says that becoming healthier involves "[getting] brutally honest with oneself, establishing healthy boundaries, better stress-coping strategies, and cultivating emotional intelligence to address life challenges in adaptive ways rather than turning to sex as a form of escape." Regardless of the trigger, we are learning how not to participate in self-destructive patterns but instead find healthy sexual expressions for ourselves.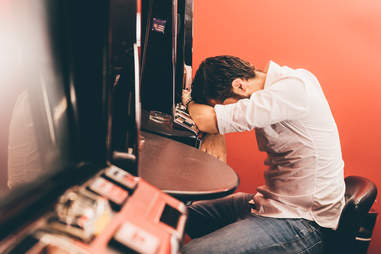 massimofusaro/Shutterstock
Other disorders, abuse, and trauma can be factors in sex-addiction formation
Anecdotally, a fair number of folks in sex-addiction recovery suffered sexual or physical abuse themselves. There are also some sex addicts who are dually or multi-diagnosed, working on multiple disorders or addictions at once. They work particularly hard to keep themselves in touch with their support networks at all times. I have a habit of calling our minds the "ocean between our ears." There are placid places and there are roiling waves. It's not unheard of to see sex addiction as an unhealthy expression for someone also working on managing their gambling, drug addiction, or bipolar disorder.
 
We are not making excuses
The media sometimes accuses an actor or sports star who claims sex addiction of contrivance. I can't speak to their situation. But what I can verify is that the good friends I've made in my recovery network have no artifice whatsoever. We are attempting to rebuild trust, relearn honesty, and engage in intimacy in order to live healthier lives. In this way, sex addiction recovery has lent me and my recovery friends an amazing erosion of judgmentalism, and a blossoming of compassion.
Recovery from sex addiction can be part of an overall mind/body/spirit reboot. We are becoming present in our own lives. It takes commitment, connection, and others' counsel to work through this. In the end, it really doesn't matter what the DSM-5 says. When we feel like we're a part of something, and that there are others out in the world to help see us through this process of recovery, then shame, isolation, and acting out can abate.
Sign up here for our daily Thrillist email, and get your fix of the best in food/drink/fun.
Sean Cardinalli is a screenwriter, blogger, agitator, life coach, and father. Follow his rants and raves on Twitter: @SeanCardinalli.