When I was a little girl, I loved The Little Mermaid more than anything. ANYTHING. In the context of my adult feminist understandings, I realize how problematic the whole Disney "princess effect" is for little girls' self esteem, their comprehension of gender roles, and their internalization of negative gender stereotypes.
I mean, the moral of The Little Mermaid is essentially to alter yourself physically and leave your entire life behind for your man. Whatever, I was, like, 8 years old, and I just wanted to be a mermaid with a magical voice.
I know I should hate Disney, but I don't. Still, as an adult, I'm basically Daria, with very little patience for most things, other people chief among them, and other people's children chief among THAT. But when my friend decided she wanted to go to Disney World for her bachelorette party, I was into it. I like rides! I've never been to the Magic Kingdom! I was also supremely relieved my friend spared me the indignity of sucking terrible candy-flavored booze out of penis straws at some basic bitch club surrounded by squealing Woo-Girls. Which isn't to say there wasn't some light "woo-ing" going on, but it was done with the wink-wink irony of knowing we aren't REALLY Woo-Girls. So, you know: context.
See, most destination bachelorette parties are going to be somewhere like Miami Beach or Las Vegas or Napa Valley. And I've done the Las Vegas bachelorette party thing before. Also, I live in Vegas now, and am all the less interested in Vegas Girl Getaway Amateur Hour. So, Orlando! It's one step above the Mall of America as far as travel destinations go, but we all knew that going in, and we were just going to have a knowingly stupid, silly, fun time at the Magic Kingdom. Game on!
Except.
Did you know that the Magic Kingdom is dry? Because it's totally dry. It's like being anywhere in the Bible Belt on a Sunday. Unless you manage to sneak some in (and that would not be an easy thing to do, unless you crotched it -- don't think I didn't think about this after the fact), you're going alcohol-free for the day.
That's fine! I can deal! I'm an adult! I can have fun without booze! I'm not an alcoholic! REALLY!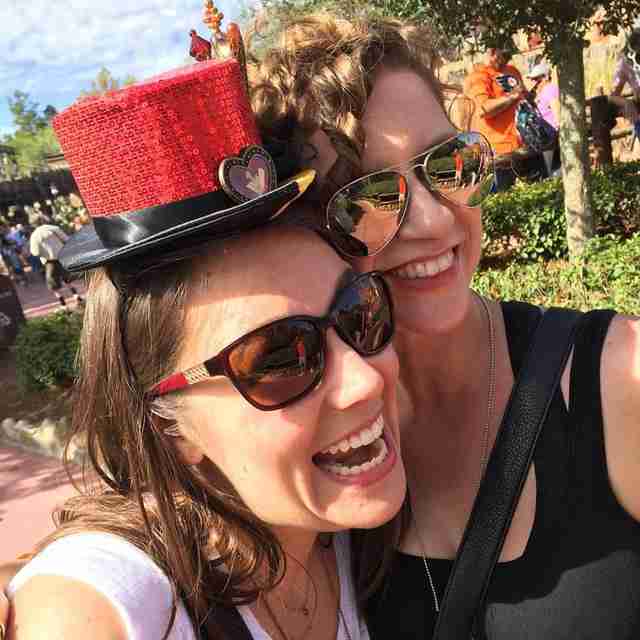 The exception to the no-booze-in-The-Happiest-Place-on-Earth policy is at the relatively new Be Our Guest Restaurant inside the Beast's castle, renowned for its wine list. However, you need reservations months in advance to get in, and there's no "bar" to hang out at. If you don't have a reservation, you're not getting in. Period. The end. This of course didn't stop us from trying on about four separate occasions to get into the restaurant in the hopes that there had been some cancellations or no-shows. No go.
If all this feels a bit fascist, well… Walt Disney is long-rumored to have been a Nazi sympathizer, so.
We decided to visit the Magic Kingdom on a Monday in late October, thinking SURELY it won't be busy. It's off-season, it's a school day -- how busy can it possibly be?
Busy enough that there was a 90-plus-minute wait for the Peter Pan ride that stayed strong all day long. Space Mountain: an hour. Pirates of the Caribbean: hour. The Mine Ride: hour and a half. It's a Small World: 45 minutes. The goddamn Starbucks at the front of the park: 30 minutes. FFS, there are stanchions in the Starbucks, like a goddamn airport security queue. And this was just the beginning of the day. Everywhere there were lines, lines, lines, and there I was, the Grinch, grousing about all the noise noise noise and the lines lines lines.
And, can we just talk about It's a Small World? Can we just take a moment to talk seriously about this? I am by NO means a political correctness crusader and I AM a firm believer than America has an indignant outrage problem, but holy SHIT, WTF is that ride?? Is there a single patently racist stereotype not exploited, a single solitary ethnic culture that exists in the world not blatantly offended? At a time when the Confederate flag is being removed from government buildings, how has this children's amusement ride slipped past the scrutiny of 9.5 million people per year? Does it get a free pass simply because it is a children's ride, or because it is old and nostalgic, or because it is the product of a bygone area, or simply by virtue of its being in the Happiest Place on Earth? And isn't that kind of exactly the problem?
But I digress.
There were kids everywhere. EVERYWHERE. Okay, yes, I KNOW it's the Magic Kingdom, and I KNOW that I am in their domain and not vice-versa, but I thought, you know, MAYBE, what with it not being a weekend and what with it being a school day, MAYBE it wouldn't be a complete clusterfuck of screaming kids.
Hooooooooo boy was I wrong. I was also wrong in assuming that the majority of parents in the world have any interest in controlling their kids to maybe, like, NOT crawl all over complete strangers. Strangers such as myself. Strangers who might not in fact be okay with someone else's unruly children crawling all up on and over and in between them.
Did I mention the Magic Kingdom is, for all intents and purposes, completely dry?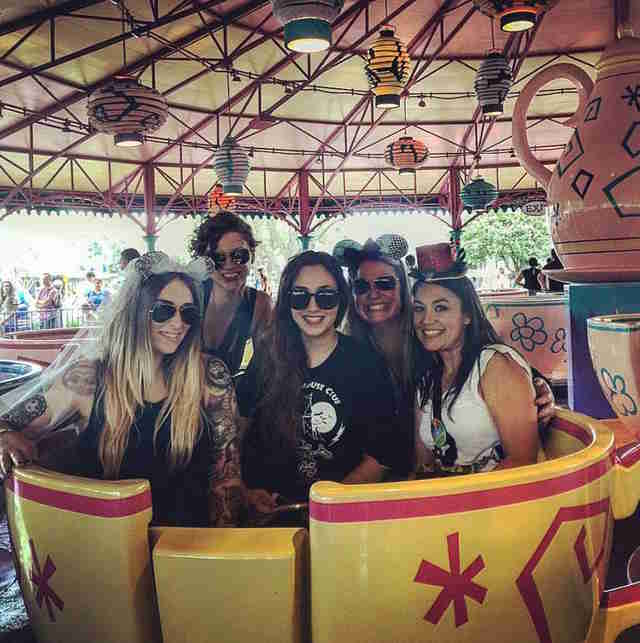 I saw signs for "taverns" and "pubs" and had hope that there was booze to be had. SURELY there must be booze here, what kind of unspeakable torture would it be to all of these parents stuck at this, the Happiest Place on Earth, for some the stuff of nightmares, to not only cram them in interminable lines for the Winnie the Pooh ride with screaming, crying, kicking, wailing children at every turn, but to also make them suffer it all without alcohol?
This was before I knew the absolute truth of the situation, something I suspect was intentionally kept from me prior to entering the park.
Make no mistake, Walt Disney WAS a fucking fascist.
Okay fine, I'm intolerant AF, and also maybe something of a habitual drinker. Luckily I was balanced out by two girls who are absolute sunshine and glitter, another less-outwardly-cranky Daria, and the bride herself, who manages to be a perfect mix of both.
After spending most of the morning scowling and side-eyeing, with everyone making jokes about how I was the darkness to another girl's light -- a perfect yin and yang -- I cracked a smile sometime around the Tea Cups. Spinning! Spinning is fun!
And then there was the Dumbo ride, with me and my sunny inverse sharing a car, and suddenly, I broke.
I unwittingly drank the Disney tea. I let the fairy dust flow through me, the excitement of singing, anthropomorphic animals overtaking my brain like the Invasion of the Body Snatchers. I smiled. I laughed. I "Woo-ed."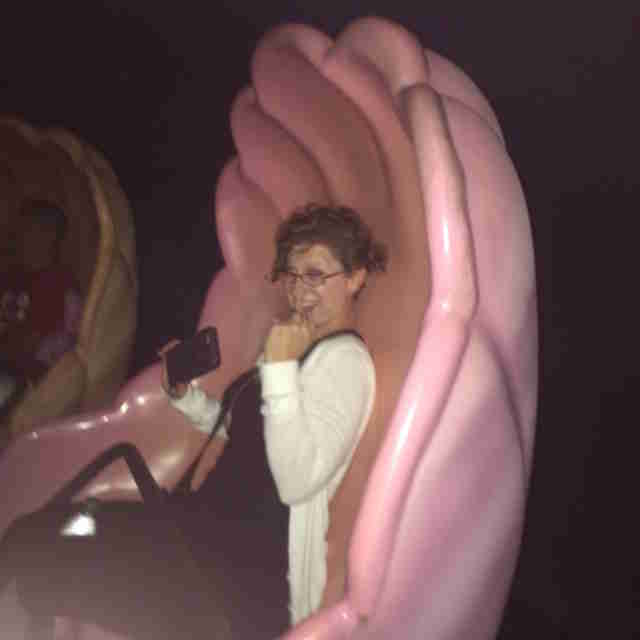 My adult cynicism, my lack of tolerance for kids and people and lines and crowds and having to abstain from alcohol all melted away, and I found myself leading the charge to Ariel's Grotto because I HAD TO SEE ARIEL. (45-minute wait be damned.)
I'm not going to say what happened on that Ariel ride. I'll just say that the other girls got a real kick out of seeing me drop the curmudgeon act and let my inner 8-year-old have the absolute best time ever.
I don't think my heart grew 10 sizes that day, but maybe two or three. And after Orlando I went to my own happiest place on earth, New Orleans, where access to alcohol is the least of your problems.
And they all lived happily ever after.
Sign up here for our daily Thrillist email, and get your fix of the best in food/drink/fun.
Nicole Rupersburg is a freelance food and travel writer who will deny all accounts of what happened on that Ariel ride. Follow her shenanigans on Instagram at @eatsdrinksandleaves.