I Let a 24-Year-Old Bro Dress Me for a Week. The Results Were... Interesting?
As a Mercedes-Benz Fashion Week reporter, my closet is literally exploding with clothing, shoes, and accessories. I get high off J. Crew sales instead of drugs. Choosing an outfit of the day is my "me time" -- my way of sharing myself with the world. I take this stuff seriously.
So, what would happen if I let a person who takes NOTHING in life seriously -- a bro, to be specific -- dig through my wardrobe and dress me for an entire week?
Enter Zach: an upbeat, self-proclaimed bro who knows nothing of my fashion sense (we've met once). Zach is a 24-year-old Indiana native and fraternity dropout who moved to NYC to work in PR; outside of the office, he still enjoys dabbling in bro-tastic pastimes like ordering Bud Light by the pitcher and writing "#blessed" on Twitter in only partial jest.
​
"I've been trying to convince people that I'm a bro for the past three years of my life," he assured me. I had no idea what that meant, but I DID know I was about to embark on a very interesting and possibly mortifying fashion journey.
Monday client meeting
Zach, who deems Frat-agonia fleeces and baseball hats his "uniform," was given the task of assembling a professionally stylish outfit for my client meeting. I was scared.
He started off strong, picking out a purple cable-knit sweater dress with a cowl neck -- a number that I have worn to the office before. "It covers everything up," Zach explained, "but it's fitted so you can still sell the sex if your client's a dude." Ah, of course!
Despite saying he didn't understand why women wear belts around their waists, Zach reached for an antique, glitzy gold belt -- not something I'd EVER pair with preppy cable-knit. To make matters worse, he giddily chose a pair of strappy, open-toe high heels covered in gold glitter that I only bust out for black-tie affairs. The entire outfit was the equivalent of ordering a chicken Parm dish with a side of applesauce and a kiwi.
With my professional reputation on the line, I admittedly changed my shoes before the meeting. I DID, however, wear the rest of the outfit and brought the heels along to get my client's feedback. "Great shoes," he said. "But maybe more for a wedding, no?"
Bro's fashion grade: B-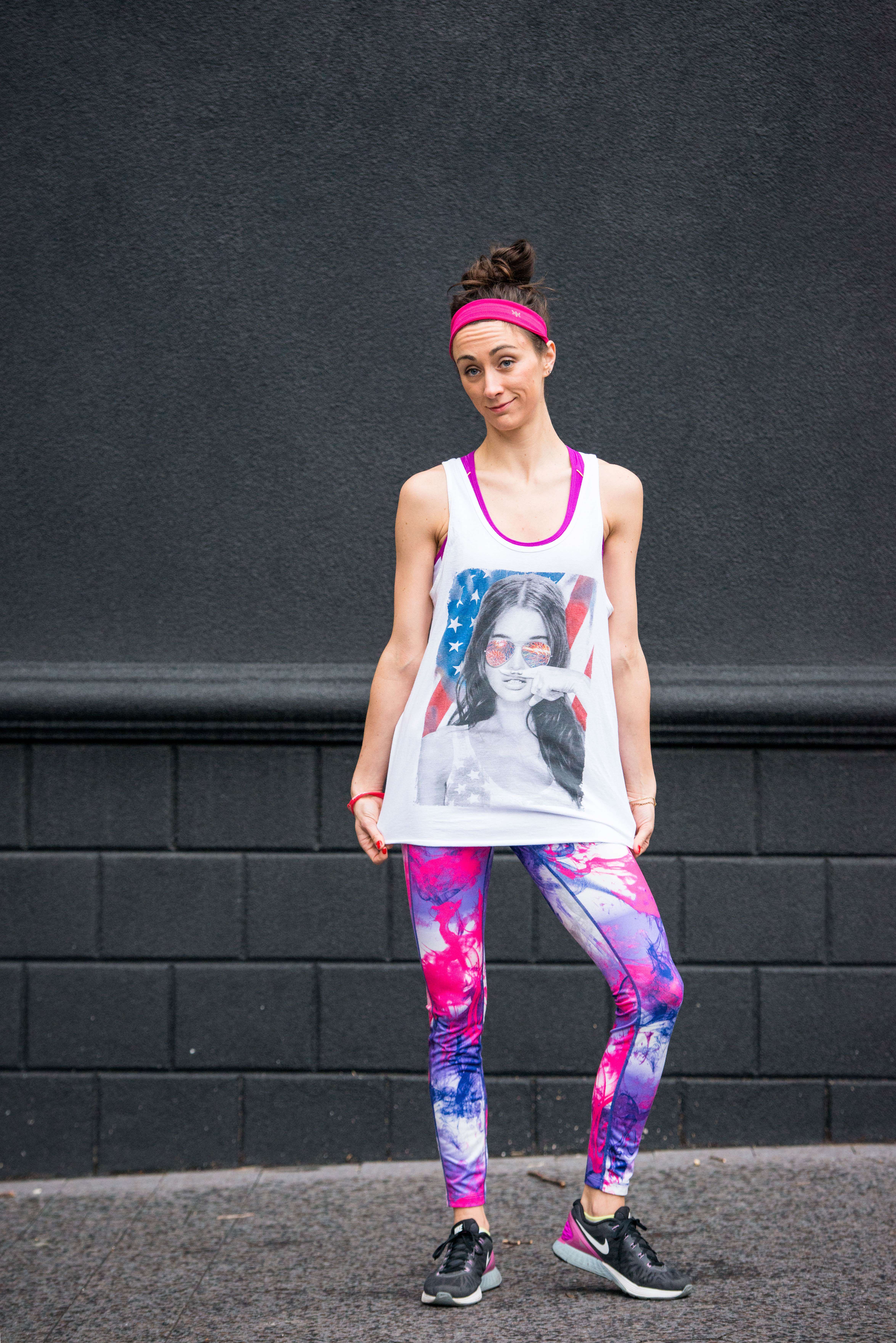 Tuesday gym session
Workout clothes came next. Zach went straight for a pair of fluorescent "full-sies," which in bro terms means full-length, skin-tight leggings. "If you don't have a pair that says 'Juicy' on the ass, you better wear something that makes it look that way," Zach explained, dead serious. The shirt of choice? A cutoff tank that's my boyfriend's and five sizes too big for me... but naturally features a hot girl and an American flag. The final outfit was something one might wear to a rave, but Zach was proud: "My future wife will own this outfit." (Patriotic Barbie ravers, inquire within!)
When sporting my designated workout garb, nothing out of the ordinary occurred. A guy commented, "Great pants!" at the gym, but that happens every time I wear them. I think the coordinating headband pulled the outfit together enough as to not turn heads in a negative way. I've honestly seen weirder get-ups coming out of SoulCycle.
Bro's fashion grade: B+
Wednesday errands
The bro described his vision for a perfect ensemble to wear on lunchtime errands: casual, put-together, and mostly comfortable. "You never know who you'll meet at the grocery store," Zach said, "so you still need to look good."
He chose a Ralph Lauren button-down, ripped jeans, a backwards baseball hat (we matched)... and a pair of cowgirl boots with FOUR-INCH HEELS. Literally the most uncomfortable shoes I own -- stylish, but not ideal for running around Manhattan doing returns and buying paper towels. But Zach's sympathy was nil: "Brown heels and jeans look GOOD. Oh also, this outfit needs a shiny necklace."
Looking like Annie Oakley vacationing on Nantucket, I set out to Bloomingdale's, Duane Reade, Whole Foods, and Michael's craft store (don't ask). Now, I'm a high-heel veteran, but by the time I got only halfway through the produce section at my local organic grocer, my feet were friggin' KILLING me. I yearned for a pair of UGGS, which even Zach knows are a fashion abortion. I ended up hobbling home without stopping for scrapbooking supplies.
But I must admit, the bro actually broadened my fashion horizons with this outfit. A glitzy statement necklace over a preppy polo? It was a fresh mash-up that I'd never tried before. I also never wear baseball hats (let alone wear them backwards) but you know what? I was into it! Despite the impractical choice of footwear (so much for "mostly comfortable"), this look was a win.
Bro's fashion grade: A-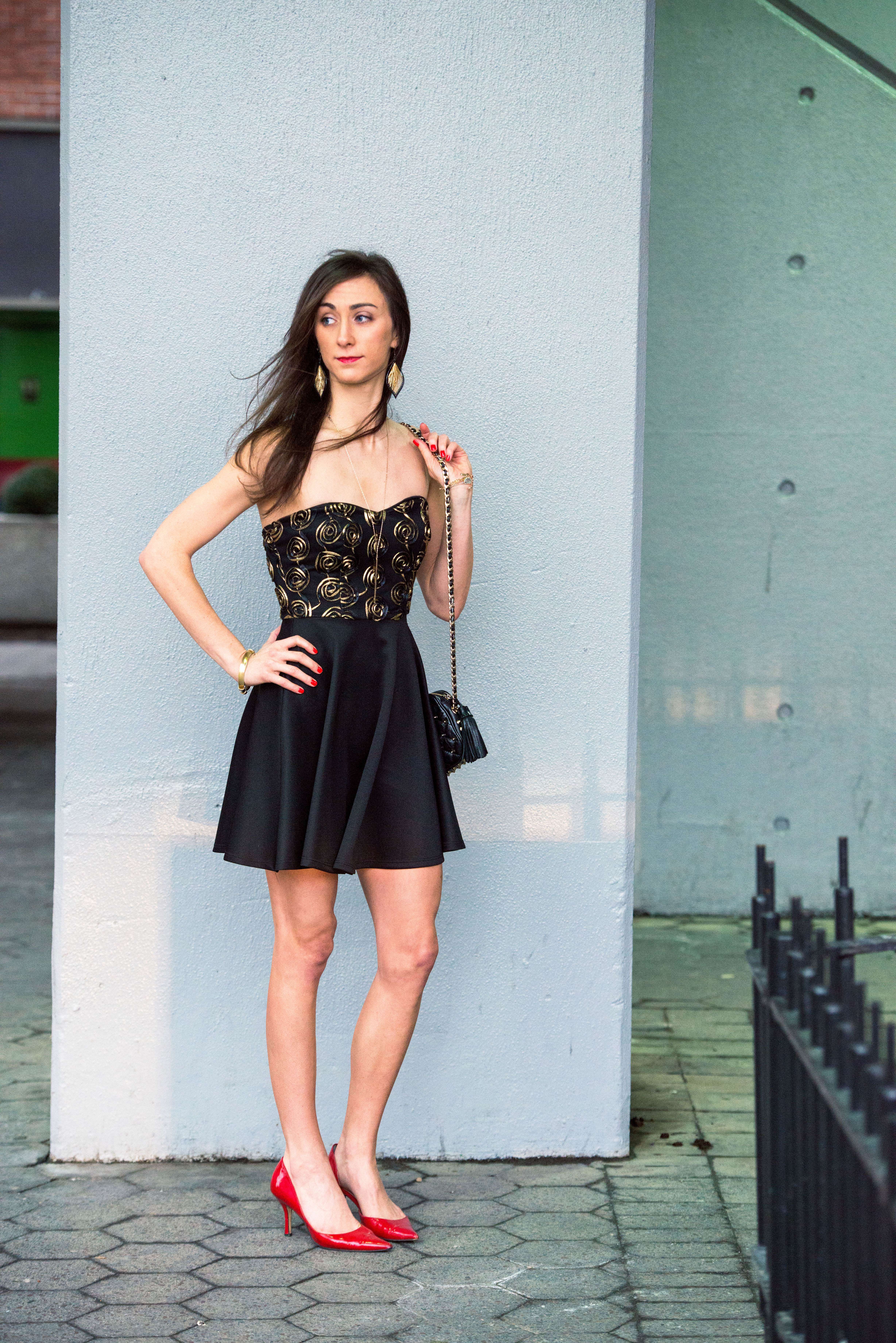 Thursday date night
Zach foresaw difficulties in choosing my Thursday night date ensemble: "You have to dress to impress with the potential of staying out all night because it's Thursday. But also, it's only Thursday." Frankly, my boyfriend wouldn't care if I showed up to date night in jeans; also, I haven't stayed out past 11:59pm on a weekday since 2008.
To start, Zach selected red high heels, insisting they're a must to ensure my date pays. Next, he pulled out a mystery article of clothing. "Is this a shirt?" he asked.
"Nope, that's a little black dress."
"This is why I don't want daughters," he explained. "But YOU should definitely wear it on your date because it's revealing."
Interestingly enough, Zach claimed to know nothing about accessorizing. But he actually crushed it! The gold earrings he picked out were the ACTUAL pair I've worn with that dress. The bag matched perfectly too, but he had other reasons for choosing it: "It's big enough so the guy won't have to carry your shit at the end of the night." This was my favorite Zach-chosen outfit thus far. Truthfully, it said more "cocktail party" than "date night," but hey, it's better to be overdressed than underdressed. Decked to the nines, I met up with my boyfriend for dinner; his reaction to my get-up was one of admiration and slight confusion: "Wow, you look fancy! You know we're just going out for sushi, right?" Yeah, but I looked freakin' hot. Well done, bro!
Bro's fashion grade: A-
Friday happy hour
I've always been a purveyor of the casual-but-stylish Friday. Thus, I was extra baffled by Zach's choice for a 6pm happy hour ensemble: a body-hugging maroon-and-mesh cocktail dress, bright-blue heels, and pearls.
My outfit was the fabric version of the Iowa primaries -- a lot of clashing ideas. Blue and maroon? Pearls and mesh? Skintight and 6pm? I obtusely understood where he was coming from because all the pieces said "dressy" in their own ways. But if the fashion police stopped me en route to the bar and beat me down with batons, I decided I'd succumb. It would be deserved.
Happy hour drinks took place at my favorite neighborhood bar. There's always something happening in NYC, so my friend said she just assumed I had a party to head to after; presumably, other patrons thought the same. I gave her a good laugh by explaining the experiment, then ordered wine until I forgot about my abomination of a color combo.
Bro's fashion grade: D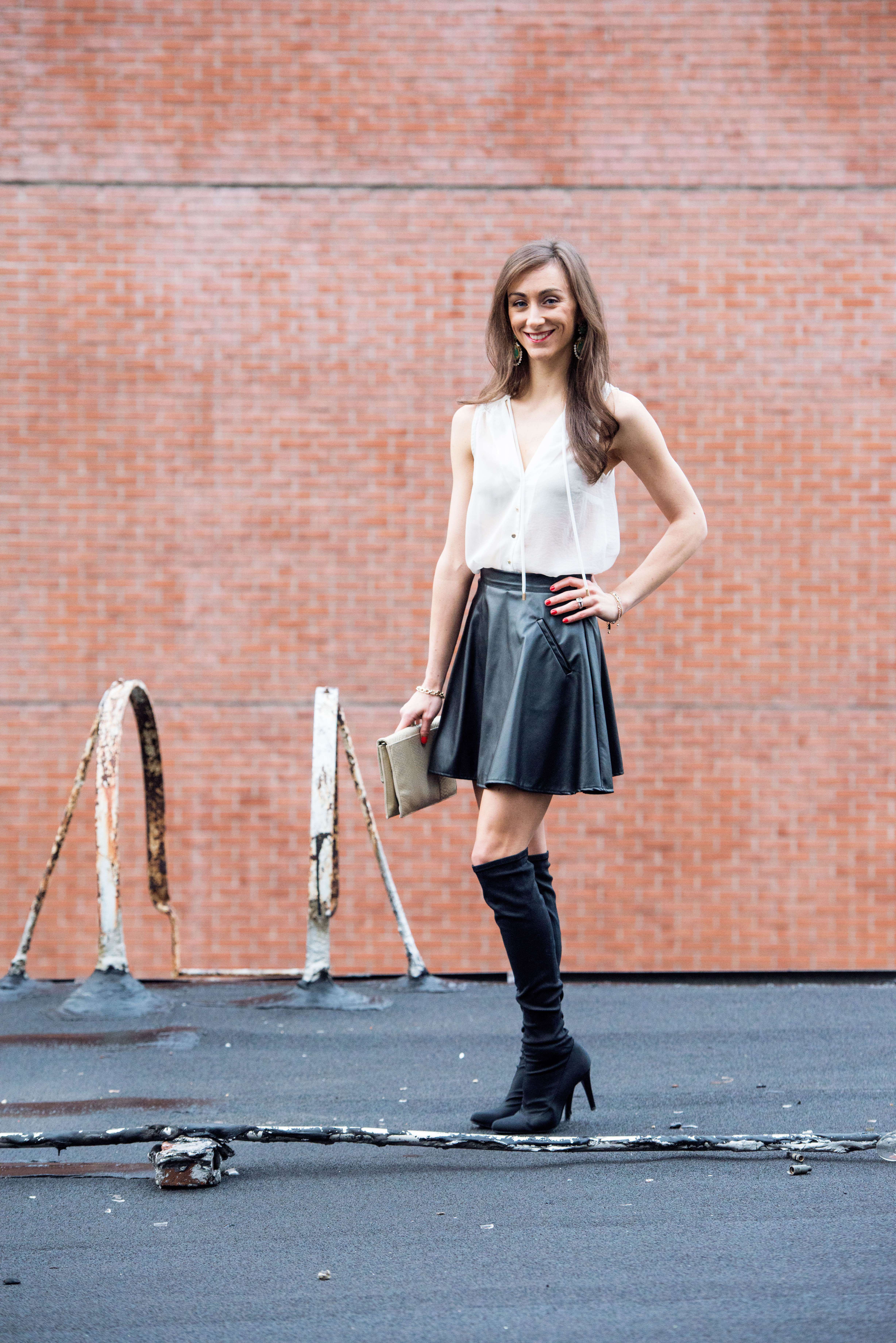 Saturday birthday party
"Is this shirt totally see-through?" Zach asked.
Indeed it was. So obviously, the bro deemed it perfect for my friend's birthday party in the city. And to go with it: a black leather mini skirt and knee-high "trying-to-get-it-in boots," as Zach eloquently dubbed them.
The outfit wasn't that bad, per se? It was something I would have worn on a Saturday night back in college to a dingy bar; you know, one filled with man-made fog, two-for-one vodka cranberries, bad decisions... and bros. But now, as a (mostly) mature woman, I aim to highlight only ONE sexy body part at a time. Boots that say "look at my legs" are to be paired with a conservative shirt; a see-through top that demands "look at my chest" goes best with jeans.
But bros are easily excitable creatures. And they want it all at once. So this semi-slutty Cat Woman-esque outfit did not surprise me.
I arrived at the party in a crowded East Village bar feeling a tad juvenile with my (lack of) clothing pleading desperation. My friends gave me positive feedback on my boots and legs, but if they were staring, I'm sure the ravenous dudes next to us were, too. Let's just say, if I had been on the prowl, I likely would have succeeded.
Bro's fashion grade: C
Sunday brunch
I yearned to nurse the aftermath of the previous evening's wine enthusiasm in bed with a sweatshirt. But Zach had bigger plans for me. In typical bro form, Zach takes brunch very seriously. "On Sundays, versatility is key," he explained. "You never know how fancy of a brunch place you'll end up at, so you need to put yourself together." Ugh, FINE.
Mimosa-sipping calls for "dressy-meets-casual," so Zach picked out jeans and suede fringe ankle booties. So far so good! But then he ardently paired that with a fancy, frilly silk top. "This is SO brunch!" Zach exclaimed. "The front of it reminds me of a sea anemone. It's so festive!" Festive, yes -- hence why I've worn it on Christmas, but never out for an 11am hangover omelet. Also, unless I lost my eyesight in a freak accident, I'd NEVER pair such a lavish top with boho-chic ankle boots.
But alas, I signed myself up for this. With sunglasses on as a shield, I met my sister for brunch, who for the record, was donning leggings and UGGs. Sisters are for brutal honesty, so I was not surprised to be greeted with bite: "Your outfit confuses me," she said. "The top half of you wants to go to a holiday party and the bottom half wants to go to a hipster bar. Are you already drunk?"
Bro's fashion grade: D+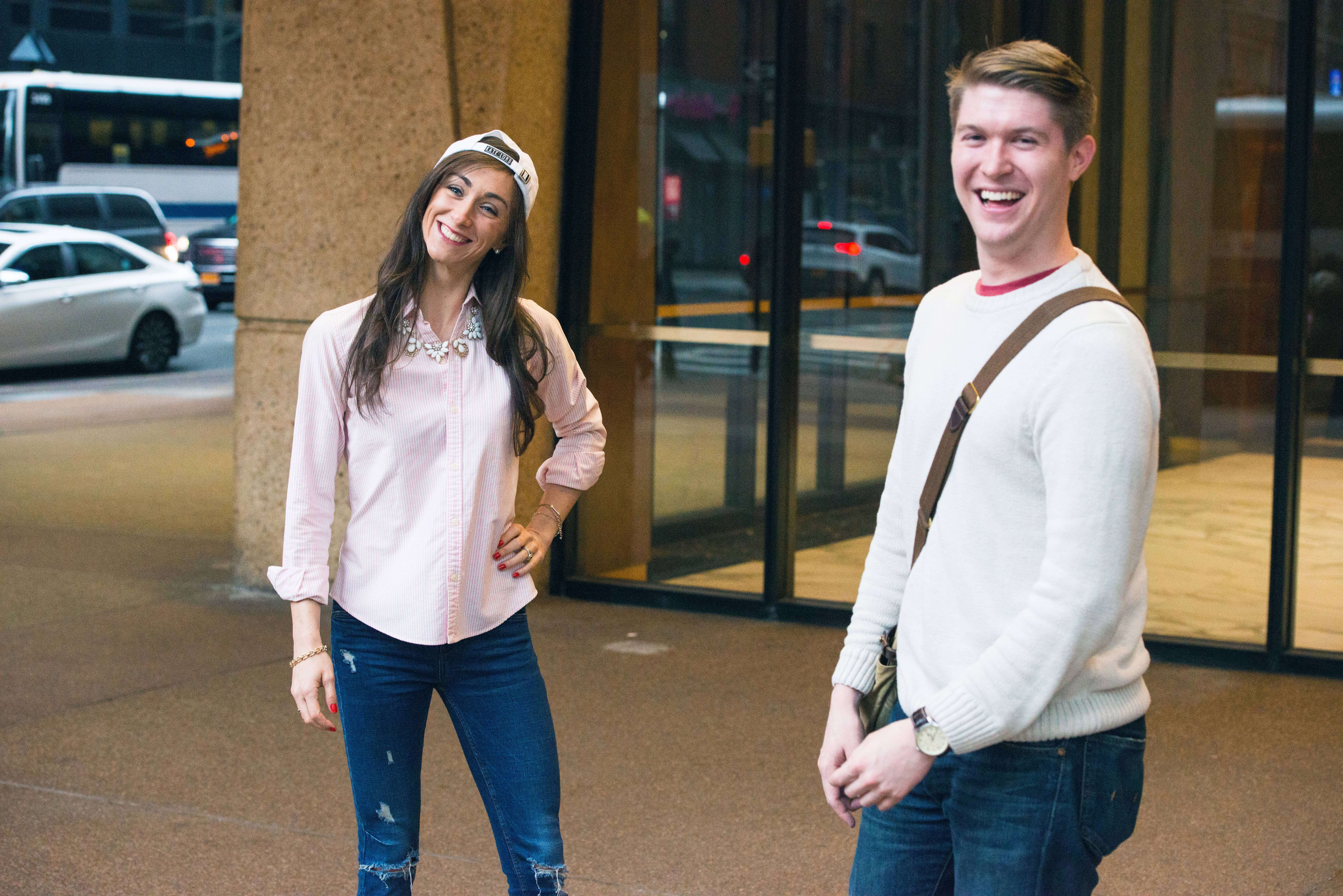 Conclusion
Bros play by their own rules. And when choosing my outfits, Zach made some typical bro decisions. But from a fashion standpoint overall, he did a better job than I initially gave him credit for. Plus, we learned from each other: glitter doesn't belong in the office and I need more baseball hats.
Sign up here for our daily Thrillist email, and get your fix of the best in food/drink/fun.
Brooke Sager is a contributing writer for Thrillist who nearly froze to death during the photoshoot because the bro said it was "too stressful" to pick out scarves and coats. She was able to sidestep hypothermia, though, so give her a follow on Instagram and Twitter: @HIHEELZbrooke.