Always break up in public: 7 steps to doing it right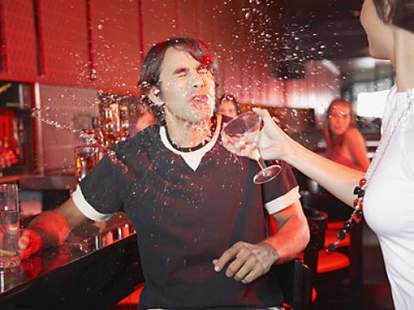 Photo Courtesy Of Pickup Lines Gallore
Despite what that old singer guy says, breaking up is not hard to do -- especially if done amidst society and its powerful mores against people collapsing into shuddering, sobbing heaps and/or violence. So end it nice and tidy in public, but remember:
Monday: Places are seldom crowded, and it's the day of the week that will suck for you both anyway, so why not take it on the chin(s)?
Tapas: The low-commitment nature of small plates means never having to awkwardly wait for mains with someone who recently began hating you. And also, bacon-wrapped dates are delicious.
No beloved spots: Pick a place with no attachments. She will forever associate it with being callously dicked-over, so avoid her favorite bistro with the great avocado salad.
Dim lighting. Low wattage means she can save face if things go South and she starts to cry. And if things go spectacularly South, this also ensures fellow diners' cellphone videos will be woefully grainy and dark.
Radio silence: Aim for a place below ground or with spotty cell service. This lets the conversation run its course uninterrupted, and builds in a cool-off period, only after which she can eviscerate you across many media platforms.
Over-attentive service: No one wants to seem weirdly emotional in front of the hovering waiter, do they?
White wine: Unless you have a tie that matches Merlot.