Analyzing Every Cartoon I've Been Sexually Attracted To
Warner Bros. Family Entertainment
Look. I'm a guy, I was born in the '80s, I watched a lot of TV in the '90s. As a result, I've fallen in love with my fair share of cartoon women. Am I ashamed? No. Am I embarrassed? Hardly. Am I curious as to why I have felt attracted to everything from a cartoon bunny to a... taller, hotter cartoon bunny?
Actually, yes, a little bit.
The aim here is not simply to list all of the cartoon babes I have been attracted to during my youth -- and various points in my adulthood -- but to look into why I suspect these particular hand-drawn women (and women-like animals) piqued my interest, and what that interest says about me.
This may or may not be a good idea. Let's go!
Warner Bros. Animation
10. Dot
I really had a thing for Dot when I was a kid -- no older than 12, since Animaniacs went off the air in 1999. I don't know if I was attracted to Dot, but I did know that I wanted her to be a part of my life. Perhaps this is because I grew up in a household with two brothers, perhaps it's because I had no close female friends until I was 15.
My infatuation with the "Warner sister" was, no doubt, fueled by jealousy for every gang of siblings who could enjoy the presence of a woman and even feel that brand of pride that one gets from being related to a beautiful creature. On that note, what was Dot? Like, an ape?
 
9. Lola Bunny
Quite simply, Lola Bunny is an objectively sexy cartoon. Looking back, I can find few, if any, issues with how I felt about Lola. She was curvy, flirty, vivacious, sexy, and a hell of a basketball player. Lola embodies the classic girl-next-door fantasy that most guys will admit to having. She also manages to be sexy enough to make you forget that she's technically a rabbit. Apparently this is a quality I appreciate. more on that later.
So yeah, if Lola Bunny walked (or hopped?) up to me now and asked me to take her on the floor of a basketball court, I'd strip off my shirt faster than she could say, "What's up, Doc?" Just being honest.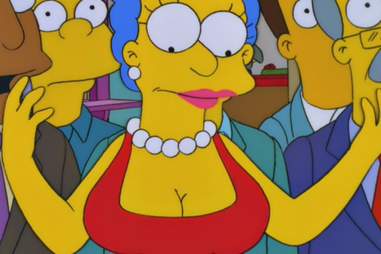 20th Century Fox Television
8. Marge Simpson
Marge Simpson has been 34 since 1989 and will likely remain that age until the end of the series, but even when I surpass her in age, she'll always be the foxy older lady. Being attracted to Marge speaks volumes to the problem a lot of Jewish men like me find while dating -- we're always into women who remind us of our mothers. Marge is no different: kind, compassionate, tidy, and intelligent.
Moving away from the whole mother thing, Marge has proven in plenty of episodes that she's A-OK with the type of earth-shattering sex that'll make the neighbors' ears bleed... not that Flanders doesn't deserve it. At the same time, Marge is the type of woman whose nurturing qualities make her feel like someone you'd want to put a ring on, leading me to believe I've wanted to get married since I was 2.
 
7. The Amazonians
Remember that episode of Futurama where Fry and Zapp Brannigan are sentenced to "death by snu-snu," in which tall, muscular Amazonian women have sex with them until they die? Well, that happened to coincide with a period of my life when I decided that I was attracted to extremely tall women as well!
Lusting after the Amazonians was the second half to my Helga Pataki attraction, except all my yearning for mental anguish turned into a need for physical pain from a sexual partner. This was put into practice in late 2011 when I started going out with a nice woman who was an inch taller than me.
We went out a few times, I reveled in her height, and then we had disappointing sex. She eventually called it quits by means of not texting me back ever, but I was over her pretty early on when I realized her thin frame couldn't possibly cause me bodily harm, Futurama-style.
Touchstone Pictures
6. Jessica Rabbit
If you liked Jessica Rabbit, you were -- and are -- a pervert. I'm not holding anything back when explaining my extreme attraction to Jessica Rabbit. Unlike the other rabbit or rabbit-affiliated characters on this list, there was nothing animal-like about Jessica. Boy, did she have a body. Did you know that the animators made her boobs defy gravity to give her more of an otherworldly quality? Well, it worked.
My instant interest in Jessica Rabbit was a testament to my early onset coming-of-age that plagued my body (and, by proxy, my household VCR) from age 5 to now-ish. Jessica Rabbit spoke to the part of me who would happily abandon my family, my friends, and general sustenance just for the chance to peek under that red dress for a second. Thank you, Jessica Rabbit, for helping me realize that I am, in the end, a helpless pervert. 
 
5. Mindy Simmons
I know what you're thinking: "who the crap is Mindy Simmons?" Mindy Simmons is the woman who almost broke up Marge and Homer's marriage in episode 1F07 of The Simpsons, entitled "The Last Temptation of Homer." She's the saucy new employee of the nuclear power plant who almost gets between the Simpson family.
Not only was she a stone-cold fox, but Mindy was voiced by Michelle Pfeiffer. There shouldn't be any issues in recalling this infatuation, except for the extreme amount of guilt I feel in finding attraction in a homewrecker. I've never been a cheater (well, maybe not never, but certainly not habitually) but I know the attraction to Mindy comes from her ability to almost completely undo Homer's marriage.
I've been the other man before, and I know the pain that cheating causes for all parties involved, but... man, it's hard to pass on a woman who can down a foot-long chili dog in three bites.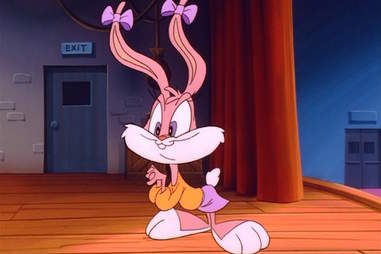 Warner Bros. Animation
4. Babs Bunny
I don't have the answers as to why rabbits were so highly sexualized in the '90s, so stop asking. My obsession with Babs Bunny can be described as nothing but incredibly complicated. I once wrote about how I wanted to be Babs Bunny for a short while, but I'll paraphrase everything I felt for this animated cartoon in a few excruciating points:
A) I was in love with Babs.
B.) I also wanted to be her.
C) In wanting to be her, I insisted that my parents buy me a yellow sweater and purple skirt for me to wear.
D) I would put paper rabbit ears on my head in an attempt to bring myself closer to Babs.
E) My parents were cool with all of this.
What can I make from all of this looking back? Was I, at one point, potentially a young female bunny stuck in the body of a boy? It's hard to say, to further access these memories would include a hardcore therapy session and probably a hearty dose of electricity.
 
3. Helga Pataki
OK, there's no expert analysis with this one, I like the pain. I've always been attracted to the type of girl who could wring me out with her words and hang me up to proverbially dry. Helga Pataki wasn't very attractive, even by cartoon standards.
That unibrow... sigh. Her tough-as-nails personality drew me to her and -- as a result -- led me to have some very complicated feelings towards the real-life female bullies who harassed me every day in school. I've since grown up and have long since given up on chasing after girls who make me shit my pants with anxiety and verbally berate me in a misguided attempt to show their affections. However, I still get an erection every time a woman punches me in the jaw. Thanks, Hey Arnold!
2. Harley Quinn
Ah yes, one of the greatest parts of the esteemed show, Batman: The Animated Series. Harley Quinn was sassy, conniving, complicated, and happened to wear a skin-tight onesie. Still, there was way more to my attraction than the aforementioned onesie... she had a sordid history and turned to a life of crime after falling in with the Joker.
I firmly believe that Harley Quinn started my phase of wanting to find a girl to "save" -- a tired concept that was beaten into the heads of impressionable young males by way of movies like Garden State and Empire Records. With Harley Quinn, all I wanted was to bring her into my home, wipe away her tears, and tell her that she didn't need a man like the Joker dictating her life.
Then, with any luck, I'd convince her to fight crime with me and we'd live in Batman's huge house and occasionally have Titanic-style car sex in the back of the Batmobile.
 
1. Oblina 
That's right, Oblina from Aaahh!!! Real Monsters. Judge all you goddamn like, but I know what I want and lusting after a monster that encapsulates some of my favorite traits only shows that I can maintain my taste in women no matter the circumstances. 
EXHIBIT 1: I've always gone after studious women.
EXHIBIT 2: I happen to enjoy thick eye lashes. 
EXHIBIT 3: I'm a a sucker for British accents. 
I wouldn't know where to start on the candy cane-shaped babe, but I know I would've found a way to make it work had I, myself, been a monster. You don't choose who you fall in love with, you just kinda go with it.
Sign up here for our daily Thrillist email, and get your fix of the best in food/drink/fun.
Jeremy Glass is a writer for Thrillist and has to go watch some TV now.