When I first saw the Instagram feed for Arsenic magazine, I thought it was some sort of elaborate, sepia-filtered American Apparel advertisement. There was image after image of beautiful, young women in various stages of undress with pouty mouths and blank eyes staring into the camera.
Turns out, Arsenic markets itself as an "edgy" online magazine open to reader submissions in art, photography, and writing. The 20-somethings who run it claim the magazine is "sex appeal with a brain." They pride themselves on being "real."
Real.
It's a word being chased by countless companies, magazines, TV shows, and celebrities. You see companies like American Eagle's underwear brand Aerie using un-Photoshopped models with "real bodies" in its campaigns. Or you have celebrities using Instagram to show fans sneak peeks of their "real" lives. And of course, there's the obsession with reality TV and everything Kardashian: the most touched-up, plumped, and manicured of all the reality shows. 
And now the desire for realness has leaked into artsy soft-core porn startups like Arsenic.
Demand for what's "real" has created yet another standard
Our growing taste for what's "real" has morphed into creating yet another beauty standard for women. We've moved away from the waif-like, ribby bodies of Calista Flockhart and Kate Moss in the '90s and toward the strong-thighed, bubble-butt, Beyonce-tastic bodies of the new millennium. But that body type is still just one version of a body. Newsflash: women come in all kinds of healthy shapes no matter what year it is. And no amount of dieting or working out is going to make all bodies look the same. 
Today, a "real" woman's body has lightly toned thighs that glide up to smooth, perfectly curved hips, which meet gracefully with a delicate, narrow waist that shows just the tiniest hint of abs and up up up to lovely, round, perky breasts (these never go out of style in the US). This new "real" -- while perhaps more solid than the heroine-chic style epitomized by Calvin Klein models 20 years ago -- is no less restrictive than previous body ideals. The message: there is still just one way to be beautiful.
Of course these bodies are real for some people: particularly CrossFit-going, smoothie-drinking white girls. And that is great for them. Seriously. Their fit bodies are gorgeous. And perfect in their own right. These women should revel in the ability and beauty of their strong, capable bodies.
But so should the apple-shaped CEO who just finished her first marathon, and the 6ft-tall barista who dances salsa on Tuesday nights, and the overweight bike messenger who climbs mountains on the weekends. These bodies are also real. And capable. And perfect. And, by the way, really damn sexy. 
 
When "real" becomes monotone
But Arsenic, Aerie -- even the Sports Illustrated cover model who has to wear padding on her "curves" to accentuate them against her actually smaller size -- only show one version of perfectly toned "real." We don't see imperfections, or inverted triangle-shape bodies, apple bodies, or pear bodies. And if everything's an hourglass, we miss what is actually so beautiful about the real real: diversity.
From body shape to race to gender identity to all the different ways we can be, if we want to be real we can't be monotone. We can't put the same filter over every image of women's bodies. If we want real, we need to take some risks, step out of the mold of what everyone else is doing, and put new images out into the world.
All of which is not to say other people aren't doing real. They are -- and they are doing it quite well. We are living in a "prosumer" society, which is a fancy word for the fact that we, who used to be consumers, are now also producing material for others to consume. Social and media platforms have mixed, making us all producers and consumers of glorious imagery thanks to things like Vine, Instagram, YouTube, and all the great media platforms yet to come.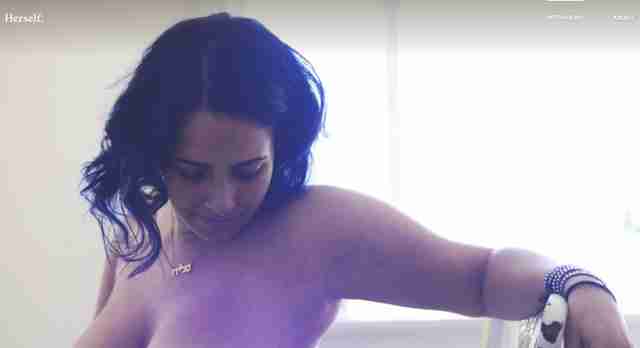 We now have the power to redefine what women actually look like
This means we all have part of the responsibility to make up our reality, to put real out there. And people are doing some kick-ass stuff. Actress Caitlin Stasey started a website called Herself, which features not just nude images of women, but their gorgeous life stories as well. Cindy Gallop started the pornography site called Make Love Not Porn that allows couples to upload sexy homemade videos for others to enjoy. 
And Tumblr! Well, Tumblr is just a haven of self-empowered ladies taking some very sexy photos of themselves -- and often their partners -- for their own fun, and others' as well.
A key component of the realness and greatness of these examples is that women are often self-creating images and stories about themselves. The images may or may not be sexy, but they are most certainly powerful and agentic. These women are more than just bodies. They're people, people with stories they are entitled to share.
And that is what's missing in Arsenic's images. I don't see any personality, any spirit, any subjecthood in the models who almost always have the same blank stare. It is hard for me to believe that this is who these models "really" are; that these photos capture their essence, other than the fact that they look sexy as hell hanging over a balcony in California.
 
We have a responsibility to diversify our realness
What is most disappointing is there is such potential in young startup magazines like Arsenic. For example, one post has a lovely poem by a female poet, and yet the poem is illustrated with the subject-less images of more models, not images of the poet. And what relationship do these models have to the poem? Have they read it? Did it move them? We don't know because they aren't telling us. They are sexy but without content. We never get to see their realness.
 
Real exists. But the word real is often co-opted by media platforms that actually only consist of super-soft-core photos of pretty women inexplicably posing with different breakfast foods.
Are these images beautiful? Certainly. Sexy? Sure. Artsy? Meh. Real? Well, someone's very filtered version of real. Revolutionary? Nope.
If you want to be real and you want to be revolutionary, you can't just provide one narrative and one image. Otherwise you really are just a Coachella-looking Playboy magazine covered with tattoos, which while it looks cool, is just putting ink on the same old boring pin-ups. If you really want to be real you've got to be diverse, take real risks, show something different, and break your own mold. If you want to be real, you've got to stand for something, say something, be something more than just sexy. 
"Just sexy" isn't enough to be real.
Editor's Note: Arsenic did not respond to multiple requests for comment.
Sign up here for our daily Thrillist email, and get your fix of the best in food/drink/fun.
Niki Fritz is a writer of feministy and occasionally funny words, a drinker of coffee and whiskey, and a studier of pornography... legitimately! She's a grad student in the Media School at Indiana University.