Every Kind of Awkward Sex You Have in College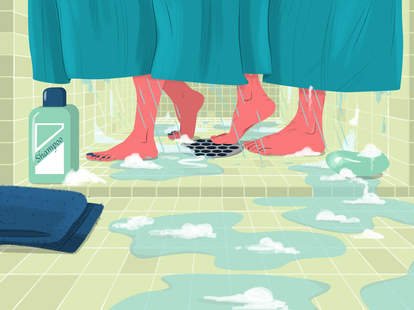 College is a time for experimentation, cheap liquor, and trying new things… like sex in totally random places or with the absolute wrong people. College sex is almost always awkward sex -- because getting it on in an elevator or stairwell, while back then just part of fall semester, is something I think we can (mostly) agree is pretty awful.
Still, weird college sex is a rite of passage. You're out on your own for the first time, traversing the sea of collegiate genitals and unfettered freedom. We look back on those weird experiences with fondness; and an ever-so-slight feeling of discomfort. Here are some of the most common examples of awkward college sexcapades. How many of these sound familiar, I wonder?
Sex with a classmate you'll have to see for the rest of the semester
It's always fun to take an Intro to Art History class, screw your classmate after a house party, and then be forced to do a group project with that person the following week. You pretend you don't know each other, even though you've definitely seen each other naked (and it was not as inspiring as the David, let me tell you).
Sex with your roommate asleep in the adjacent bed
There is just no avoiding it. When you're in a 50sqft room with another person, someone is bound to have sex while the other person is home. Which brings me to...
Accidentally watching your roommate have sex
You will do it. He or she will do it. You must forgive each other and move on. Hopefully these tales of woe can be fun stories years down the line... assuming you haven't traumatized your roommate so severely that you can't be friends after this year.
Sex with your best guy or girl friend
When you go to college, you wind up having really close friends of the same sex. And eventually, you wind up having sex with them. It makes for an awkward breakfast and possibly an awkward rest of the year. With some luck, you can both get over it.
Sex between finals to relieve stress, probably in a classroom/janitor's closet
During finals, emotions are running haywire. Sex with someone you might not otherwise be into is totally normal. You're hyped up on nerves and very little sleep. If it happens in a janitor's closet, you get bonus points.
Sex that turns into accidental group sex
The scene: a dorm party where everyone has had too much alcohol. You start fooling around with some cutie because you've forgotten everyone is still present because no one has anywhere else to go. Everyone else kind of starts hooking up too. #dormlife. Fin.
Sex with the hottie who works at the local liquor store
Townie sex. It happens to the best of us. Sometimes you just get so bored of the same old roid-raging douche kabobs at school and just need to explore other terrain. Sure, Eddy from the liquor store might never get that record deal, but he's alright, even with his missing front tooth.
Sex in the dorm elevator
Your roommate is in your room, his roommate is in his room. What else are you supposed to do in a college dorm? When there is nowhere else to go and you're horny, the elevator is a definite possibility. Just don't get caught by campus security.
Sex in the grimy-ass communal showers
The communal showers we're all forced to share are literally vile, but they are often the only viable option when there are so few places you can be alone. Just wear flip-flops and godspeed.
Sex with your weed dealer
The guy who sells the weed is not cute and is wearing a drug rug like it's the '90s, but he has a lot of pot and he doesn't make you pay for it. C'est la vie: you start to like him (kind of, maybe).
Sex with your friend's friend when you visit them at college
When you go to visit your friend at another college, you are going to be ripe for a casual hookup. The people at your own school can be a drag and sometimes you just need something new. What could possibly go wrong?
Sex with your high school sweetheart
Ugh. You're home on holiday and run into your ex and then wind up having sex with him. He's just running an errand; buying vapor rub for his mom, but no, you went and banged him in the back of his dad's station wagon in the parking lot of the CVS. After that, he thinks you're back together and you're like, "NO, STEVEN." F-ing Steven.
Sex derived from sheer boredom
Sometimes sex in college isn't even about liking someone or even being that horny. Sometimes it happens because you literally have nothing else to do and happen to be in the same room alone with someone cute.
Sex with someone living on the same floor
You sleep with someone living on your same dorm floor and then they start showing up to your room at odd hours of the night like that is an OK thing to do. No, thank you.
Sex with the TA
Your TA is the one who is going to grade your papers for the rest of the year, but he's also SO hot. So, you kind of hit on him and maybe have sex with him in the handicap stall of the dorm, idk. AWKWARD AF.
Sex with someone who has an off-campus apartment miles away
And then you get to take the walk of shame in your high heels across the college green, with smudged-ass makeup and a giant hoodie. Thanks for the ride, Jeremy! NOT!
Sign up here for our daily Thrillist email, and get your fix of the best in food/drink/fun.