29 Reasons I Just Skipped Your Dating Profile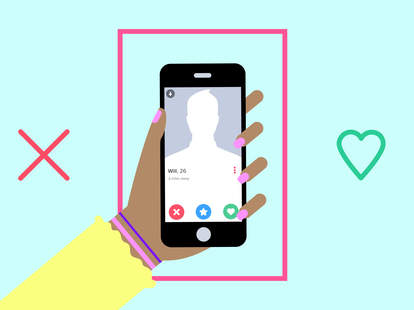 Despite living in a super-connected world, online dating and mating has a special way of making a person want to disengage entirely. I've swiped my way through thousands of dating profiles at this point and have scientifically/not-so-scientifically determined 29 clear dating-profile deal breakers.
1. Blurry, poor-quality, or super-small images
Not inclined to respond to someone who can't even figure out how to properly post a digital image. (Pixel) size matters.
2. Puppets
Too creepy.
3. The "shaka" sign
Nope.
4. Machu Picchu
Did I miss a Groupon deal?
5. Wedding ring
Unless you're in an open relationship, in which case...
6. You, taking shots
Not your best look.
7, 8, 9. Shirtless selfies, bathroom selfies, selfies with your hand down your pants...
Killer abs or not. Fancy hotel bathroom or not. One hand down your... Why?!
10. You and a celebrity
Sorry, not into starfuckers.
11. Keep Calm & ____ T-shirts
I am keeping calm and ignoring you.
12. Dogs playing dress-up
Canines wearing bows and sunglasses aren't turn-ons.
13. Guns
No? Just me?
14. Illustrated likenesses and masks
What exactly are you hiding?
15. You holding a terrible beer in your hand
Yes, I'm judging you.
16. Pictures of you getting a tattoo
It's like if I were to share photos of me getting a manicure. Then again, maybe you're into that.
17. Smoking
I thought everyone already knew this? Apparently not.
18. Extreme sports
I get it. You're a badass.
19. Your car
Eh.
20, 21, 22. Group shots, landscape shots, mug shots
It's so great that you have friends, have been to beautiful places, and got out of prison (?). But no.
23. Politics
Just do like the rest of us and save the political arguments until at least the second date.
24. Thumbs-up guy
Maybe start hanging out with "shaka" guy?
25. Marijuana
It's fine to be 420-friendly, but show some restraint.
26. Photo with an ex obviously cut out
There's no way this is the only photo of you in existence.
27. Fishing and hunting shots
Enough!
28. Swimming with dolphins
Even after Blackfish?!
29. No image or bio
I'm all for using my imagination, but...
Sign up here for our daily Thrillist email, and get your fix of the best in food/drink/fun.
Charyn Pfeuffer finds that at 90 beats per minute, Sia's "Cheap Thrills" is the perfect song to swipe to. Follow her on Twitter @CharynPfeuffer.