If you're taking boudoir advice from Cosmo, Men's Health, or any magazine at all, there's a reason you're still single. Modern mags are stuffed with hilariously awful sex tips, but, to be fair, they're just following in their ancestors' footsteps. Long before Carrie Bradshaw wannabes were telling you the wrong things to lick, the authors of The Book of Nature, What a Young Wife Ought to Know, Sane Sex Life and Sane Living, and more were doing their part to ruin sex for everyone. Trace the history of horrifying bedroom advice from 1680 to present with our handy guide below. Then solemnly vow never to do these things to another person.
 
Charge at your partner with a boner
The School of Venus, or the Ladies Delight Reduced into Rules of Practice by Anonymous, 1680
"In the day time he often makes me stoop down with my head almost between my Legs, throwing my Coats backwards over my Head, he considers me in that posture, and having secured the Door that we are not surprised, and makes a sign with his Finger that I stir not from this posture, then he runs at me with a standing Prick, and Fucks me briskly, and hath often protested to me he takes more pleasure this way than any other."
Use lima beans and parsnips to spice things up in the bedroom
The Book of Nature by James Ashton, 1861
"The particular food which is calculated to stimulate the sexual organs is shell-fish, or sea fish of any kind, and turtle, as these generally contain phosphorus. Among vegetables may be mentioned celery, parsnips, onions, peppers, asparagus, tomatoes, Lima beans, &c. Mushrooms and truffles are a stimulant, as is also mint, sage, pennyroyal, thyme, and spices of all kinds, especially pepper and nutmeg. Canvas-back Duck, in proper season, is of excellent stimulating qualities ; and for puddings, sago, tapioca and arrowroot. For drinks take porter and strong beer, wines, or coffee. Spirits are too exhilarating, and cause a reaction."
Master your "sexual nature" by avoiding theater and the round dance
What a Young Husband Ought to Know by Sylvanus Stall, 1897
"The proper mastery of your sexual nature will be worth all it costs... Do not simulate impure thinking by theatre-going, the reading of salacious books, participation in the round dance, the presence of nude statuary and suggestive pictures; avoid such bodily exposure and postures as mar the modesty of both man and woman; keep reasonable and regular hours, and remember that all these things tend only to enervate and exhaust your wife and to rob and wrong you of the best there is in store for you."
If your pregnant wife is horny, take her to a doctor
What a Young Wife Ought to Know by Emma Drake, 1908
"It occasionally happens that the wife during pregnancy is troubled with a passion far beyond what she has ever experienced at any other time. This in every instance is due to some unnatural condition, and should be considered a disease, and for it the physician should be consulted."
 
Never, ever use lube
Sane Sex Life and Sane Sex Living by H.W. Long, 1919
"It is sometimes recommended that some form of oil, as sweet oil or vaseline, be used as an unguent for anointing the parts before engaging in coitus, but this practice cannot be recommended. Oil is not a natural product of the parts to which it is applied, it is chemically unlike their secretions, and to smear the delicate organs with a fluid that is foreign to their nature, is unwise, unsanitary, not to say filthy. It is like greasing the mouth to make food slip down easily. And it is easy to understand how such application of an unguent to the mouth would impair the taste, dull the nerves of sensation, and greatly interfere with the native and wholesome uses of the oral cavity."
Sleep with a married man!
Sex and the Single Girl by Helen Gurley Brown, 1962
"Are married men off limits? Not always. Same downside (and upside?), trials, and rewards as ever. Plusses: good sex, admiration, even adoration from him. We're not talking about outright being kept but delicious prezzies and trips are often in his portfolio."
 
Or your boss!
Sex and the Single Girl by Helen Gurley Brown, 1962
"A girl in love with her boss will knock herself out seven days a week and wish there were more days. Tough on her but fabulous for business!"
 
Lick her hand to make your intentions known
Maxim, 2010
"If you're out in public but want to make your intentions clear, slowly and firmly flick your tongue against the palm of her hand. If she just wipes it off down her skirt, you've blown it."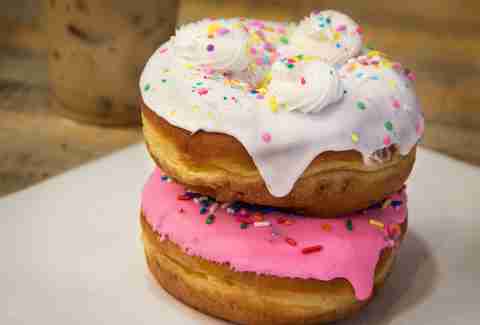 Eat a donut off your partner's dick
Cosmopolitan, 2012
"Gently stick his penis through the hole then nibble around it, stopping to suck him once in a while. The sugary texture of your tongue will add an interesting new dimension."
Sign up here for our daily Thrillist email, and get your fix of the best in food/drink/fun.
Kristin Hunt is a staff writer for Thrillist, and still can't get over The School of Venus' wildly, hilariously inappropriate book cover. Investigate at your own peril, then follow her at @kristin_hunt.