The Pornographer's Daughter: My Dad And 'Deep Throat'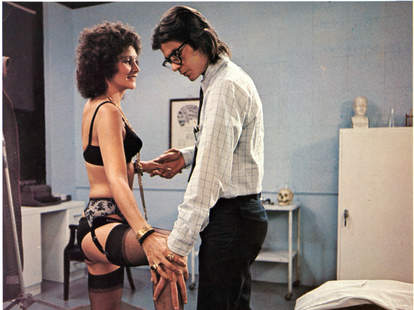 Archive Photos/Moviepix/Getty Images
It was sorority rush day at Florida State University. My classmates and I excitedly braved sweltering, humid August air as we flew around campus for ice water and pref parties. I sweated through my flowered dress, blotting tissues on my face to keep my makeup from running off.
 
All that week, I was ushered into air-conditioned parlors of beautifully decorated sorority houses. The stylish young ladies, just a year or two older than me, oozed southern hospitality and politeness.
 
"So what does your dad do for a living?", a perky blonde would ask as I sat back in a cushioned chair. It was her way to see if I could afford the membership dues.
Beads of sweat would predictably spread across my back as I swallowed the requisite lump in my throat.
 
"My dad is in commercial real estate," I'd half-lie, not wanting to endure the stunned silence -- nor the inevitably harsh judgments -- if I told the entire truth.
 
Growing pains... and Deepthroat
The truth was, my father was also a pornographer. He'd been arrested and prosecuted in '74 on obscenity charges for distributing the porn classic Deep Throat – hardly a crime, in many people's eyes… but then, this is now and that was then.
 
Embracing that family history has evolved for me. But even as I grew to be proud of my father's resistance to an overly conservative status quo, and went on in my 40s to write a book about the subject, I to this day find myself in situations where I feel flustered over a confusing mix of guilt, shame, and pride when people act uncomfortable with my history.
 
This past year as I nervously waited for a book signing event to begin at a Barnes & Noble, my host leaned in to whisper in my ear. "We'll make an announcement about getting started," she breathed, "but... um... we won't mention the title of your book."
 
I gave her a blank stare.
 
"You understand, right?" she asked.
 
"Sure. Thank you."
 
Promoting a memoir called The Pornographer's Daughter is a little tricky. The book itself isn't a salacious sex tale, by any means. It simply chronicles my family's history, and how I grappled with it then and now. But the thing is, for as saturated as we are with porn, people are still pretty uneasy uttering words like "pornographer" out loud.
 
So in that way, I guess not a whole lot has changed in 42 years.
My story captures a time of great cultural change when people pushed the boundaries of the sexual revolution in the 1970s.  It's hardly a tragic story. The title is meant to be provocative; and to elicit curious and strong reaction. This does hit a nerve and our conflicted conversations around sex played out as I promoted my book. I was asked by another bookstore host, "Can I ask exactly what you are going to be talking about? We don't want to offend anyone." I reassured them I would only be discussing sex in regard to its relevance in a larger, cultural context.
 
I'll never forget the strained smiles in a meeting with the leadership of a non-profit organization about promoting my book. I had hoped The Pornographer's Daughter could be used to talk about suicide prevention, another meaningful aspect of my story. It was not. I left feeling ashamed, remembering back to that Florida afternoon decades ago.
 
I don't expect everyone to be accepting of pornography. But the cultural wars of the '70s around sexual expression is alive and well in 2016, despite our outward displays of sexuality. We still tiptoe around honest sexual discussions… most especially when they involve pornography. My story is living proof.
Sign up here for our daily Thrillist email, and get your fix of the best in food/drink/fun.
Kristin Battista-Frazee is a marketing consultant and author of The Pornographer's Daughter. Check out her website and follow her on Twitter: @porndaughter.