Things She's Thinking While Going Down on You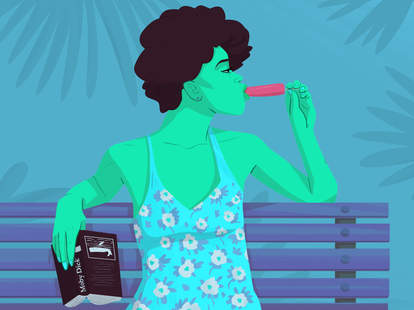 With so much of the erotic part of men's brains overly saturated with thoughts of sex and porn, it's not completely weird for dudes to think women can't wait to rip guys' pants off and go to town -- all while looking pretty, happy, and not like they're choking on their own hair or the smell of ball sweat. Oh, and obviously while also sensually gazing at the camera every few seconds and moaning happily.
Reality check: women either love giving blow jobs, don't love them but perform them regardless, or absolutely hate them. That's the entire spectrum. Those in the last category often have to deal with locking jaws, cramping necks, or pesky gag reflexes (often the result of too much spit, an important lesson imparted on me in the 11th grade by a classmate. #homegrownsexed).
Giving -- or getting -- a blow job takes up just a small portion of your day; generally anywhere from 30 seconds to 15 minutes. Or, on rare occasions, more. But those of you on the receiving end ought to know what the giver is actually thinking during the deed... from loving it to just wanting to get it over with already.
 
Honey, they don't call it a job for nothing
"Do I really have to do this?" -- Jen, 26
"'Good, he doesn't stink down there,' or 'Ugh, ball-sweat smell.'" -- Karen, 26
"I hope this doesn't take a long time." -- Kate, 30
"I usually think, 'My jaw hurts, I hope he is really enjoying this,' and by the end: 'When will this be over? He keeps petting my head, and I'm bored of this.'" -- Gwen, 35  
For those of us ladies who are not fans of giving oral sex, if we're in a relationship with you or we just really like you, we'll usually go ahead and agree to do it, while secretly cursing you out in our heads as we're bobbing up and down. There's also the issue of smell at play here, like, we're really hoping you showered before or just in general, and when you do, we really hope you take your time to clean the ball area.
 
Is this thing on?
"Is what I'm doing turning him on?" -- Marianna, 31
"Maybe I can be one of those people with no gag reflex! No. No, I cannot." -- Maria, 24
"It depends on the situation and the guy. Sometimes I think, 'This is not going to fit,' or 'Damn my jaw will hurt,' others times, 'Is this right? I hope he's enjoying this.' Some guys ask for weird things like squeezing their balls... hard... and I'm like uhh OK... most of the time though it's, 'Ugh God hurry up and cum already.'" -- Elly, 27
 
How do I look?
"I hope that I'm looking sexy/dirty/arousing, and think about what I can do to get more reaction. If I'm not getting any, I imagine the scene in third person, embellish with some sexy reactions, and enjoy." -- Amy, 32
"Why do I like doing this so much? I'm a nice Jewish girl but I love the dick so much. Yum." -- Rachel, 28
 
Hey... really starting to get tired here
"So like, can we have sex yet? Oh, OK, we're just doing this until the end. Cool. Good to know." -- Jade, 25
"Why is sex so short but this takes so damn long?" -- Sarah, 29
"What I'm really thinking mostly is, 'Can I finish already? Can I stop? Did enough time pass until it's appropriate to stop?!' I also think, 'Since I'm giving a blow job I should be eaten out too!" -- Meagan, 29
This is the forever-unanswered question that way too many women can relate to after about 10 or 15 minutes have passed and there's no sign of him finishing; also, because we women demand equality everywhere, including the bedroom.
Spit, swallow, spit, swallow, spit?
"OK, he's going to come -- should I swallow? Wait… gah!" -- Ana, 28
Sign up here for our daily Thrillist email, and get your fix of the best in food/drink/fun.
Taryn Brooke is a freelance writer at Thrillist who really doesn't mind giving blow jobs. Follow her dating and comedic adventures throughout NYC (catch her in an improv show at UCB) and beyond on Instagram and Twitter: @tazbrooke.