Check Out Camel Tow, the Sexiest Towing Company in America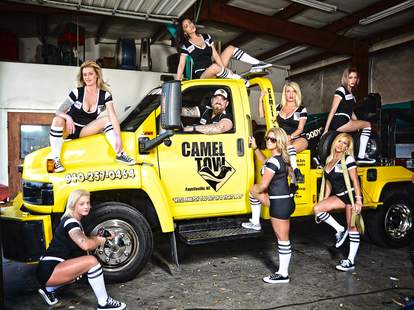 The towing industry has long been synonymous with grit, oil, hairy butt cracks, and long hours of waiting while stranded along stretches of the highway. But one man in Fayetteville, North Carolina, has changed that by bringing in the hottest towing employees in the country for his company, Camel Tow.
Retired veteran Brently Dean co-founded Camel Tow towing company in 2013. What sets this company apart -- other than its jaw-dropping innuendo -- is that every call response is led by a female employee. And not just any female employee: the females of Camel Tow are all currently, or were previously, hard-working employees of the adult entertainment industry.
Camel Tow operates like any tow company. It's $80 for a tow within 10 miles, $3 a mile beyond that. But Camel Tow is the only business of its kind offering an optional "damsels to the distressed" service, which tacks on $25 to the fee (tips also welcomed) for a scantily clad Camel Tow rep who handles paperwork, assists with the towing (there is a certified tow driver present as well), and makes sure the "distressed" driver is all taken care of.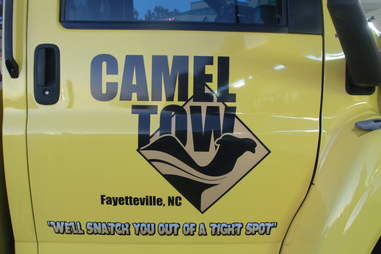 Courtesy of CamelTow
A hole that needed filling
Fayetteville is home to Fort Bragg, the largest US military base by population. While it would seem that the mix of militarism stinginess and down-south conservatism might ward off a towing company whose slogan is "We'll Snatch You Out Of A Tight Spot," Camel Tow finds a prosperous home among the southern town's population.
Bragg Boulevard, Fayetteville's main strip, is littered with neon lights advertising "Girls! Girls! Girls!" -- and the ever-growing supply of testosterone-filled military cadets shows no signs of the town's adult entertainment industry slowing down. Dean saw a way to get in on that market by merging sex appeal with the ever-present need for tow trucks. In doing so, he asked a question that has never been asked: why shouldn't towing be sexy?
"We can take a terrible experience, like your car breaking down, and make it into something great," Dean says. "Imagine your car breaks down, and instead of some gross, fat redneck named Larry hooking up your car, you get a beautiful, big-chested lady named Brandi in cute little shorts, being nice to you, flirting with you, and looking hot."
Drivers seem to agree with Dean's vision, and Camel Tow is proving that towing can be sexy. But unlike the clubs along Bragg Boulevard, Camel Tow girls won't be found getting up close and personal with their clients.
Camel Tow, not Camel Touch
Despite the raunchy sense of humor and the boobage, the sex appeal of Camel Tow is for eyes only. The girls can playfully flirt with a client, bat an eyelash or two, and even trot out their favorite move: bending over to inspect a car's undercarriage while the client inspects her undercarriage. But there is absolutely no physical or intimate relations permitted between employee and client.
It sounds like a typical set of rules you'd find at any strip club; but Camel Tow's Damsels to the Distressed want it to be known that their jobs with Camel Tow -- and their qualifications -- have zero to do with swinging around a pole.
"We tow cars, we're not strippers," says Ray Hester, one of the Damsels. "We're here to work, not to shake our ass in people's face. Yeah we look hot, and that's part of the job, but it's just part of the job, not the whole job.If I wanted a job where all I did was shake my ass and look hot, I would have that job. But I don't want that, which is why I work for Camel Tow."
 
Empowerment? Or degradation?
Like a lot of companies citing "hot women" as a major selling point, Camel Tow finds opposition in people who see it as degrading to women, reducing their worth to their sexuality. Others consider Camel Tow feminist -- proving that women can do a job traditionally held by males.
"Camel Tow gives women an opportunity they don't usually have," Dean says. "How many female tow truck drivers do you see? We're putting them on a platform that they normally wouldn't be on: they get to be sexy and they get to do a job that's normally done by men. It's like, hey, we're sexy and we can do a man's job, too."
It's a coveted job, at that. According to Hester, there is a mile-long list of women longing to join the Camel Tow roster. "Girls are constantly asking me if Camel Tow is hiring and if they can join," Hester says. "They don't see it as degrading -- they see it as an exciting, new and unique opportunity. There's nothing else like it. And that's an awesome thing to be a part of."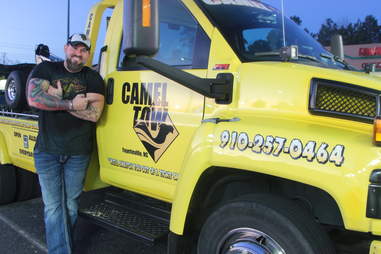 Courtesy of CamelTow
What do the clients think?
Nestled into the heart of North Carolina low country, the wholesome southern comfort of the city might seem threatened by the explicitly suggestive Camel Tow Towing Company. However, there is little opposition found in the Fayetteville community.
Camel Tow's Facebook page is overflowing with local support, including a cameo from the Hope Mills Police Department just outside Fayetteville. Apart from local support, the small town towing company even gets shout-outs from international groups like the Motor Club of America Roadside Assistance Services. The company has even been featured on My Carolina Today, a statewide morning talk show, and has had two spreads in Hustler.
"Everybody here in Fayetteville loves it," Dean said. "I've never had anything bad said about it from the locals. Fayetteville is the All-American city, and America loves two things: trucks and women. I've got both."
Sign up here for our daily Thrillist email, and get your fix of the best in food/drink/fun.
Anna Turner is a Thrillist contributor specializing in the ever-evolving world of sex, dating, and singledom. To follow her awkward adventures, check her out on her blog or follow her on Twitter: @pantsoptional11.
To learn more about Camel Tow, visit its website or Facebook page.